The budget allocations for Ministry of Science & Technology and Earth Sciences have gone up hugely compared to last year's budget, as well as compared to the allocations for the previous five years, which gives big boost to new technology development for brighter future.
Addressing a press conference, Minister for Science and Technology and Earth Sciences, Dr. Harsh Vardhan said, "Budget allocation for Department of Science and Technology (DST) during last 5 years was Rs.19764 cr, which is a whopping 90% increase over the preceding 5 years (2009-10 to 2013-14). Similarly, there was an increase of 65% for Department of Biotechnology (DBT); almost 43% increase for Council of Scientific and Industrial Research (CSIR); and 26% increase for Ministry of Earth Sciences (MoES) during the last 5 years. The upward trend continued for budget allocation for 2018-19."
In this financial year DST as well as CSIR, DBT and MoES have been allocated more funds. The increase is eight percent for DST (Rs. 5134.88 cr), 3.56 percent for CSIR (4776.21 cr), 6.7 percent for DBT (2411.53 cr), and 12.7 percent for MoES (1800 cr).
During the last 3-4 years Ministries of Science & Technology and Earth Sciences have been realigned and focused on fundamental science as well as application science. "This year's budget announcement on Mission for Cyber-Physical-Systems is one such example of application science.  Mission projects on Super Computing; Aroma; Sickle cell anemia; and Biopharma are some illustrative examples of application and solution science initiatives," he informed.
He noted that Innovation and start-up activities have received a big support during this period. Business incubation facilities have almost been doubled. During 2018-19 itself, 15 new Biotechnology Incubators and 15-20 new Technology Business Incubators will be established to incubate start-ups. Biotechnology Industry Research Assistance Council (BIRAC) alone would support 3000 additional start-ups next year.
CSIR, amongst 100 top organisations in the world, spearheads the industry relevant research. The R&D efforts of CSIR are aligned to the needs of the domestic industry and the social needs of the nation.  They cater to the initiatives such as Make in India; Swachch Bharat; Clean Ganga; Swastha Bharat; Smart Cities; Smart Villages; Clean, efficient, affordable and renewable energy technology solutions; and Innovate in India etc. in a significant way.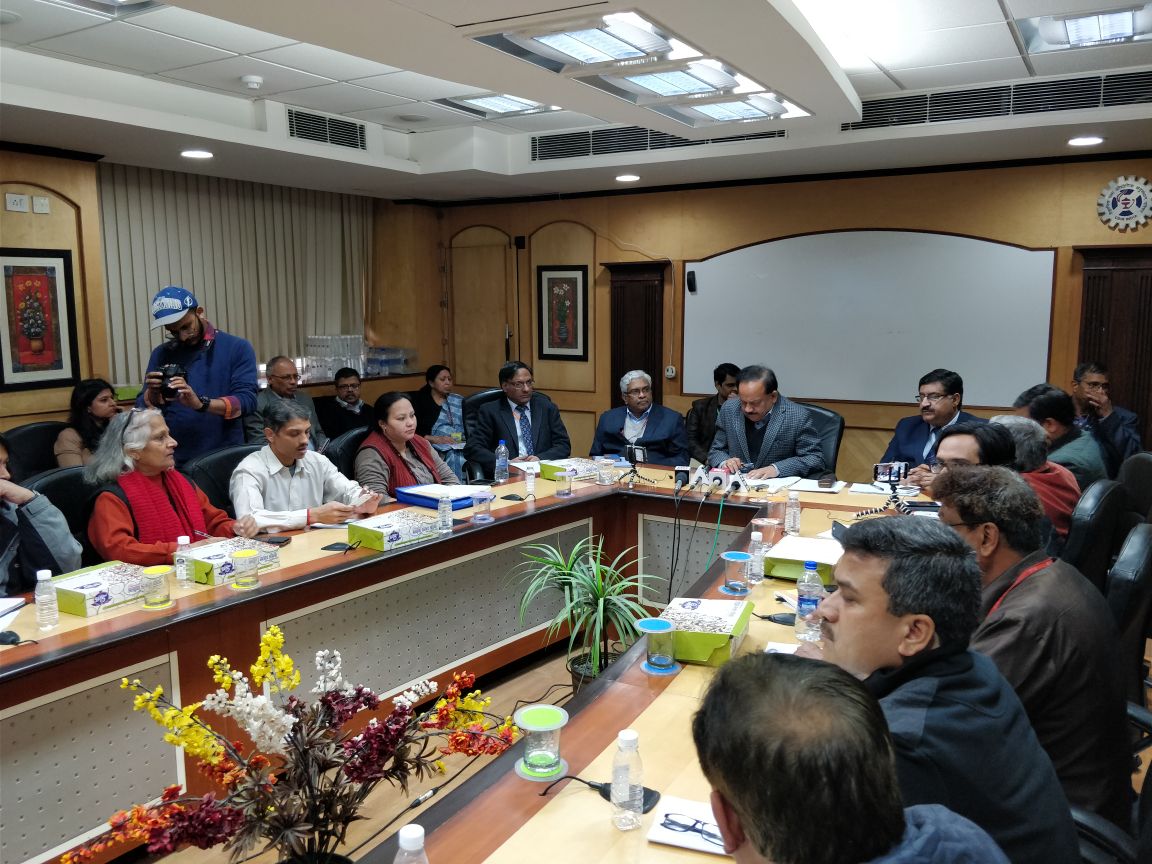 Dr. Harsh Vardhan, explaining how as part of their work in support of farmers result to improve crop productivity makes a huge impact on rural economy. Agrometeorological advisories to farmers are one such mechanism which benefits them in their day to day farming operations.  "During 2018-19, these advisories will reach 50 million farmers from the present 24 million. 'Biotech Kisan' is another such initiative which is assisting farmers in 15 agro-climatic zones. Similarly, thousands of farmers are getting benefitted under Aroma Mission for cultivation of aromatic plants," he stated.
Development of clean energy options and providing water related solutions and demonstration and deployment of other successful technology solutions will be pursued vigorously during the next financial year.
"The way the present Government has made investments in Science and Technology endeavours and the new thrust given to several new initiatives which directly benefit the common man by the Ministry of S&T and Earth Sciences would translate such measures into prosperity and general welfare of the masses," Dr Harsh Vardhan added.