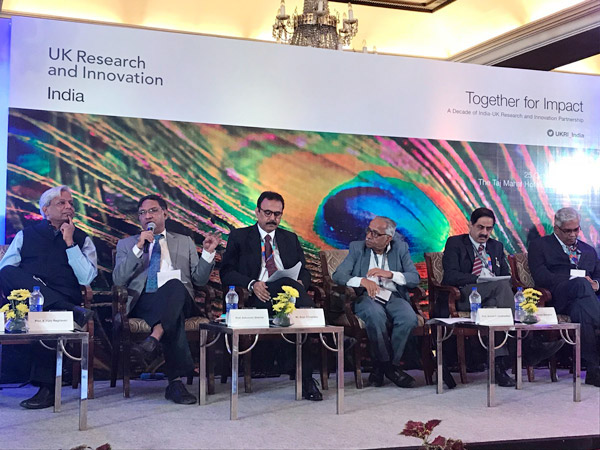 Dignitaries in science from India and UK discussed the impact and way forward for research and innovation partnership between the two countries with a stellar panel consisting of Principal Scientific Advisor to the Government of India and secretaries of India's science related departments brought together to celebrate 10 years of collaborations.
Professor K. VijayRaghavan, Principal Scientific Adviser to the Government of India appreciated the impact delivered by the India-UK joint research and innovation projects over the last ten years. "Such partnerships are required for speeding up Science &Technology interventions for industrial growth and for inclusive sustainable development," he emphasised.
British High Commissioner to India Dominic Asquith in his inaugural address said that scientific partnerships through the UKRI have generated innovative scientific and technological solutions that will be transformative for both our societies and economies.
India UK research initiative has enhanced their partnership in the area of research and innovation and set to step up a new dimension in the field of science & technology. In the ten years since the establishment of the dedicated Research Councils UK India office, more than £300 million (₹2,800 crore) has been co-invested in India-UK collaborative projects covering the full spectrum of research and innovation - from arts to astronomy. The UK has risen from fourth to second place among India's international research collaborators comprising over 200 individual projects, involving over 175 different UK and Indian research institutions and more than 100 industries.
The celebration was attended by more than 200 scientists, government officials, policy makers, businesses from both the countries.
"Such collaborations can create common Science & Technology and different insights to tackle the challenges two countries face," Professor. Ashutosh Sharma, Secretary Department of Science & Technology pointed out. He highlighted the collaboration between two countries in the field of renewable energy, energy efficiency, artificial intelligence, innovation & new technology. He also hoped that the collaborations can create incubators and nurture several startups through scientific exchanges.
Dr. Renu Swarup, Secretary Department of Biotechnology said that consortia driven project, creation and development of skills, AMR, cancer, medical devices, environment etc have been some of the major focus areas of Department of Biotechnology in its collaboration with UK.
"DBT is also focusing on collaborating to connect science with the people, industrial collaborations, startups and aiming to escalate cluster concept to create better impact," Dr. Swarup added.
The panel featured Dr Arun Srivastava, Secretary and Head Institutional Collaborations, Department of Atomic Energy; Professor Ashutosh Sharma, Secretary, Department of Science and Technology; Professor Arvind Jamkhedkar, Chairman, Indian Council of Historical Research; Professor Balram Bhargava, Secretary, Indian Council of Medical Research; Dr M Rajeevan, Secretary, Ministry of Earth Sciences; Dr Renu Swarup, Secretary, Department of Biotechnology, and Professor Virendra Malhotra, Member Secretary, Indian Council of Social Science Research.
UKRI was represented by Professor Melanie Welham, Executive Chair of the Biotechnology and Biological Sciences Research Council (BBSRC); Professor Mark Thomson, Executive Chair of the Science and Technology Facilities Council (STFC); and UKRI Board member Fiona Driscoll. 
Professor VijayRaghavan expressed his delight at the way the collaborative expertise between our academic and business communities are addressing shared challenges that do not recognise national boundaries and wished the India-UKRI relationship great success. He pointed out that the Indian science agencies will try to emulate the coming together of UK science agencies under UKRI to better use Science & Technology for fulcrum of growth.
The top officials from both sides underlined the need for continued efforts to tap future opportunities and challenges with a matching spirit.
Celebrating the launch of UKRI in India, and its partnership with India, expert panels discussed the benefits of working together, the ways to maximise impact and the future opportunities and challenges for both sides to address societal challenges locally and globally.