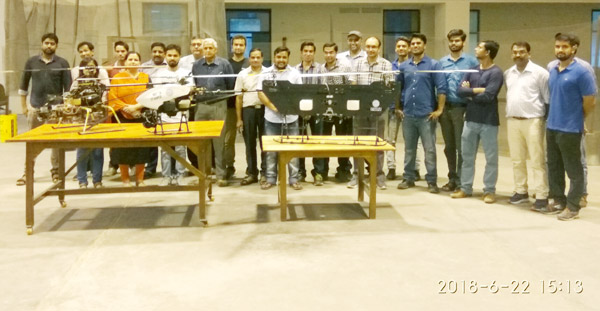 Youtube Video Link - click here
IIT Kanpur has developed an autonomous, unmanned, mini helicopter with support from the Department of Science and Technology (DST).
The indigenously developed unmanned aerial vehicle has huge potential for use in agricultural spraying, surveillance, monitoring and aerial survey as well as for medical supplies and various defense applications. The tiny helicopter which can bring down costs of technology import in numerous areas has been a result of a combination of innovations in mechanical systems, electrical systems and control aspects.
The mini helicopter was developed with controls on-board and successfully flown in wireless mode with two phases of continuous support by DST and review and guidance by experts in the area drawn from different research organizations, National Labs and Academic Institutions.
Innovations in the three systems involved the following:
Mechanical system: Systematic assembling of helicopter, engine break-in, starting and maintenance;
Electrical system: calibration of sensors;
Control aspects: improvement of RPM sensing and control, roll and pitch control of the vehicle, yaw control, height control and implementation of navigation algorithm
The mission triggered with Professor C Venkatesan, Professor at IIT Kanpur accepting the challenge of designing small scale helicopters, which can be used for locating accident sites in hilly terrain in will soon witness IIT transferring the technology to Hindustan Aeronautics Limited (HAL) for developing such unmanned helicopters for a range of uses.  
The scientist, a theoretician, working on developing flight dynamic and aero elastic models, truncated the huge challenge into small packets and put them as projects for his final year students. He was elated when one group of students assembled a mini helicopter and performed rotor control on a test stand integrating rate sensor and using feedback through computer. These students received TATA award for innovation in the students' technical competition.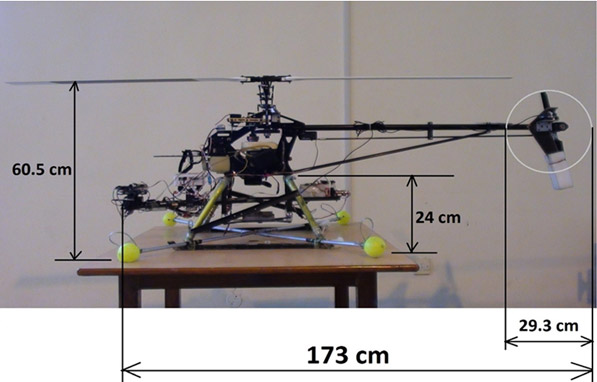 Encouraged with some ground work and support from DST he launched his scientific exploration to develop a helicopter with autonomous capability.
Step by step the team went about resolving the road blocks that came in the way.
Initially they could not figure out why sometimes after cleaning the engine, it gives problem in starting. Finally it was during an M Tech thesis, they realized that there was an alignment of a small hole of diameter about 1mm with carburetor gasket, which needs to be properly aligned. "We designed a dye for making gaskets and then properly align the gasket. This helped start the engine without any problem," explained Professor Venkatesan.
Enthusiasm bubbling in his voice, the old professor recounts his biggest eureka moment, "When performing control experiments on the test rig, the helicopter was oscillating left and right violently, using conventional closed loop algorithm. We resolved this using common sense and some physics".
"This experiment is similar to balancing a stick in your palm. In the stick case, you move the palm back and forth, left and right. In the case of helicopters, the rotor disk has to tilt by suitable angle to stabilize the helicopter on a 3-axis oscillating platform. It was proving to be a challenge," recounted Professor Venkatesan.
"The question, I asked was what do humans do, when they balance a stick in hand. No calculations, no measurement, nothing is done. But you are able to balance the stick. How?  We can feel acceleration of motion, but not position or steady velocity. This led to include angular acceleration in the feedback loop and it worked. You may note that angulations' acceleration is not a measured quantity in experiments. Only angular rate can be measured suing a gyroscope. I used simple backward difference for calculating angular acceleration from angular rate data and used in feedback," he explained.
"By introducing increasing degree of autonomy in the vehicles, the performance capability of the helicopter has been increased in providing assistance to the operator. These autonomous capabilities have been achieved using sensors, control algorithms and computation units to perform desired tasks", he added.
It took the project submitted much earlier and taken up for evaluation in 2004, two phases of continuous support by DST to reach to the level where they were properly reviewed and guided by experts in the area who were drawn from Defense Research Development Organisation (DRDO), Indian Space Research Organisation (ISRO), National Labs, Academic Institutions. The budget was also increased.
The multidisciplinary project led to the design and development of flight control avionics package for autonomous flight of mini helicopter including flight testing.  Besides, the scietists also developed a minihelicopter with a testbed for performance measurement along with several sensors and circuits which was ultimately fixed on-board and the helicopter was successfully flown in wireless mode.
The first Phase helped study the helicopter dynamics and dynamic balancing. It was guided by Dr Kota Harinaraina, then Vice Chancellor of Central University, Hyderabad along with prominent members like Dr Lt. Gen. Sundaram (Retd); Dr N Vedachalam, Scientist, Indian Space Research Organisation; Dr RS Upadhayay, Director, National Aeronautics Laboratory (NAL); Director-Rotary Wing R&D, HAL; Representative of IDS; The Project Advisory Team met almost every year starting from 2007 and guided the project. The helicopter took off with tethered wiring. 
The targets for phase two was to start the helicopter from a point, fly it for at least one Km above the ground for 20 to 30 minutes and land it at a specific spot. The specified target was given by the Committee which was now Chaired by Dr N Vedachalam, along with with Dr Lt. Gen. Sundaram (Retd); Dr RS Upadhayay, Director, NAL; Director, Rotary Wing R&D, HAL; and Head, Aerospace, IIT Mumbai as well as that of Indian Institute of Science (IISc) as its members. All controls, radio frequency as well as sensors were also put on board so that the helicopter can avoid any foreign body if it comes within a range while it is on flight.
With HAL taking over the technology this helicopter may soon become India's prized technology with numerous applications. 
10kg weight category mini helicopter (The present vehicle) which can be used for research studies related to system identification, improvements in control algorithm and testing in real flying conditions, modifications in structural design for improved performance and exposure to students on high technology autonomous flying machines. It can also be used for limited application in aerial survey of agricultural field and other military applications of limited capability. However, the main advantage of the learning and the knowledge gained is in developing heavier class of vehicles of industrial grade which will find several applications and also fulfill strategic needs of the country. Two such vehicle developments can be considered for immediate applications:
50kg weight category mini helicopter which will be of use for agricultural spraying, surveillance, monitoring and aerial survey.
200kg weight category helicopter which will be useful for medical supplies and various defense applications.
Important specifications of the three categories
10kg weight category mini helicopter
All-up weight:         10 kg~12 kg (depending on additional fuel)
Payload (fuel not included): 1.5 kg~2.5 kg
Range: initially 1km~2 km (may be extended to 5 km depending on communication system)
Maximum speed: 10 m/sec ~ 12 m/sec
Endurance: 20 minutes ~ 30 minutes
With GPS assistance, the vehicle is capable of autonomously hovering within a circle of radius 3m ~ 4m. Further tightening to less than 1m can be achieved by improving the quality in the mechanical control path of the helicopter.
The complete vehicle development required design and manufacturing of all mechanical systems, acquisition of suitable sensor systems, on-board computer system, communication systems, actuator systems and power systems, (both engine power for vehicle and battery power for on-board electronics, and electro-mechanical systems) and their complete integration.
50 kg weight category mini helicopter
All-up weight:       50 kg~60 kg
Payload (fuel not included): 6 kg~8 kg
Range: 10 km ~ 20 km
Maximum speed: 20 m/sec ~ 25 m/sec
Endurance: 1 hour ~ 2 hours
200 kg weight category
All-up weight:       200 kg~230 kg
Payload (fuel not included): 30 kg~40 kg
Range: 200 km ~ 300 km
Maximum speed: 40 m/sec
Endurance: 4 hour ~ 5 hours
A few major developments are needed for building the above two weight class of vehicles:
The development of 50 kg and 200 kg helicopters will be built around a suitable engine. For 200kg they can have the indigenously developed Wankel engine providing 55HP.
Development of servo actuator and the mechanical control path
Complete transmission system
Reliable, robust and secured communication system.