Gender parity is not the responsibility of women alone; men have a crucial role to play in ensuring gender parity, Minister for Textiles & Industry Smt. Smriti Zubin Irani said while inaugurating the Women's Science Congress at Lovely Professional University in Jalandhar.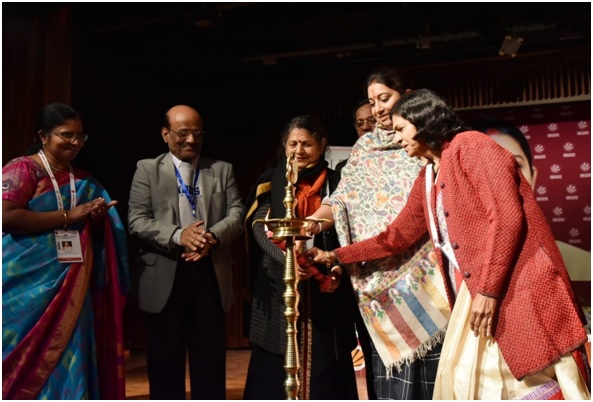 Smt. Smriti Zubin Irani emphasized gender parity should begin from the stage we define toys and tasks for our daughters and sons. It is our responsibility to ensure that we do not say certain tasks and explorations are not meant for girls. "The Indian Science Congress has a huge scope of using technology to create a vibrant future in S&T to bring more women into science," she added.
One of the important events of Indian Science Congress, Women's Science Congress has been organised to showcase the contribution of women in Science, Technology and the Society. During the two-day Women Science Congress, renowned women scientists and women leaders/ decision makers from Government, academia and industry are delivering lectures, are participating in panel discussions and showcasing posters.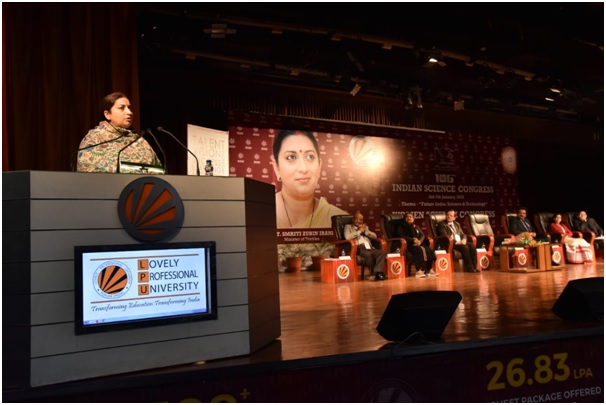 The Union Minister stressed that English is still the lingua franca of science and pointed that some of the best journals can be translated into Indian languages in a manner that not only university students but also high school students including women are exposed to them through use of Digital Technology.
Fulcrum of science is the desire to question, desire to explore which needs to be inculcated without any gender discrimination right from childhood, the union Minister mentioned.
Dr. Namita Gupta, Scientist 'G', Department of Science and Technology highlighted the DST schemes especially for women. "Women are coming in large numbers to utilise schemes like 'KIRAN' available for women and they are benefiting immense," she added.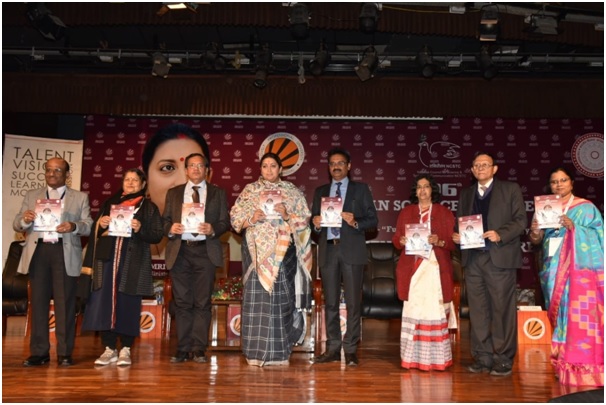 KIRAN (Knowledge Involvement in Research Advancement through Nurturing) is the women-exclusive schemes of DST with the mandate to bring gender parity in S&T through gender mainstreaming. Different programs and components of KIRAN like Women Scientist Scheme-A (WOS-A), Women Scientist Scheme-B (WOS-B) deal with various crucial issues (break in career primarily due to family responsibilities, self employment, part time career, relocation, etc.) faced by women scientists in their career path.