The largest gathering of Scientific luminaries from Countries across the world, with focus on "Future India : Science & Technology", the 106th Session of Indian Science Congress, will be held from January 3 to 7, 2019 at Lovely Professional University (LPU) campus in Phagwara, Jalandhar, Punjab.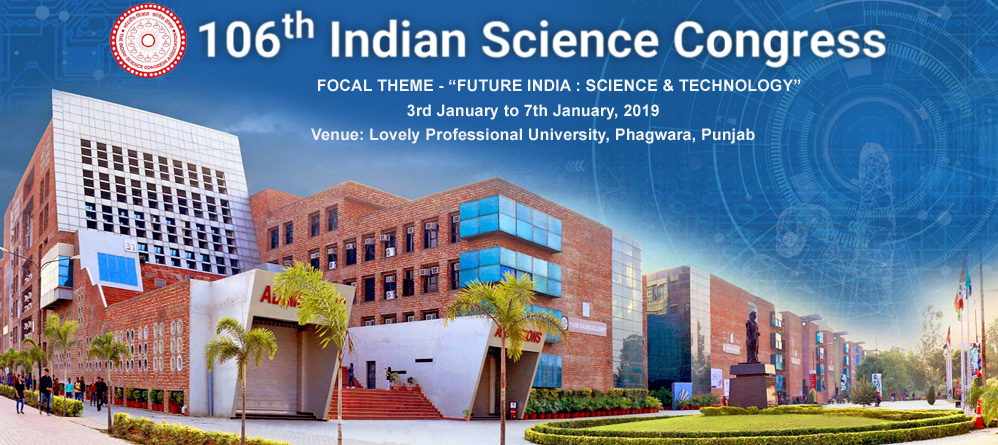 The Science Congress will be inaugurated by Hon'ble Prime Minister Sri Narendra Modi on 3 January, 2019 at LPU campus. The five-day long event aims to bring together science fraternity across the world to discuss scientific innovation and research.
The Nobel Laureates who will be  participating include German-American biochemist Professor Thomas Sudoph, who has been awarded the 2013 Nobel Prize in Physiology or Medicine for work on vesicle trafficking; Hungarian-born Israeli biochemist and Nobel laureate in Chemistry Professor Avram Hershko; and British born physicist Professor Frederick Duncan Michael Haldane who has been awarded 2016 Nobel Prize in Physics.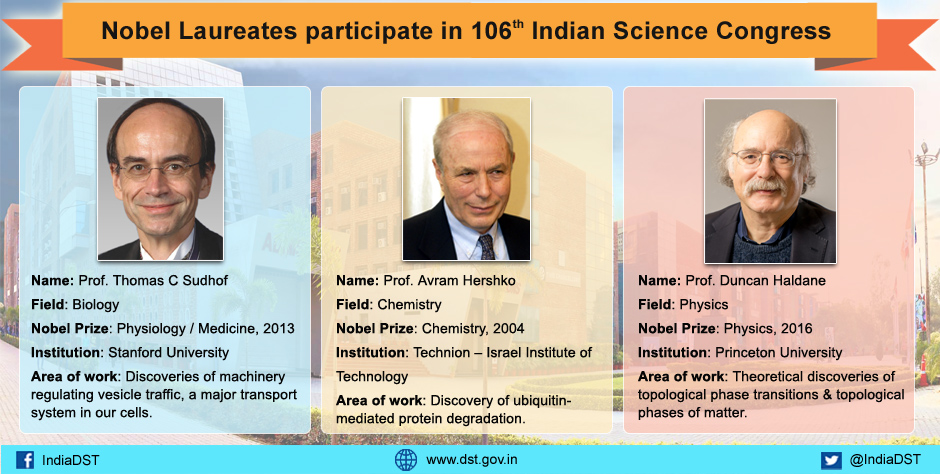 Apart from this, several senior Scientists from India and abroad along with several government officials India will be participating in this event to exchange their views on a range of scientific issues, both at the national and international level.
There are 14 Plenary Sessions, ranging from areas like Futuristic Defence Technologies; Achievement of Agricultural Research in India; Recent Trends of Research in Neurodegenerative diseases; Diabetes; Climate Change and Health; Translational Research in Reproduction & Genetics etc in which senior scientists and officials will discuss on the status, challenges, opportunities and scope in these research areas.
Secretaries of the Science Ministries / Departments and Chairman of ISRO will be the presenting the perspectives of their respective Ministries / departments during Special Lecture sessions.
Sectional Sessions
Fourteen Sectional Sessions covering different disciplines of science will be organised in the Congress.
Rashtriya Kishore Vaigyanik Sammelan (Children's Science Congress)
As a part of this great event, the Rashtriya Kishore Vaigyanik Sammelan will be organised simultaneously to provide a unique opportunity to children to use their scientific temperament and knowledge and to quench their thirst for creativity by conducting scientific experiments. Nearly 150 science projects finalized by Department of Science & Technology (DST) are to be showcased, and children will also have the opportunity to listen, interact with eminent scientists and Nobel Laureates.
Science Exhibition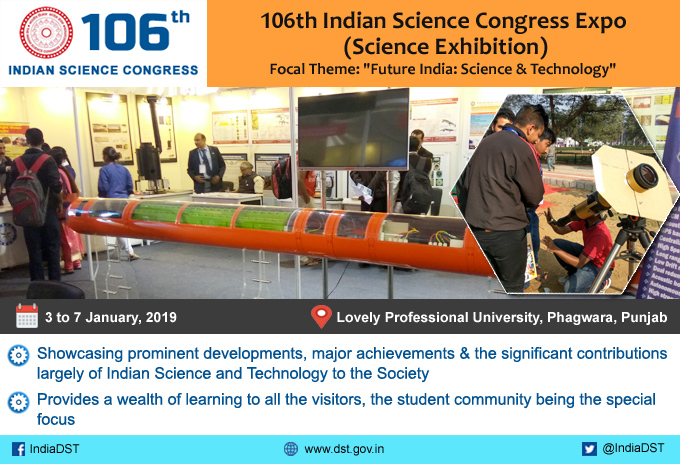 The Science Exhibition will be one of the major events of the 106th Indian Science Congress. It serves as a platform towards inspiring the students, academicians and the common man, to appreciate the value of science and to cultivate scientific attitude. Major exhibitors include CSIR, ISRO, DAE, ICMR, DST, DRDO, ICAR and more.
Women Science Congress
This programme is intended to showcase the contribution of women in Science and Technology. Renowned women scientists will be delivering lectures in this session.
Vigyan Sancharak Sammelan - 2019 (Science Communicators Meet - 2019)
"Vigyan Sancharak Sammelan" is an initiative for Science communicators' for professional growth. This programme will focus on the theme "Future India: Science and Technology". It brings different science communicators together, to discuss the development and optimum utilization existing & new media and arenas in order to strengthen the dialogue between the research community and the society and provides opportunities for dialogue between science and technology communicators.
The Science Congress will witness the congregation of about 30,000 people from diverse sectors of the science community from top educational institutions, industry and allied areas of India and other countries.