A visit to the historic Indian National Museum, at the heart of New Delhi, could fast-track one to some of the richest heritage sites across India.
A hall in the museum houses digital replicas and 3D models of 5 monuments, Sun Temple of Konarak, Taj Mahal from Agra, Rani Vav from Patan in Gujarat, Kashi Vishwanath temple of Varanashi and Ram Chandra Temple of Hampi in Karnataka. The glimpse of India's rich cultural heritage in a room engages visitors with interactive virtual walk-throughs and projection mapping with AR, VR, and holographic interactions. One can feel being at the heritage sites without actually visiting them. The digitally conserved monuments take visitors to the old era of rich architecture and relive it.  
Such showcasing of 'Indian Heritage in Digital Space' by preserving and presenting it through development of relevant technology under the Technology Fusion & Applications Research (TFAR) Programme of Frontier and Futuristic Technologies Division (FTT) of Department of Science & Technology (DST), has earned laurels from the UNESCO and other global organizations.
Besides, support for frontier and futuristic technologies under the programme have helped scale up research and analysis facilities in institutions with state of the art amenities like X-Ray Fluorescence Spectroscopy Facility at IIT Bombay, IOP Profiler for collecting data in Chilka Lake at Orissa, Hyperspectral Core Logger to log drill core samples for Uranium exploration under Network Project on Imaging Spectroscopy & Applications (NISA) programme.
The TFAR programme is taking forward the National Mission on Interdisciplinary Cyber-Physical Systems Mission (NM-ICPS) which the Department of Science & Technology (DST) is implementing by strengthening technologies, infrastructure and human resource through initiatives like Quantum Science & Technology Research Initiative (QuSTRI), Imaging Spectroscopy & Applications Research Initiative (ISARI), Epidemiology Data Analytics Research Initiative (EDARI), Cyber-Physical Systems Research Initiatives (CPSRI), Data Science Research Initiatives (DSRI), Internet of Things Research Initiatives (IoTRI), Cyber Security Research Initiatives (CSRI).
New S&T areas like Cyberphysical systems like AI, Robotics, IOT have received a big boost with the launch of the NM-ICPS. Its unique architecture of 25 innovation hubs and parks set up across the country brings about strong collaboration and co-ownership among industry, academia, and government, connecting them with full flexibility.
One such hub – AI & Robotics Technologies Park (ARTPARK) in Bengaluru – has started functioning and is expected to promote technology innovations in AI & Robotics leading to societal impact by executing ambitious mission mode R&D projects in healthcare, education, mobility, infrastructure, agriculture, retail and cybersecurity focusing on problems unique to India.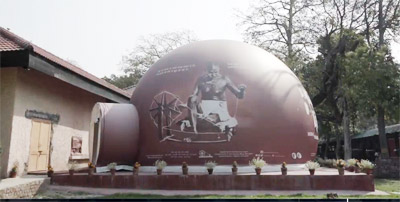 The mission will be implemented through this network of hubs and technology parks, each of which will follow a technology life cycle approach, addressing all stages -- Knowledge-Development-Translation-Commercialization. They will be the nodal centres spearheading the activities in a specific domain. Being part of CPS Mission continuum, the hubs and parks will not have sharp boundaries of functioning but will overlap to address the complete technology life cycle. The hubs will attract potential and harness expertise available nationwide, thus fostering research innovation, world-class technology and product development. It will build linkages with research institutes and labs across India and abroad. TIHs will work in close collaboration with industry to deliver commercial technology and products and build a vibrant innovation ecosystem by providing a reliable platform for technology-based start-ups and entrepreneurs.
A scientific mission that ushers in the future of India through development and implementation of technologies like cybernetics, mechatronics, design and embedded systems, internet of Things (IoT), Big Data and Artificial Intelligence (AI) and connects with the past through efforts like 360 Immersive Experience of Mahatma Gandhi's life and teachings at Gandhi Darshan at Raj Ghat will be a bridge between the different eras.