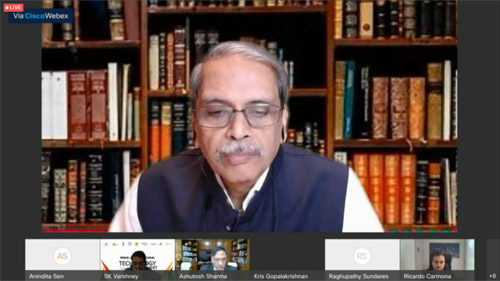 DST-CII tech summit discuss ways to bring startup ecosystems of India & Portugal closer & facilitate joint innovation
The CII Industrial Innovation Awards 2020 were conferred by Secretary Department of Science and Technology (DST) Government of India and Past President, Confederation of Indian Industry (CII) & Chairman, CII National Startup Council Mr. Kris Gopalakrishnan, to a total of 27 companies for processes, products, services, technologies, and other types of innovations which have the ability to fuel growth in the industry, at the 26th DST CII Technology Summit 2020.
These awards were given at the session on Innovation And Start-Up Ecosystem in the summit included 18 regular awards, 8 category awards, and 1 grand award given to the most innovative company of the year. A special category of award was introduced this year to acknowledge significant contributions through innovative solutions from research institutions.
"Innovation is the new engine of socio-economic growth and wellbeing worldwide. Apart from playing an important role in priority areas such as robotics, energy & power, manufacturing, IT and telecom and so on, innovation also addresses critical needs in the social sector," Prof. Ashutosh Sharma said in his keynote address.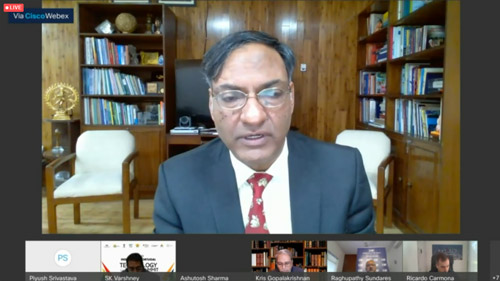 "While India has all the makings to become an innovation powerhouse that inspires global–level innovation, such as a democratic polity, strong market potential, a young talent pool, and an underlying propensity towards frugal innovation, it needs to focus on creating the right environment for innovation-led enterprise (through catering to needs such as energy, water, transport, healthcare, food security, high-quality education, access to banking and financial services and so on) to reap the benefits," he added.  
Prof. Sharma emphasised that awards like the Industrial Innovation Awards improve the innovation system within every organization by focusing on their innovation framework.
Mr. Kris Gopalakrishnan, Past President, CII & Chairman, CII National Startup Council, stressed on the need of the development of a mechanism to work with the external world in the R&D domain and encouraged all the companies to look at working with academia and research labs as an important channel for innovation.
"There is no point in reinventing the way. We need to work with the best companies and startups in the world and have a mechanism to partner and build on what already exists. Our contribution must be to add on rather than re-invent the way, and global collaborations are extremely important," added Mr. Gopalakrishnan.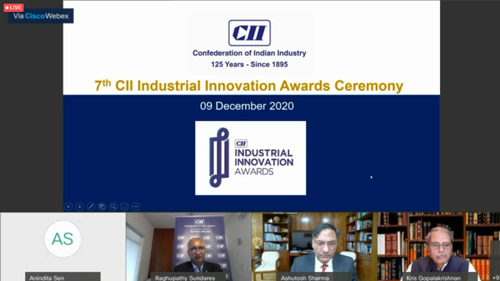 The session participants discussed ways to bring the Indian and Portuguese startup ecosystems closer and facilitate joint innovation between the two economies.
Annexure 1
Awards in Research Institutions' segment
Top 25 Innovative Company Award
Access Healthcare Services Pvt Ltd
Aditya Birla Capital Limited
RV Forms and Gears An ASM Technologies Limited Group Company
Biocon Biologics Ltd
Collins Aerospace
Cyril Amarchand Mangaldas
Dow Chemical International Pvt Ltd.
Matrix Comsec Pvt. Ltd.
Nokia Solutions and Networks India Pvt Ltd
Ramani Precision Machines Pvt Ltd
Richcore Lifesciences Pvt Ltd
SAP Labs India Pvt. Ltd.
Sigma Electric Manufacturing Corp. Pvt. Ltd. Pune, India
Sundram Fasteners Limited
Tata Chemicals Limited
The Tata Power Company Limited
Tata Power Delhi Distribution Limited
Tata Steel Limited
Category Award Winner 
Medium Enterprise in Service Sector 
Nicco Engineering Services Limited
Large Enterprise in Service Sector 
Philips Innovation Campus, Bengaluru
Small Enterprise in Manufacturing Sector
Microlit
Medium Enterprise in Manufacturing Sector 
Thejo Engineering Limited
Large Enterprise in Manufacturing Sector
 Pidilite Industries Limited
PRAJ Industries Limited
The most innovative research institute of the year
Indian Institute of Technology Madras
Indian Institute of Technology Roorkee
Grand Award Winner-The Most Innovative Company of the Year 2020
Lakshmi Machine Works limited- TMD