Experts suggested ways of pushing forward the new Geospatial Policy and harnessing it for National Development at the two-day conference on "Geospatial Policy for National Development" held from 21-22 February 2023.  
"All the Departments of the Government of India should explore, define and identify the schemes where Geospatial Technology and applications are needed and make strategy accordingly to push forward the Geospatial strategy," said Shri Ajay Tirkey, Secretary, Department of Land Resources at the conference organised by the Department of Science and Technology (DST).
He underlined that Geospatial Technologies give power to people by making information accessible and emphasized the need and importance of having computerized and easily accessible land records for citizens to avail multiple benefits of welfare schemes implemented by Central and State Governments. 
"India is only the 3rd Nation globally that is carrying out geo-referencing in the land parcels. Now 36 percent of the land has been geo-referenced, and the target is to achieve 100 percent by March 2024," Shri Tirkey added.
Highlighting the transformation that Bhu-Aadhaar and Matribhoomi projects based on Geospatial Technology have brought about, Shri Tirkey said that we are on the cusp of a revolution in governance. Land records and Geospatial Technologies and applications together will change the way governance is talked about in the coming years.
Shri Sunil Kumar, Jt. Secretary, Department of Science and Technology (DST), and Surveyor General of India sought the partnership of all stakeholders for taking forward the citizen-centric policy, which addresses the entire geospatial ecosystem of the country and for making it a reality.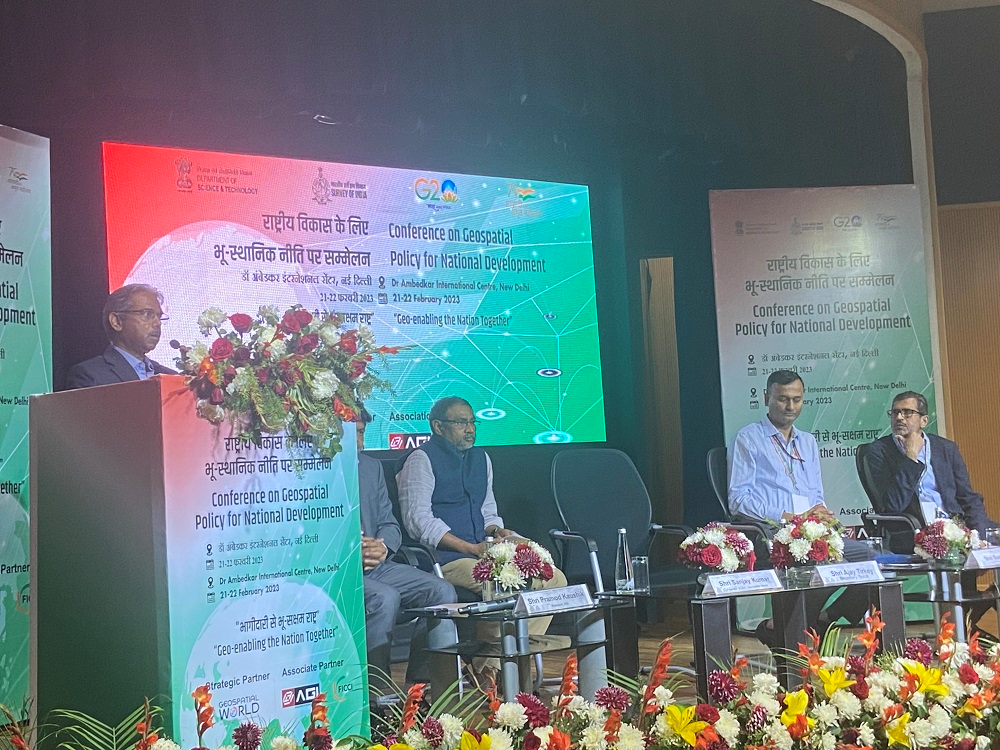 Dr. Pramod Kaushik, President AGI India, underlined the opportunities for the industry in Geospatial Policy and said there is a need to engage end users in the implementation of the policy. Meanwhile, Shri Agendra Kumar, Chairman FICCI Geospatial Tech Committee, emphasised on the importance of a robust geospatial knowledge infrastructure, which can bring knowledge from different sectors to enable sharing and building of partnerships. 
Sanjay Kumar, CEO & Founder Geospatial World, said that the way forward is to invest in developing Geospatial infrastructure through data, strategy, and positioning through a proper regulatory mechanism. Government departments like Survey of India, the Department of Land Resources, Department of Science and Technology need to play a crucial role in providing leadership and helping in hand-holding to other sectors and industries.
Participants from the government sectors and industry players discussed geospatial infrastructure, skill development, transport networks, sustainable water management, agriculture, capacity building, and plans for high-end geospatial research and development at the two-day conference geared to develop a roadmap for successful implementation of the policy.