A digital exhibition with augmented reality and virtual reality installations called 'Digital Gandhi Gyan-Vigyan' was inaugurated by Secretary, Department of Science & Technology, Professor Ashutosh Sharma at Technology Bhawan, New Delhi to mark the 150th birth anniversary of Mahatma Gandhi.  
Prof Ashutosh Sharma said that the exhibition brings the essence of Gandhi ji's life along with associated inspiring stories to young people to make them aware of Gandhi ji's thoughts & ideas.
The exhibition consists of ViRaasat Sabarmati Ashram – A Mixed reality installation with a 3D fabricated physical model of the Ashram with an interactive Virtual walk-through – focusing on the timeline of Gandhi ji's life. It gives the visitor the feel of walking around in different buildings & spaces of the Sabarmati ashram. Some of these are the Hriday Kunj, the Magan Niwas, the Sangrahalaya,  the Vinoba Kutir, and so on.
The exhibition also consists of a Charkha with an AR App - a physical model of a Charkha similar to the one owned & used by Gandhi ji. This gets animated when seen through an AR app on a hand-held device such as a smart-phone or tablet. This Charkha App will help the user to know more about its history, mechanics & linkage to Gandhi ji. User can also interact with the Charkha model, place a cotton into it, & spin it with his fingers to produce a thread.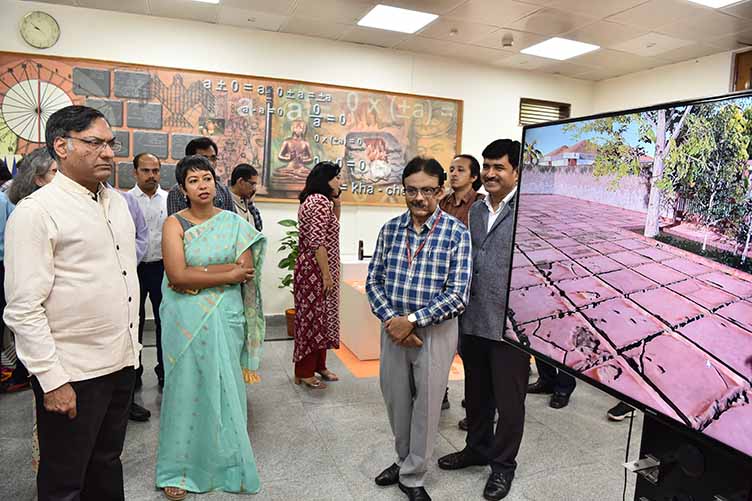 The AR & VR Apps on Gandhi ji has been developed by Vizara Technologies a start-up working in the area of digital heritage preservation using AR, VR and 3D modelling and fabrication technologies.    
The Digital Gandhi Gyan Vigyan Exhibition will continue to be displayed in the Department of Science & Technology for a few days for officers and staff of the Department and their families and other visitors to the Department to promote Gandhi ji's concepts.
Prof Sharma reiterated Gandhi ji's concept of sustainable development and promotion of traditional knowledge in day to day life. "These concepts have become more relevant today & we should implement these through multiple approaches," he added.
He highlighted Gandhi ji's vision about technology and said that it should be appropriate for local needs and use local skills and local resources.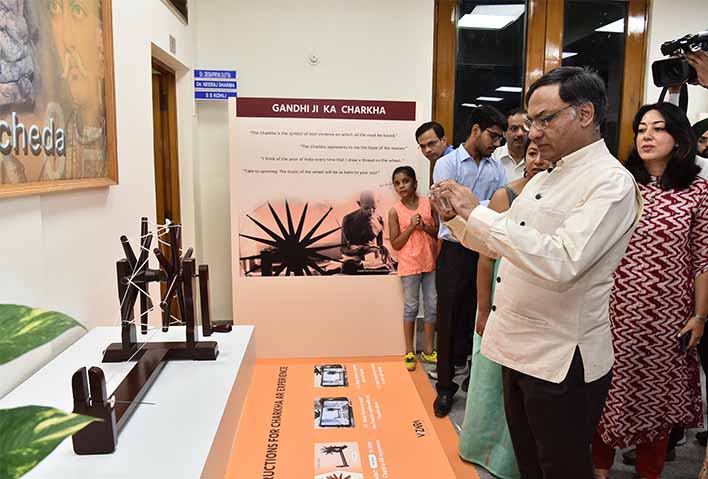 "DST is committed to the ideas of Gandhi ji on Swachhata and is working on scientific waste management including the management of bio-medical & electronic waste on those lines," he added.
As part of the celebrations, DST along with IIT Gandhinagar has organised a workshop for about 200 school children on 3rd and 4th October 2019. In the workshop, IIT Gandhinagar brings together school children to explain to them the working of an innovative Charkha Generator devised by IIT Gandhinagar on the principle of electromagnetic induction. These charkha generators are being gifted to the participating children after the workshop. These school children are also being given the opportunity to avail the AR and VR experience of the Digital Gandhi Gyan Vigyan Exhibition on these two days.