Union Minister of State (Independent Charge) Science & Technology; Minister of State (Independent Charge) Earth Sciences; MoS PMO, Personnel, Public Grievances, Pensions, Atomic Energy and Space, Dr. Jitendra Singh launched DST GeoSpatial Hackathon today at an online event to promote innovations in India's Geospatial ecosystem.
"We know that half of our population is under 40 years and very aspirational; it is evident that the Indian startup economy crossed a major milestone as it added the 100th Indian startup to the unicorn club in 2022. This Hackathon launched by DST and Survey of India in line with the vision of our Hon'ble Prime Minister, Shri Narendra Modi ji, will serve as a formal launchpad to India's geospatial strategy and policy, which envisions making India a global leader in the geospatial sector." Dr. Singh pointed out.
Department of Science and Technology is organising the 'DST GEOSPATIAL HACKATHON' program in partnership with TBI at IIIT Hyderabad and Microsoft in order to mobilize and inculcate innovative ideas and applied research in Geospatial domain. The program will have Survey of India (SOI) as a knowledge partner in the Geospatial domain, Microsoft as a Corporate Partner, and TBI supported by DST at IIIT Hyderabad --CIE (Centre for Innovation and Entrepreneurship) as academic and program execution partner.
"As emphasized by our Hon'ble Prime Minister Shri Narendra Modi ji during the inaugural message at the United Nations World Geospatial Information Congress 2022, Geospatial technology is driving inclusivity across the nation, leaving no one behind. The Government of India has taken various initiatives to liberalize and democratize the geospatial sector with the launch of the National Geospatial Policy. India is walking the path of promoting ease of doing business in the entire geospatial sector. It shall catalyze the mission to build India's vibrant and globally competitive Geospatial ecosystem," Dr. Singh said.
Calling on the youngsters to participate and contribute towards building the nation's geospatial economy, Dr Singh said, "This hackhathon is a great example of synergies between academia, research institutes and industry and will extend the benefits to more stakeholders."
Highlighting the importance of the Hackathon, Secretary DST Dr. S. Chandrasekhar, said that this is not just a platform for participation but an opportunity for youngsters to provide solutions.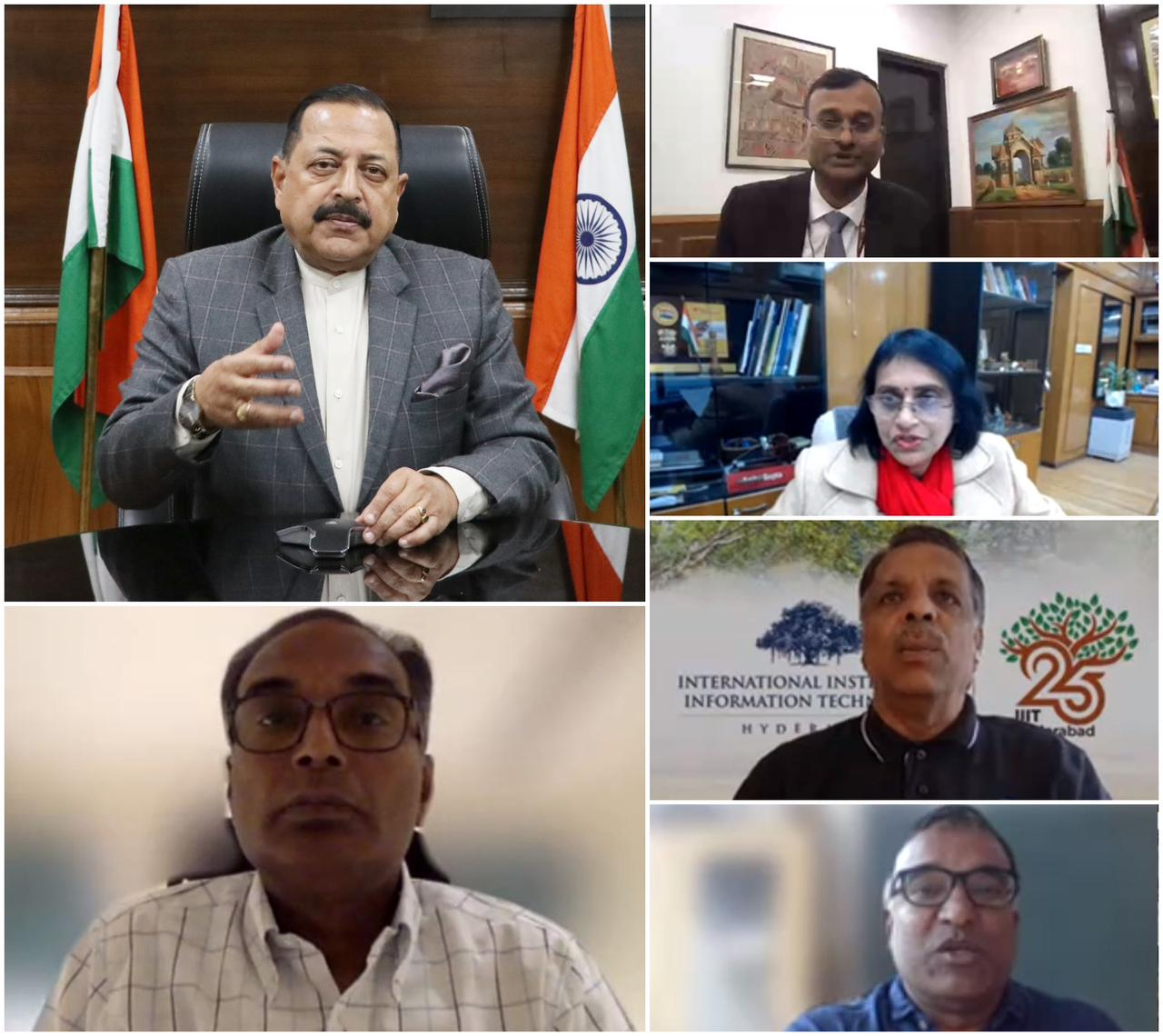 "India is truly a leader in Geospatial space. Survey of India plays a pivotal role in the Swamitva program, working with all the states. The new Geospatial policy brings new players and takes the initiatives to a new pace," he added.  
Shri Navtez Bal, Executive Director-Public Sector, Microsoft India, said that Geospatial Technology will play a crucial role in India's vision of becoming a USD 10 trillion economy by 2030.
Shri Sunil Kumar, Joint Secretary, DST and Surveyor General of India talked about National Geospatial Policy and highlighted its role in the growth of the economy.
Prof PJ Narayanan, Director, IIIT Hyderabad said "IIIT Hyderabad has always had a strong research group in geospatial technologies which work on innovatively solving several real world problems. Dr. Anita Gupta, Adviser & Head NSTEDB, DST mentioned that such PPP programs have come out as robust platform for bringing out innovative solutions and adds to the growing pipeline of startups. Officials from DST, Survey of India, IIIT Hyderabad, Microsoft, as well as startup incubators, innovators, entrepreneurs, researchers, programme partners, and other stakeholders, participated in the event.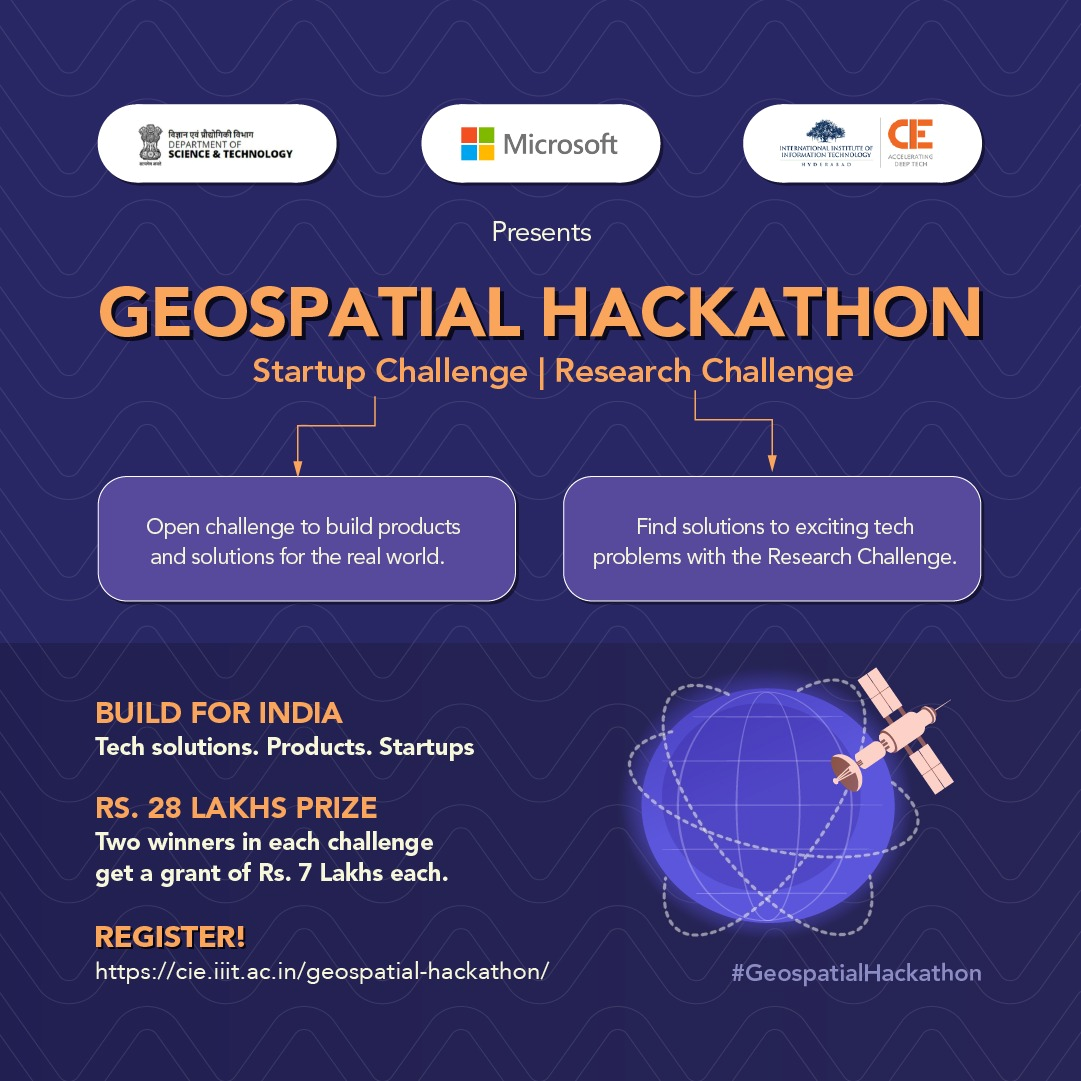 The Hackathon to conclude in March 2023 will scout and nurture innovative technologies and solutions in Geospatial domain from students, researchers, innovators, entrepreneurs and professionals. The Hackathon is meant to popularize the domain of geospatial solutions and data/domain insights and will be run under two verticals:
Research challenge- Deep geospatial Problem Statements given by  DST/SOI
Startup challenge  -  Innovative Geospatial solutions built by startups or student teams and professional developers
Two awards each with Rs. 7.00 Lakh grant prize will be given in both the verticals. It is expected that the event will receive 1000+ applications/ideas, and 75 hackathon teams.