Union Minister of State (Independent Charge) Science & Technology; MoS PMO, Personnel, Public Grievances, Pensions, Atomic Energy and Space, Dr. Jitendra Singh today urged the G-20 countries to "rise above differences" to address the challenges confronting the world and act as G-20 member responsive for global well-being in the spirit of one family.
In his welcome remarks at G-20 Research Ministers Meeting in Mumbai, Dr Jitendra Singh said, India recognizes the significance of international collaboration and knowledge sharing in addressing the complex challenges of our times. He called upon to leverage the collective wisdom, expertise, and resources to foster a culture of innovation, promote sustainable development, and ensure a prosperous future for all. The Minister urged the G20 nations to move ahead with profound agenda to excel an inclusive, equitable and sustainable growth.
Referring to the fact that a number of Member States are represented at highest level in their national science hierarchy, Dr Jitendra Singh said, this group has potential to address major global challenges, as we did recently while combating Covid pandemic. He emphasized that during India's G20 Presidency, we stand committed to advancing global research and innovation for a better tomorrow.
Dr Jitendra Singh said, in recent times, Scientists and Researchers have been at the forefront of cutting-edge discoveries and advancements across multiple disciplines like space exploration to artificial intelligence, from biotechnology to nanotechnology and have pushed the boundaries of scientific understanding and have fostered innovation that benefits humanity as a whole.
Dr Jitendra Singh said, as the world grapples with the challenges of climate change and depleting natural resources, it becomes imperative to harness renewable energy sources efficiently. He emphasized that G-20 members, should remain committed to our Net Zero goals and continue to work on sustainable development and renewable energy and expressed satisfaction that the world has witnessed substantial growth in solar and wind power installations in recent years. Our scientists have been working tirelessly to discover and create materials that can revolutionize the energy sector, making it cleaner, more affordable, and accessible for all, the Minister added.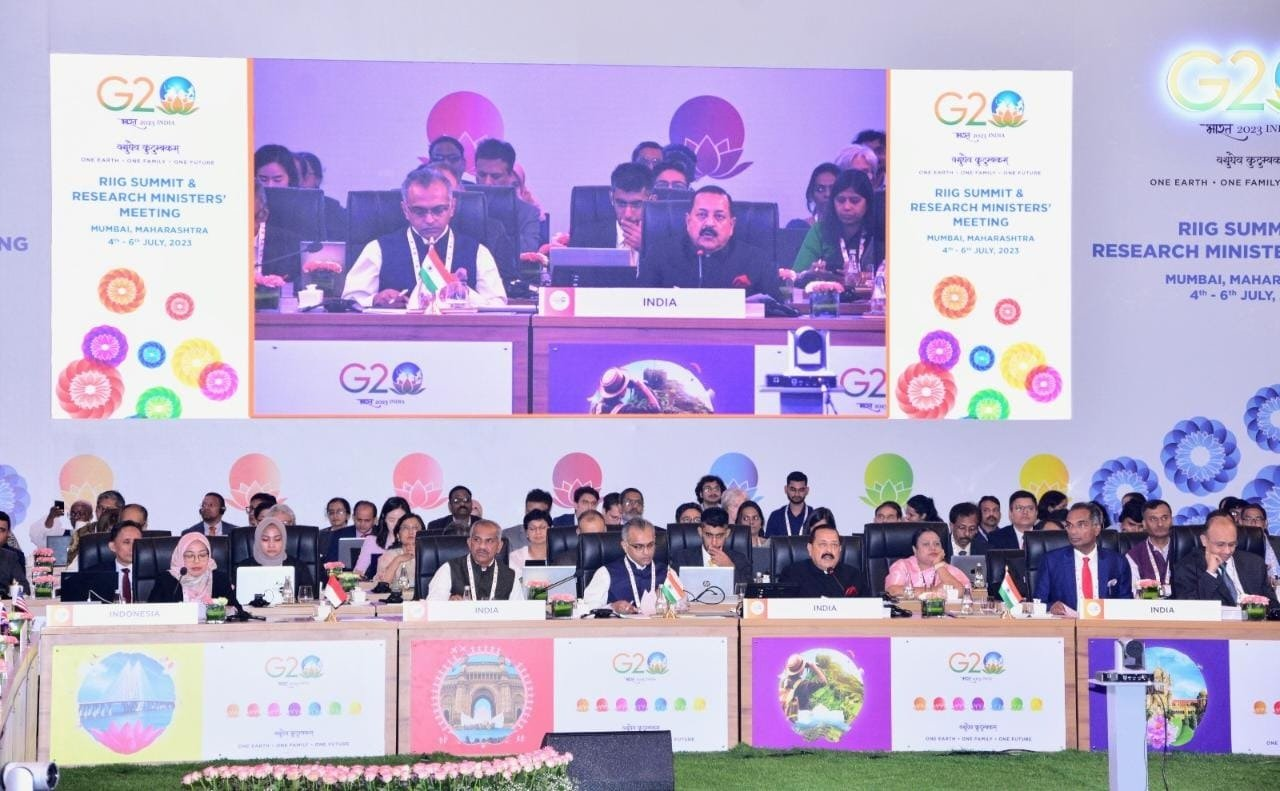 Dr Jitendra Singh underscored that G20 nations must harness the power of technology and innovation to drive the transition towards cleaner energy sources and promote eco-innovations, such as smart grids, energy-efficient buildings, and sustainable transportation systems, as these initiatives not only mitigate environmental impact but also foster economic growth and create new avenues for job creation.
Dr Jitendra Singh also pointed out that G-20 community has advanced space technologies to predict and monitor various natural hazards, like cyclone, tsunami, landslides, forest fire, space technologies also help a lot in communication. He underlined the need to share products of these technologies to countries, outside G-20 also, so that they can better prepare themselves against such calamities.
India's Science Minister told the delegates that developing quantum technologies, exploring quantum communication, cryptography, and quantum algorithms are our next level of G-20 research agenda. We aim to scale up scientific and industrial R&D, for accelerating Quantum Technology-led economic growth and leverage several economies into a leading nation supporting sustainable development, he added.
Dr Jitendra Singh said, Scientists have made significant contributions to genetic research and biotechnology and researchers focused on studying the genetic basis of diseases, developing personalized medicine approaches, and advancing genetic engineering techniques. He said, these efforts hold immense potential for improving healthcare outcomes and addressing genetic disorders. The Minister also pointed out that as immunity is directly linked to our health and food, several systems encourage to develop immunity through food, we eat instead of medication.
Dr Jitendra Singh highlighted that FinTech ecosystems of the world have grown in a tremendous way. Few economies have adopted virtual currencies, whereas few others are using in providing virtual transactions to a large extent. He said, as the world is witnessing rapid digital transformation, cyber-security has become a critical focus and called upon the scientific community to develop algorithms which are difficult for hackers to break.  We need to strengthen our cyber-security infrastructure, developing advanced systems to protect critical digital assets and data, he added.
Dr Jitendra Singh said, during these testing times, the world also witnessed rise of several technologies based startups and these companies excelled in developing AI-based solutions for various sectors, including healthcare, finance, agriculture, and education. He added that the integration of AI and data analytics has helped improve decision-making processes, enhance productivity, and drive innovation in diverse industries.
Dr Jitendra Singh drew the attention of G20 delegates towards the immense potential of our oceans and seas, in terms of mineral resources, energy solutions and marine food and asserted that all are committed to promoting sustainable practices in fisheries, marine research, coastal tourism, and renewable energy generation. He said, by harnessing the potential of the Blue Economy, we can ensure the well-being of our oceans while driving economic development in a sustainable and responsible manner. We are also concerned about increased plastics and microplastics in our oceans, another important area to focus as it enters in to our food chain as several marine organisms consume them.
Dr Jitendra Singh expressed concern that while some of the G20 members are facing water scarcity and challenge of water quality, some others are moving in that direction. He said, Precision irrigation, Innovative clean water technologies, such as water purification systems, desalination techniques, and wastewater treatment technologies are to be further augmented and implemented. The Minister added that as we move towards a more sustainable future, it is crucial to explore innovative approaches that minimize waste generation and maximize resource efficiency. We recognize the importance of adopting circular economy principles in the bio sector, which focuses on reducing waste, recycling valuable materials, and promoting a sustainable and regenerative approach to economic growth. He said, we also recognize the role of research and innovation in adoption of Lifestyle for the Environment (LiFE) as accelerators that can advance the progress towards achieving the Sustainable Development Goals (SDGs) and commit to support actions in promoting the same.
In his concluding remarks at G20 Research Ministers Meeting, Dr Jitendra Singh expressed satisfaction that during the RIIG meetings, member states discussed various topics including,  challenges related to energy materials & devices, solar energy utilisation and photovoltaic technology and materials and processes for green energy; and policy issues like role of research, development & innovation in creating new resource-efficient, sustainable and more circular bio-based technologies, products and services; understanding the blue economy science & services; blue economy sectors and opportunities; observation data and information services; marine ecosystems & pollution; blue economy management and perspectives; coastal and marine spatial planning; marine living resources and biodiversity; deep sea ocean technology; and blue economy policy perspectives.
Dr Jitendra Singh thanked G20 delegates for their constructive and fruitful deliberations, which marked the end of series of RIIG meetings and conferences which India hosted during last 5-6 months, starting from Kolkata to Ranchi to Dibrugarh to Dharamshala to Diu and now to Mumbai under India's G20 main theme of Vasudhaiva-Kutumbakam or One-Earth One-Family One-Future. We identified Research and Innovation for an Equitable Society, as the main theme of RIIG-2023, he informed.
The Minister thanked the members for their active participation and supporting India's RIIG agenda with valuable inputs and comments on our priority areas. India is fully committed to contribute in attaining the UN SDG-2023 by way of Research and Innovation through International collaboration and partnerships.
India hosted a total of 5 meetings and conferences across India under priority topics of i) Materials for sustainable energy; ii) Circular bio-economy; iii) Eco-innovations for energy transition; and iv) Scientific challenges and opportunities towards achieving sustainable blue-economy, which signifies the importance of Research and Innovation for inclusive societal development and growth.