Union Minister for Science, Health & Family Welfare, Science & Technology & Earth Sciences, Dr Harsh Vardhan launched a Water Innovation Centre  for enhancing Food and Water security in Arid Region set up by Department of Science and Technology (DST), Government of India nucleated at Indian Council of Agricultural (ICAR) –Central Arid Zone Research Institute (CAZRI), Jodhpur.
This centre, which has been established at a collective investment of around Rs 6 Crores, has the mission of providing state-of-art research led innovative technological solutions for enhancing food and water security which is a major challenge for arid regions. DST-ICAR-CAZRI Water Innovation Centre for Enhancing Food and Water Security in Arid Region through Improved Understanding of Quantity, Quality and Management of Blue, Green and Grey Water is a network of 6 research institutions
Dr. Harshvardhan emphasised that development and application of advanced tools and techniques by leading Indian institutions for water and agriculture is of utmost importance to address the critical problems of Indian society. The current endeavours are few such steps in this direction. 
The Hon'ble Minister added that water is a crucial input for agriculture and it is becoming limited day by day due to ever increasing demand of industrial and household sector. Therefore, judicious use of available water is of paramount importance. Looking at the importance of water, availability of water and day to day increasing demand of water for irrigation purpose, efforts need to be made to switch over to micro irrigation practices which helps in saving (40-50%) water, increase in cropping intensity and irrigated area and higher crop yield. Huge scope exists in improving the water productivity in agriculture i.e.   "more crop per drop of water''. He stated that this centre would significantly contribute to facilitate the development of an appropriate institutional framework to address the challenge of water management. Another prerequisite is that proper policy, laws and regulations should be in place to guide the water manager. The Minister also stressed on inter-sectoral coordination to utilize the available water resources to the best advantage.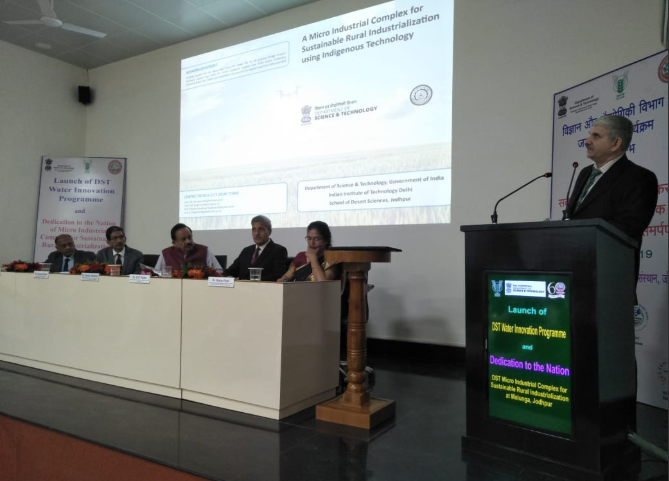 The Minister also dedicated a micro industrial complex for sustainable rural industrialization.   This micro industrial complex utilizes locally available biomass to produce 150 kW power besides providing 50 tons refrigeration, 2000 liters per hour distilled water and also utilizes low grade steam to expel oil from castor seeds.  The castor oil cake residues are used as boiler fuel.  This innovative configurations has the payback period of 2 to 3 years and utilizes locally available materials for meeting the energy, cooling, water needs besides providing castor oil which has large number of applications.  Speaking on the occasion, the Hon'ble Minister said that these kinds of applications of Science and Technology can have a significant economic and social and environmental impact for our rural areas.
Hon'ble Union Minister appreciated the concept of water innovation centres and application of technologies for providing food and water security.  He also highlighted the need for inter-ministerial cooperation for providing technological inputs to Indian agriculture and water system.
Dr Harsh Vardhan further urged Scientists and technocrats, to aspire to achieve breakthroughs through research and social interventions in the area of water management and agriculture which could position India at the frontiers with the most efficient water footprints.