Experts deliberated on opportunities and challenges of implementation of National Education Policy (NEP) 2020 for engineering disciplines and profession at a panel discussion organised on the occasion of the Foundation Day celebration of the Indian National Academy of Engineering (INAE) on April 20, 2022.  
While chairing the session, Dr K Kasturirangan, Former Secretary, Department of Space; Former President of INAE & Chairman NEP 2020 Drafting Committee highlighted the paramount importance of formulating a roadmap for implementing NEP 2020 in all engineering colleges and institutions in the country.
While Professor PP Chakrabarti, Former Director, IIT Kharagpur elaborated on academic aspects, Prof V Ramgopal Rao, Former Director, IIT Delhi spoke on the accreditation and higher education; Prof Subhasis Chaudhuri, Director, IIT Bombay focused on administrative aspects applicable to technical institutions. Prof Anurag Kumar, Former Director, Indian Institute of Science, Bangalore spoke on R&D and industrial sector and Prof BS Murty, Director, IIT Hyderabad focused on teaching.
The celebrations of this autonomous institute of Department Science and Technology (DST) also included satellite events like online discussions and meetings covering various aspects of engineering education pertaining to NEP, steered by the present or former Directors of IIT Kharagpur, IIT Delhi, IIT Bombay, IISc Bangalore and IIT Hyderabad. The panellists at the discussions comprised of leading academicians and industry experts including lady representatives in leadership roles who deliberated on the chosen topics and contributed to actionable recommendations.
Some of the important recommendations were that autonomy must go hand in hand with accountability; stress on internationalization for building cultural diversity on our campuses; need for high quality teaching faculty and investment in physical infrastructure to enable the teaching to be more hands on and upgrade them periodically.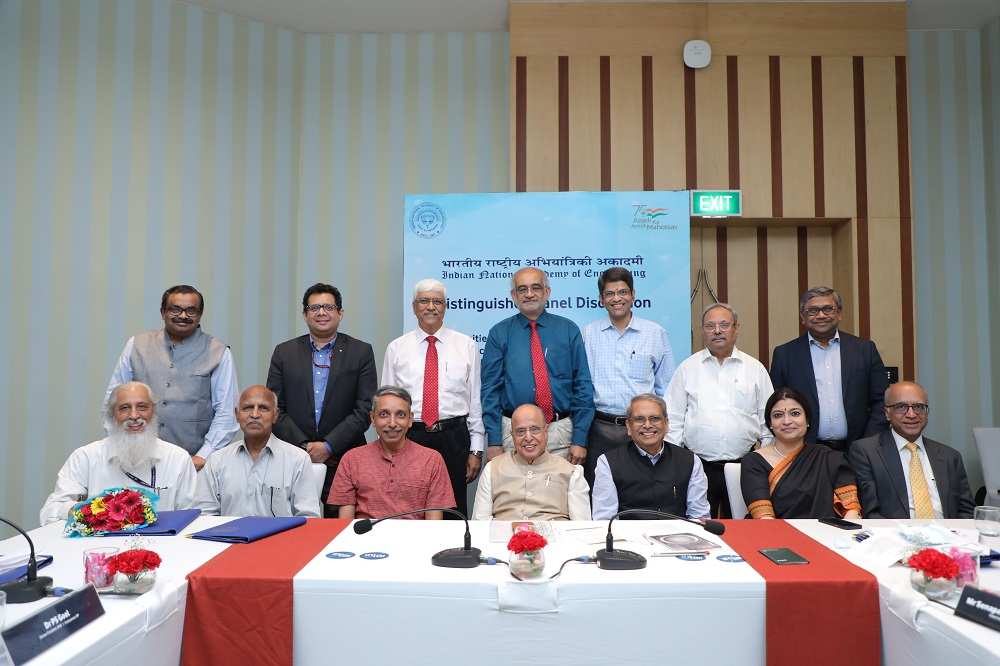 It also included emphasis on technology driven atma nirbhar initiatives; expansion of accessibility of resource base; need for next-generation faculty development, emphasis on the Government-Universities-Industry linkages in research and measures to make engineering education more inclusive and encourage diversity. The experts also said that National Research Foundation will need to enhance the current research funding ecosystem.
Prof Indranil Manna, President, INAE and Vice-Chancellor, BIT, Mesra highlighted that it was necessary to deliberate on all relevant opportunities and challenges to implement NEP in the country and the event has been envisaged towards that end.. Prof Sivaji Chakravorti, Vice-President, INAE and Professor, Electrical Engg Department, Jadavpur University, Kolkata and former Director, NIT Calicut re-iterated the outcome of deliberations covered a spectrum of aspects related to NEP  2020 follow up actions were necessary to take this initiative to its logical conclusion. 
Prof. M Jagadesh Kumar, Chairman, UGC; Prof Anil D. Sahasrabudhe, Chairman, AICTE; Prof. Sandeep Verma, Secretary SERB; Dr. Ananya Mukherjee, Vice-Chancellor, Shiv Nadar University; Vice-Chancellor, Dr. S. Vaidhyasubramaniam, Sastra University, Thanjavur; Dr Debashish Bhattacharjee, VP Technology & New Materials Business, Tata Steel Ltd. & Rep CII; Senior Industry Fellows viz Mr Senapathy Kris Gopalakrishnan, Co-founder Infosys & Chairman Axilor Ventures and Mr. MV Kotwal, Formerly Member of the L&T Board & President Heavy Engineering ; Dr. PS Goel, former President of INAE; Prof Purnendu Ghosh, Prof AB Pandit also participated in the discussions.