Roundtables organised at the Festival of Innovation and Entrepreneurship (FINE) 2023 discussed ways of raising the profile of country's innovation and entrepreneurship eco-system, which is by far the world's most inclusive eco-system, the third largest in the world and an inspiration for many progressive economies.
Five round tables on different aspects of innovation were held as part of FINE, organised by National Innovation Foundation, an autonomous institution of the Department of Science and Technology (DST) and inaugurated on 10th April 2023 by the Hon'ble President of India, Smt. Droupadi Murmu.
The roundtables organised on the theme scaling up and commercialization of innovations, innovations for wealth creation and employment, inclusive and sustainable development, healthcare innovations, as well as energy and environment, brought together policymakers from the Government, sector-specific institutions, farmers, innovators, entrepreneurs, start-up founders, academicians, representatives from industry and incubators.
Contemporary issues and solutions for scaling up and commercialization were discussed at the round table chaired by Prof Ashutosh Sharma, former Secretary of Department of Science and Technology, and Co-Chaired by Dr. Gulshan Rai, former National Cyber Security Coordinator, in the Office of Prime Minister. Mr. Dhanendra Kumar, former Executive Director, The World Bank; former, Chairperson, Competition Commission of India; former Secretary to Government of India - Ministry of Road Transport and Highways (MORTH), Defence Production & Culture, as well as representatives from Flipkart, Atal Innovation Mission (AIM), Sequoia Capital, ISRO, Qualcomm, Deloitte, Orion Innovation (Education vertical), Entrepreneurship Development Institute of India (EDII), NABVENTURES, Amazon India, Samunnati Financial Intermediation & Services Private Limited, The World Bank, participated in it.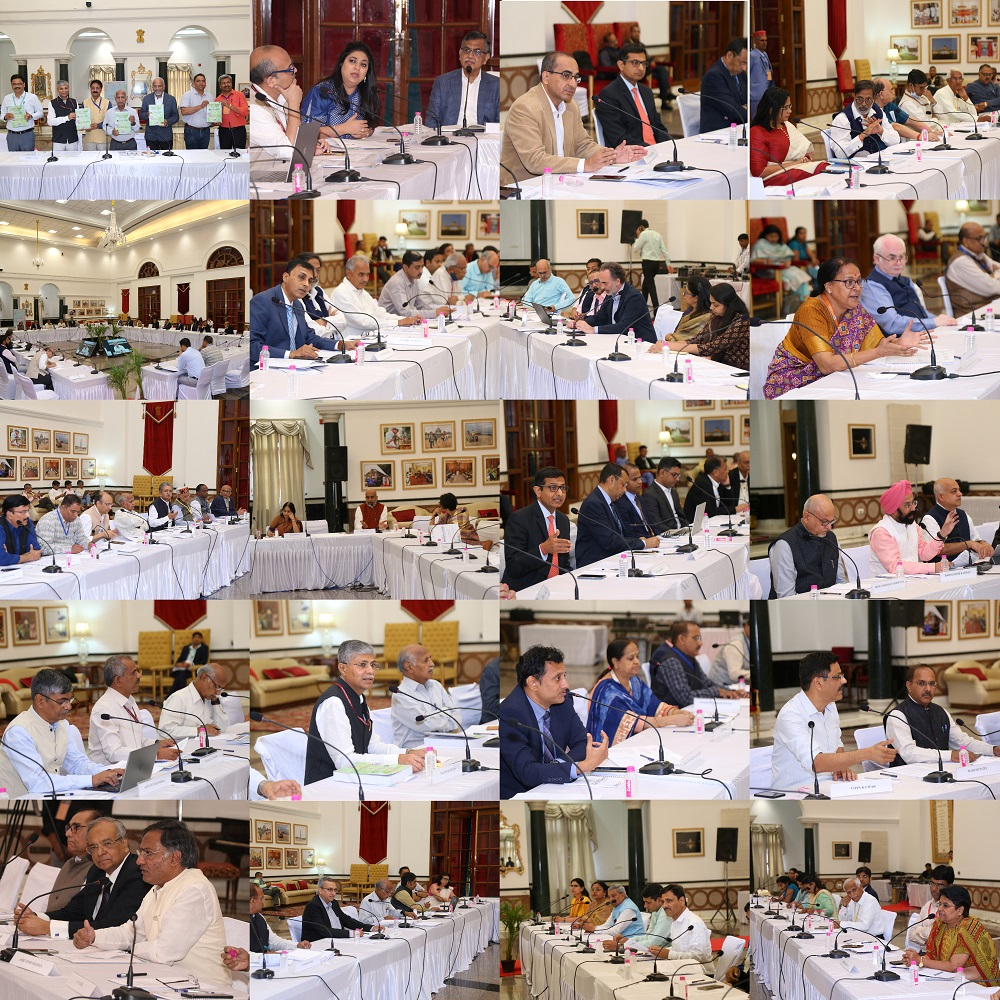 The roundtable "Innovations for wealth creation and employment" chaired by Dr. Rajesh S. Gokhale, Secretary, Department of Biotechnology, and Co-Chaired by Mr. Harkesh Kumar Mittal, former Programme Head of Innovation, Entrepreneurship, and Tech. Commercialization, Department of Science and Technology, deliberated on plausible policies for the future of wealth creation and employment generation in India by further empowering innovation and entrepreneurship. Representatives of various Ministries of the Government, Institutions, and Universities like Protection of Plant Variety & Farmers' Rights Authority, National Biodiversity Authority, National Institute of Agricultural Extension Management, NIAS, ICAR - National Academy of Agricultural Sciences, Institute of Pesticides Formulation Technology, National Institute of Food Technology Entrepreneurship and Management, National Institute of Rural Development & Panchayati Raj, Institute of Rural Management, Anand; Maharana Pratap University of Agriculture and Technology, Chaudhary Sarwan Kumar Himachal Pradesh Krishi Vishvavidyalaya; G D Goenka University; Anand Agricultural University, CSIR - National Institute of Science Communication and Policy Research and also global financial services firm like Goldman Sachs participated in the panels.
Challenges towards inclusive and sustainable development and their mapping for science and technology-based innovative solutions around us were discussed at the panel chaired by Dr. M. Ravichandran, Secretary to Ministry of Earth Sciences, and Co-Chaired by Prof Satyajit Majumdar, Dean of School of Management and Labor Studies, Tata Institute of Social Sciences. The panelists included representatives from Office of PSA, Govt of India; Bill and Melinda Gates Foundation, Wells Fargo, Publicis Sapient, UNICEF, National Academy Of Agricultural Sciences, IIT Delhi, DST, NECTAR, NPCI, India Vision Foundation, DBT, NIT Calicut amongst others.
The roundtable on "Healthcare Innovations," Chaired by Prof Rajesh Kotecha, Secretary, Ministry of AYUSH, and Co-Chaired by Professor Y K Gupta, President, AIIMS –Bhopal and President AIIMS, Jammu,  worked on a roadmap for the future of affordable healthcare in India. The panelists included representatives from the National Institute of Pharmaceutical Education and Research (NIPER), Kamdhenu University, Regional Medical Research Centre (RMRC), Gorakhpur; BIRAC, Pt. Deen Dayal Upadhyaya Veterinary Science University, Institute of Medical Sciences, Varanasi; Baidyanath; Shivayu Ayurved, Indian Genomix Pvt Limited, Central India Institute of Medical Sciences, Jawaharlal Nehru University, Krishna Vishwa Vidyapeeth, VASU Research Centre, Dhootpapeshwar amongst others. 
During the event, NIF, in collaboration with the Central Council of Research in Ayurvedic Sciences (CCRAS), launched extra Ayurvedic pharmacopoeia of 48 medicinal plants used in indigenous medicinal systems.
Modern-day energy and environment issues, and also the possible answers around them, most of which can stem from S&T-based innovative solutions, were deliberated on at the roundtable chaired by Dr. Anjan Ray, Director, Indian Institute of Petroleum Dehradun and Co-Chaired by Dr. S. Sundar Manoharan, Director General, Pandit Deendayal Energy University, Ahmedabad. Representatives of from TERI; NITI Aayog; ISRO; Council on Energy, Environment and Water (CEEW), Chakr Innovation, ALOE ECELL, PHOOL - Kanpur Flowercycling, Govind Ballabh Pant National Institute of Himalayan Environment (NIHE), National Power Training Institute (NPTI), Bureau of Indian Standards, Institute of Horticulture Technology amongst others and also global firms like the Switch mobility participated in the panels.