India looks forward to deepening the SCO collaboration in the field of Science, Technology and Innovation specially among young scientists, Union Minister of State (Independent Charge) Science & Technology; Minister of State (Independent Charge) Earth Sciences; MoS PMO, Personnel, Public Grievances, Pensions, Atomic Energy and Space, Dr. Jitendra Singh said at the the 2nd SCO Young Scientists Conclave (SCO-YSC).
In his inaugural address, Dr Jitendra Singh highlighted that the growth of SCO depends on its success in science, technology and innovation sector. "There is a need to transform this landscape and this Conclave will be a catalyst to bring about this change by fostering the collaboration among young scientists, he pointed out.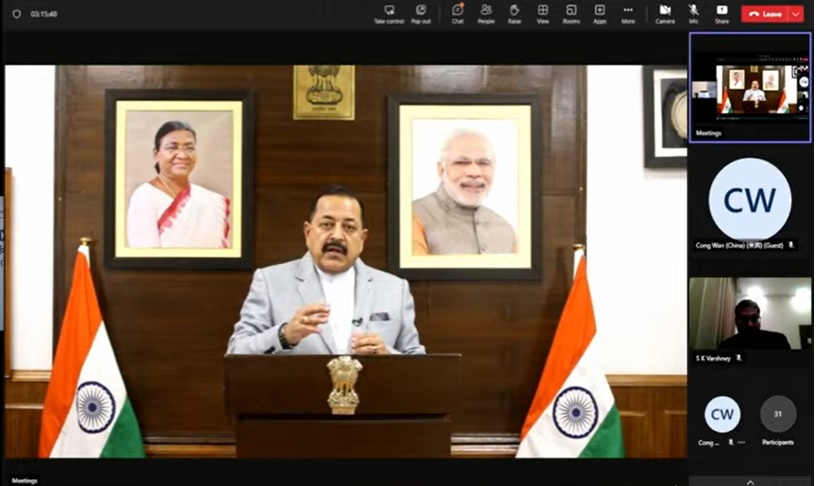 The 2nd SCO Young Scientists Conclave (SCO-YSC) is being hosted at Jawaharlal Nehru Centre for Advanced Scientific Research (JNCASR), Bengaluru, an autonomous institute of Department of Science and Technology (DST), at its campus from 6th -10th February 2023.
The Shanghai Cooperation Organization (SCO) is an inter-governmental organization, with Kazakhstan, the People's Republic of China, the Kyrgyz Republic, the Russian Federation, the Republic of Tajikistan, Uzbekistan, Pakistan, and India as the member states. Under India's current presidency, this conclave aims to bring together innovative young minds from these member states onto a common platform to discuss various scientific ideas under five umbrella themes --- agriculture and food processing; environmental protection and natural resource management; artificial intelligence and big data research and application; sustainable energy and energy storage; and, disease biology and healthcare.
"The discussions and deliberations among SCO young scientists on the themes will provide new perspectives and I expect them to come up with a roadmap to address these challenges," he added.
Dr Singh emphasized that the critical and emerging technologies such AI, data analytics have pervaded all walks of life and is playing a transformative role in almost all sectors: health, education, energy, environment, agriculture, industrial sectors, etc.
"It has become imperative for government and industries to be prepared to adopt these emerging technologies in order to remain competitive, drive societal progress, generate employment, foster economic growth and to improve the overall quality of life and sustainability of the environment. There is great huge potential in this domain for start-us and entrepreneurship.  We may organize Startup Forum and an Innovation Contest to Promote Micro-, Small- and Medium Sized Businesses," Dr Singh pointed out stressing that the motto for the young scientists should be -to Innovate, Patent, Produce and Prosper. These four steps will lead our countries towards faster development. He specially requested young scientists of SCO to come forward and join hands for developing solutions for our common societal challenges with the limited resources available.
Secretary General, Shanghai Cooperation Organization, Mr. Ziang Ming hoped that work done by young scientists will promote research, education, science, technology. This collaborative research may help in bringing up the social and economic status of the member states.
Shri Dammu Ravi, Secretary (ER), Ministry of External Affairs, Govt. of India presented his message for this Conclave. He wished that interactions during this conclave will create a significant pool of young talent which will help in bringing about impactful changes.
SCO Country Coordinators also presented their addresses which were moderated by Dr. Arvind Kumar, Scientist-F, International Cooperation Division, DST, Govt. of India (Co-Convenor, 2nd SCO-YSC). The Country Coordinators Ms. Urmanova Diliyara from Kazakhstan), Mr. Wan Cong from China, Ms. Sidorenko Valeria Valirievna from Russia, Mr. Nazarov Shohrukhbek Shukhrat Ugli from Uzbekistan presented their addresses and emphasized on various ways and avenues by which the young scientists may foster research collaborations in this event and in future.
Shri S K Varshney, Head International Cooperation Division, DST and Prof G U Kulkarni, President, JNCASR along with senior officials from DST and JNCASR participated in the inaugural session.