India's largest annual gathering of scientific luminaries from countries across the world, the 107th session of Indian Science Congress, was inaugurated on January 3, 2020 by Hon'ble Prime Minister Sri Narendra Modi who called on the young scientists to 'Innovate, Patent, Produce and Prosper'.
Delivering the inaugural address at the University of Agricultural Sciences, GKVK Campus, Bangalore, Karnataka the Prime Minister said, "The growth story of India depends on its achievements in the Science & Technology sector. There is a need to revolutionize the landscape of Indian Science Technology and Innovation."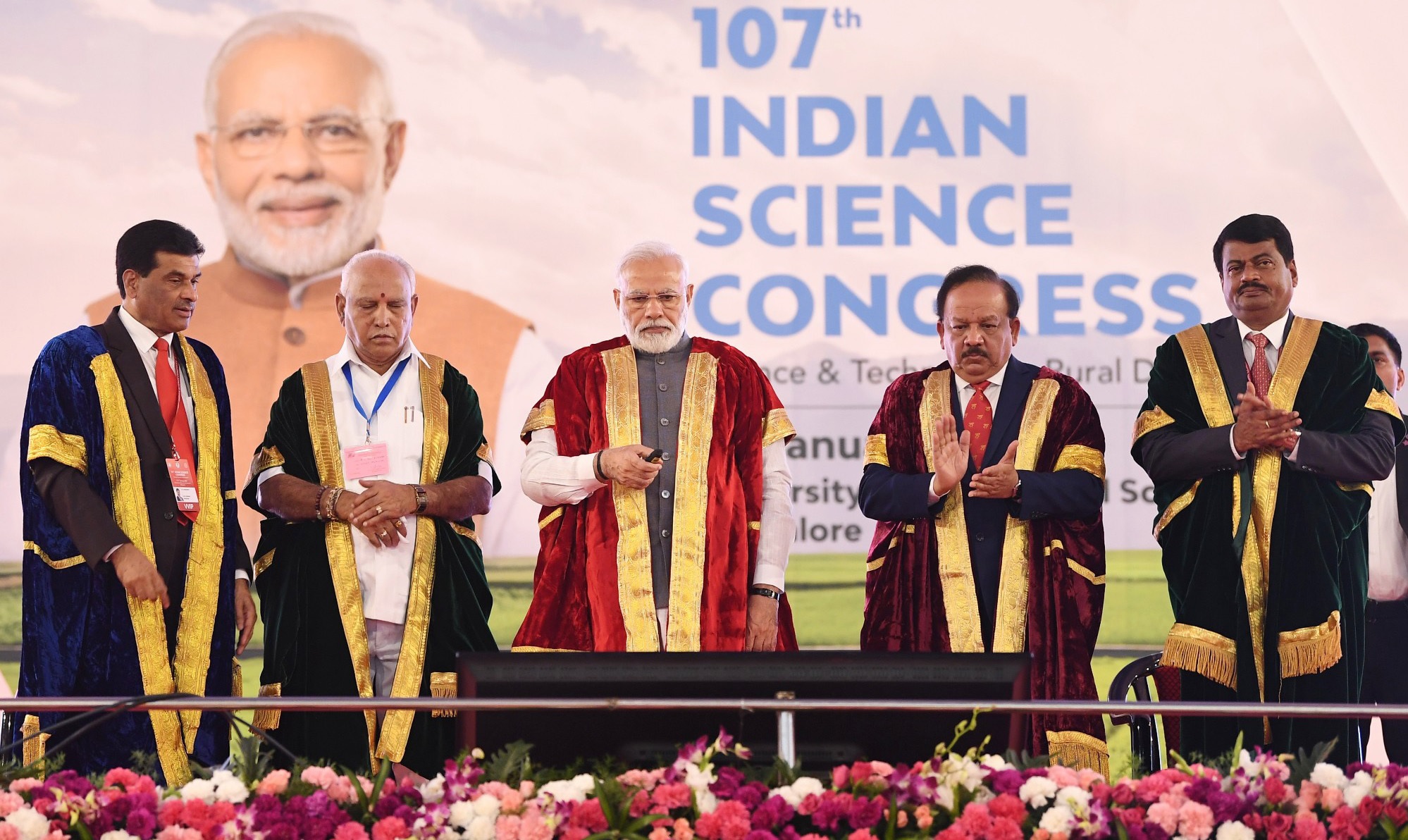 "Innovation for the people and by the people is direction of our 'New India', he added stressing that new India needs technology and also a logical temperament, so that we can give a new direction to our social and economic sectors".
He said science and technology provides a level playing field in making opportunities accessible to all and that it also plays a unifying role in the society, he pointed. He exhorted young scientists to work in Science and Technology for rural development where there are several opportunities for cheaper and better innovations.
The Prime Minister highlighted that developments in information and communication technology are able to provide cheaper smart phones & cheaper data connecting the common man and making his voice heard and that Geo Tagging and Data Science helps projects in rural and urban areas to be timely completed.
Referring to the theme of 107th ISC - "Science and Technology: Rural Development", the Prime Minister said that it is only due to Science &Technology, that Government Programmes have reached the needy.
He highlighted that India now stands at 3rd position globally, in the number of Peer-reviewed Science and Engineering Publications and is growing at a rate of about 10% as compared to global average of 4%.
He also mentioned about Improvement in India's ranking at Innovation Index to 52. He highlighted that Government programmes have created more incubators in the last 5 years than in previous 50 years. Prime Minister Modi also launched the I-STEM Portal on the occasion.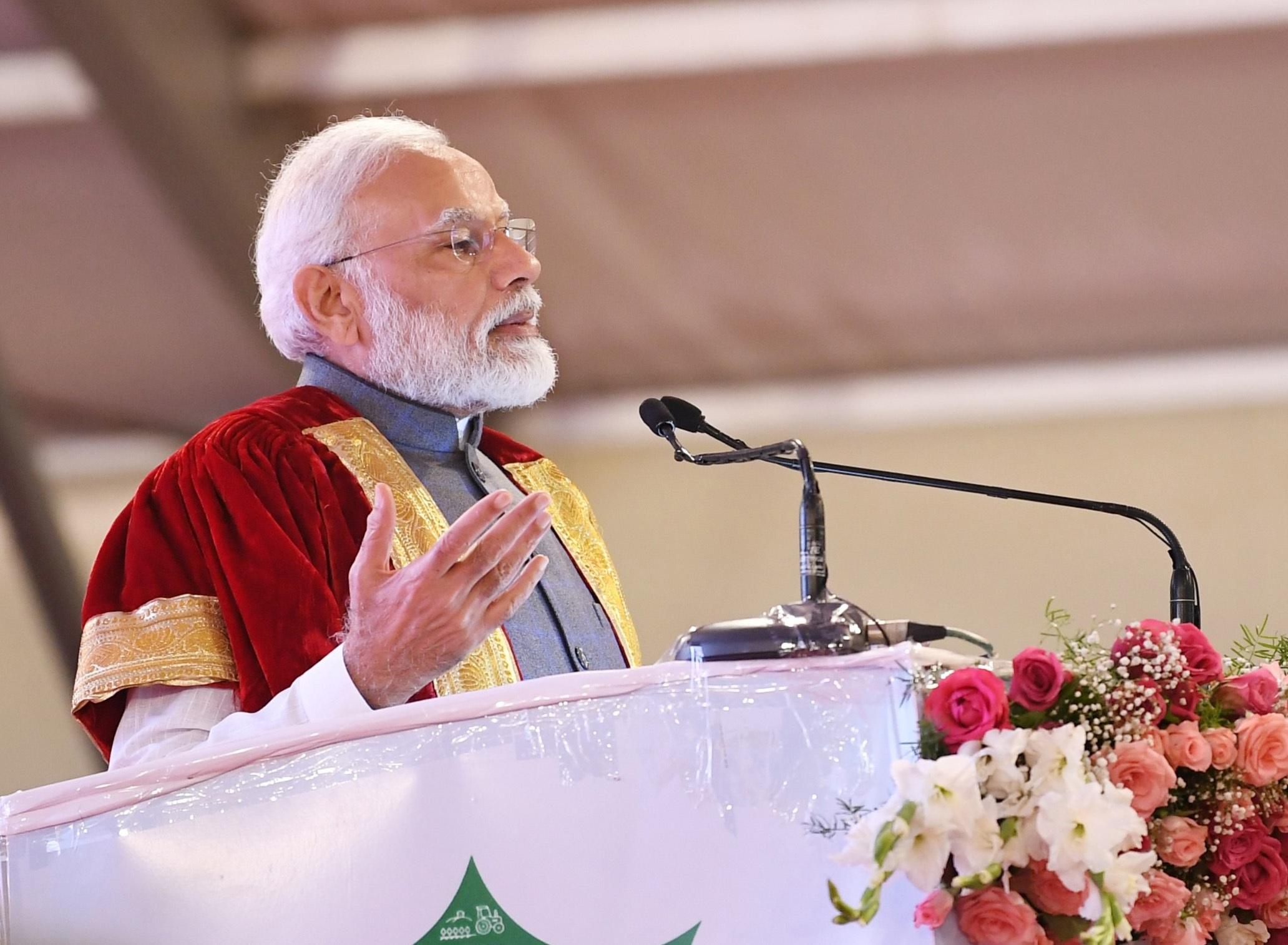 Hon'ble Union Minister for Science and Technology, Earth Sciences and Health and Family Welfare Dr Harsh Vardhan highlighted that as per a recent National Science Foundation (USA) Report, India has already climbed to the third spot in the number of science and engineering publications and that Jawaharlal Nehru Centre for Advance Scientific Research (JNCASR) in Bangalore has scored the 7th position in the quality of research by Nature Index.
He also emphasized that several schemes have been worked out for enhancing the quality of research, empowering young women students and scientists, technology development, creation of an end-to-end startup ecosystem, bringing the best of global science to India, linking of academia-research labs-industry-society, sharing of scientific resources and science communication.
He pointed out that our innovation ecosystem in the last five years has doubled from the previous fifty years and that the Scientific Social Responsibility Policy has been formulated to reach out to the widest-spectrum of stakeholders of S&T with knowledge, human resources and infrastructure.
Dr Harsh Vardhan elaborated that missions have been initiated in the disruptive technologies such as Cyber-Physical Systems, deep-ocean exploration; quantum systems, energy storage and gene editing which are creating unprecedented opportunities for our young and dynamic scientists to work on securing the future. At the same time traditional knowledge systems in areas such as health and well-being, water conservation, environmental management and sources of local livelihood have been strengthened.
He stressed that our scientists will make this decade a Vigyan se Vikas ka Dashak for a rapid, inclusive and sustainable socio-economic growth—to aid the Hon'ble PM's vision of five trillion dollar economy by 2024-25.
Chief Minister of Karnataka Sri B S Yediyurappa highlighted the importance of agricultural technology in rural development.
The Science Congress which will continue till 07 January, 2019 consists of 28 Plenary Sessions on areas ranging from Climate Smart Agriculture for Food Security, Crop Improvement Towards Food & Nutrition Security, Materials Science And Technology For Rural Development, Challenges and Opportunities In Cancer Drug Discovery, Artificial Intelligence And Medical Technology, Advances In Basic Medical And Clinical Interactions, Non-Communicable Diseases In Rural Population as well as Cancer Research - Therapeutic Applications. The areas also include Nano Materials for Energy, Environment and Health Care, Novel Solutions for Oil and Gas Industry Problems and so on in which senior scientists and officials will discuss on the status, challenges, opportunities and scope in these research areas.
The Nobel Laureates who are participating in this Indian Science Congress include German physicist Professor Stefan Hell who is one of the directors of the Max Planck Institute for Biophysical Chemistry in Göttingen, Germany and Professor Ada E. Yonath from Israel.
Apart from this, several senior Scientists from India and abroad along with several government officials are participating in this event to exchange their views on a range of scientific issues, both at the national and international level.