India's National Climate Research agenda was released at the inauguration of the two-day International Climate Research Conclave (ICRC-2023) at DST's Centre of Excellence in Climate Studies at IIT Bombay on 26 May 2023, paving the way forward for coordinating national efforts towards understanding and addressing climate change 2030 and beyond.
Secretary, Department of Science and Technology (DST), Dr. S. Chandrasekhar, highlighted that the damage caused by climate change has already taken its toll, and our response has been delayed. He pointed out that valuable lessons to tackle the situation can be taken from our experiences of positive changes in the environment due to altered human behavior during the COVID-19 pandemic. He said these serve as a reminder that if we act responsibly, there is a real possibility of passing on a sustainable planet to future generations.
Dr. Chandrasekhar emphasised that addressing climate change is not the responsibility of climate scientists alone. "It is a collective responsibility that extends to all individuals and sectors of society. Climate change is influenced by peripheral activities surrounding climate science, and it becomes the duty of scientists to identify the areas that have the most significant impact on the climate and work towards mitigating them," he stressed at the conclave jointly organised by The Department of Science and Technology (DST) and Ministry of Earth Sciences and hosted by DST's Centre of Excellence in Climate Studies at IIT Bombay.
"By acknowledging the collective responsibility and adopting sustainable practices across various sectors, we can make meaningful progress in mitigating climate change and preserving a healthy planet for future generations. It is a call to action for everyone to play their part in creating a more sustainable and resilient world," he added while releasing the report on "India's Climate Research Agenda: 2030 & Beyond'.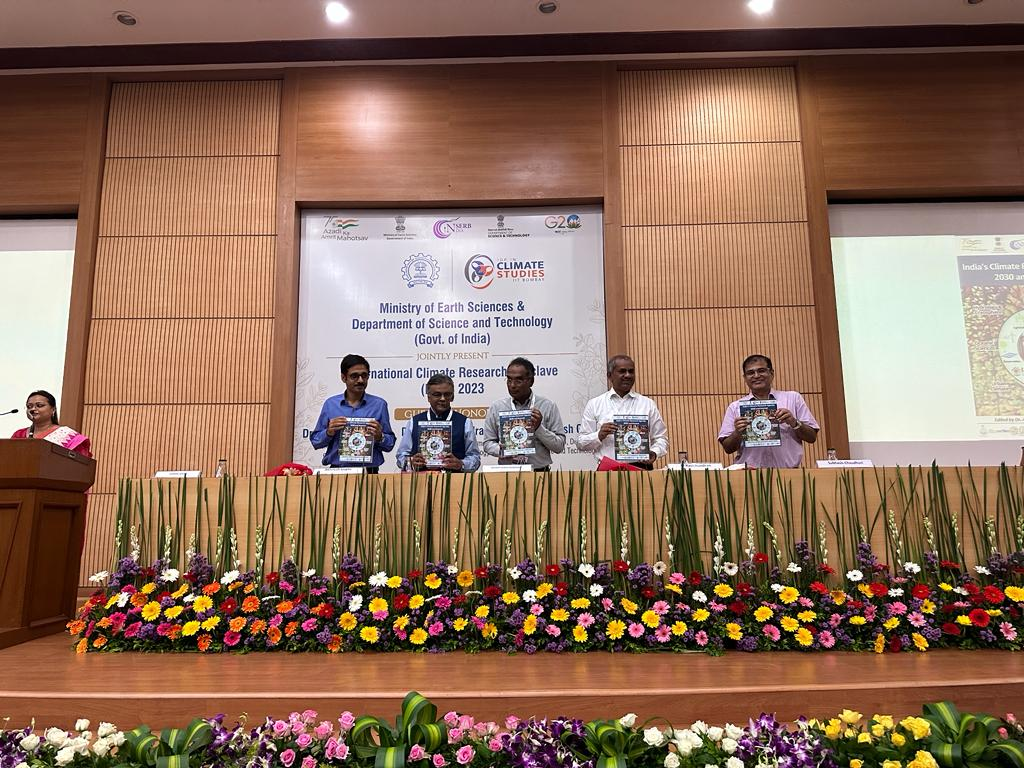 Secretary, Ministry of Earth Sciences, Dr. M. Ravichandran, emphasised the importance of understanding the cryosphere and the implications of climate change. He highlighted the importance of formulating policy decisions to address various aspects such as water resources, extreme rainfall, heat waves, and marine waves. These complexities need to be quantified and communicated with reduced uncertainty to facilitate better policy decision-making.
Dr. Ravichandran underscored the interconnectedness between different regions and bodies, including the Arctic, Antarctic, and Himalayas, as they directly impact water bodies. Recognizing this, the conclave aims to generate a multitude of recommendations that will benefit the country as a whole.
"This conclave serves as a platform to discuss and propose recommendations that will contribute to effective policy formulation. By addressing these complex challenges and providing actionable insights, the conclave aims to enhance policy decision-making and benefit the nation as a whole in its quest for a more sustainable and resilient future," he added.
Over 200 climate scientists, students, experts, and policymakers from different parts of the country and around the globe are participating in the International Climate Research Conclave (ICRC-2023) to discuss India's recent progress in climate research and its agenda and vision for 2030. The conclave also discussed a long-term research agenda for the country in the priority areas of climate research and plans for creating a Climate Consortium of several departments and ministries of the Government of India for facilitating climate Research.
Dr. Akhilesh Gupta, Senior Adviser, DST and Secretary, Science Engineering Research Board (SERB), highlighted the significance of the day, reflecting on the historic celebration of the 10th anniversary of the ICDP (International Centre for Development and Performance) Centre of Excellence at IIT Bombay. This center, established in 2012 as the first Center of Excellence by the Department of Science and Technology (DST), has since paved the way for a broader climate change program.
Referring to the progress made over the years, Dr. Gupta said that today, there are not only 12 Centers of Excellence but also 20 major programs dedicated to climate change research. This extensive network encompasses a staggering 1,400 institutes where climate change studies and research take place, with recent expansions to private institutions.
"This event is, however, immensely significant as its purpose is to unveil the National Climate Research agenda -- a crucial step forward in guiding and coordinating National efforts towards understanding and addressing climate change," Dr. Gupta explained.
"It is already evident that India is making significant strides in climate research and demonstrating its commitment to combat this global challenge. The conclave serves as a platform for collaboration, knowledge sharing, and setting the course for future research endeavors, all in pursuit of a more sustainable and resilient future," Dr. Gupta added.