Hon'ble former President of India Bharat Ratna Shri Pranab Mukherjee gave away the Dr A P J Abdul Kalam IGNITE Awards 2019 to 21 creative and innovative children for their 18 distinct ideas and innovations.
The competition is organised every year by the National Innovation Foundation (NIF) - an autonomous body of the Department of Science and Technology (DST), Government of India. An exhibition to showcase all award-winning ideas by young, creative minds of this nation was also organized on this occasion.
The innovations being recognized this year encompass a great diversity of Science and Technology, be it Vishwa Goswami a student of UKG from Gandhinagar, Gujarat who gave the idea of "Plate with inbuilt detachable glass" or Innovator trio A.J. Surya, S. Venkateswaran and Venuram R.R. from Chennai who gave the idea of "Semi-automatic flower garland maker and packer".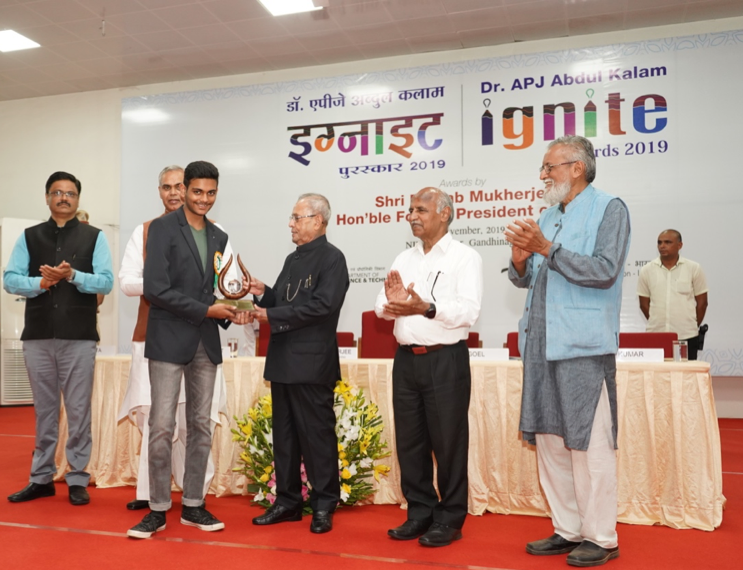 Shri Acharya Devvrat, Hon'ble Governor of Gujarat presented the first copy of Dr APJ Abdul Kalam IGNITE 2019 award book to Hon'ble former President of India Bharat Ratna Shri Pranab Mukherjee.
Over 60,000 submissions of students from 544 districts of all the States & Union Territories of India were received during the IGNITE 2019 competition, which ran from September 1, 2018 to August 31, 2019.  The award winners hail from 9 States and Union Territory of the country representing the true diversity of India.
Shri Pranab Mukherjee recollected the initiatives like Festival of Innovation and Entrepreneurship (FINE) during this presidency which proved to be an excellent platform for innovators of the country. He recalled India's glorious history characterized by emphasis on education through Universities and evolution of Social Innovations since times immemorial.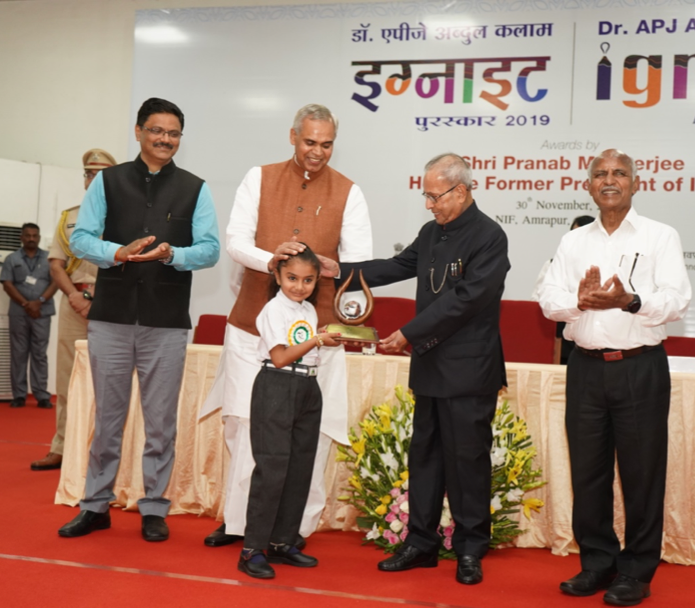 He acknowledged the potential of innovators in our country who always keep needs of the society at the forefront. He congratulated innovators who proved to be a game changer for society by being the reason for a quantum jump from bringing incremental changes historically to radical changes in present times.
Shri Pranab Mukherjee appreciated the efforts of NIF in promotion of innovation in the country and shared few areas where he would anticipate more innovations will emerge in coming days viz. Poverty eradication, Rural communications, Agriculture, Animal Husbandry, Wind Energy and those which would help address the Climate Change problems.
Shri Pranab Mukherjee gave a mantra of 3 I's for India -  The first "I" being Impatient, second "I" being Innovations and the third "I" being Inclusive. He urged the innovative minds of the country to keep trying, until the time when efforts result in success of an endeavour.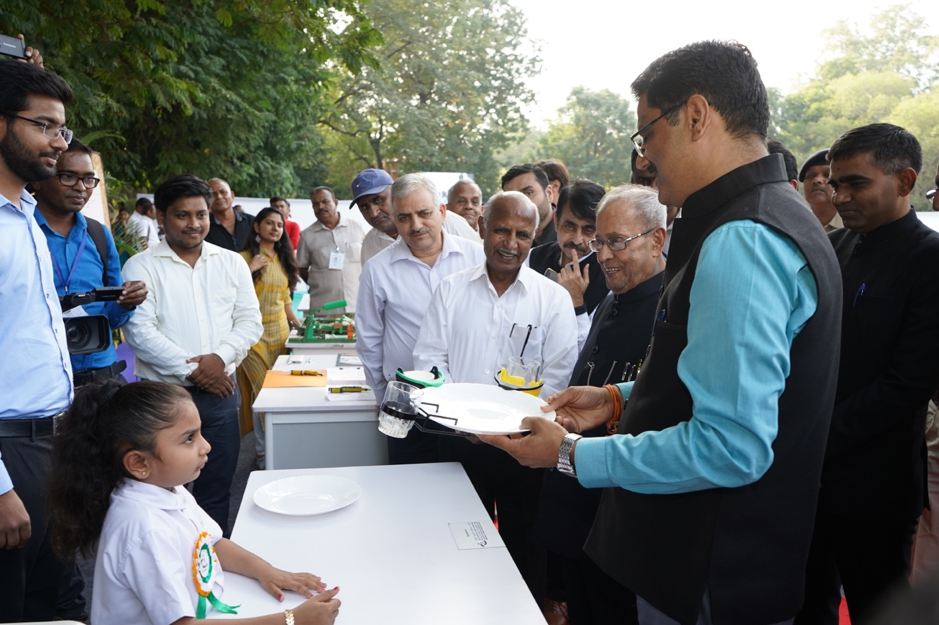 Dr APJ Abdul Kalam IGNITE Award is an effort to focus primarily on the creativity of the children and promote inclusive and compassionate thinking among them.
Dr P S Goel, Chairperson, NIF in his welcome address reiterated the commitment of NIF towards recognizing children's creativity in this country. He also touched upon the great journey of IGNITE awards ever since the year 2008, then a humble beginning until today, wherein children from nearly ninety percent districts of the country are participating in the competition year on year.
Speaking on the occasion, Shri Acharya Devvrat, Hon'ble Governor of Gujarat appreciated the high potential that innovators of India possess and an ever increasing need to connect this potential with opportunities. He cited various examples of people who contributed to transformation of the world at large through Science and Technology and expressed his happiness that youth of India is keeping pace with rest of the world in terms of innovations. He expressed his confidence in next generation innovators in the country.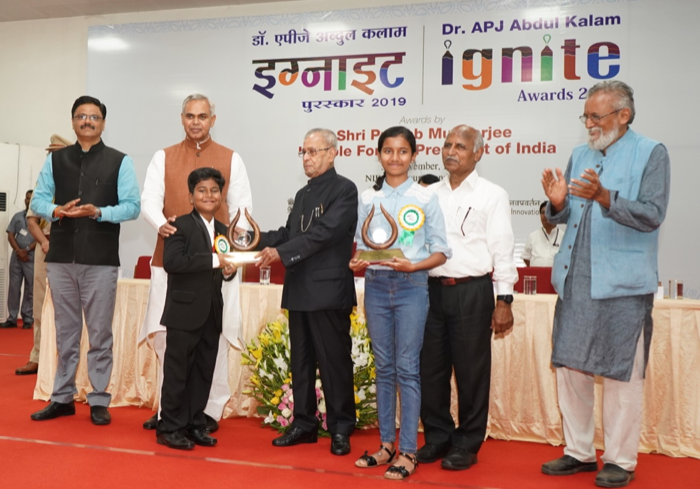 Dr APJ Abdul Kalam IGNITE competition, a national competition of original technological ideas and innovations by children up to class 12 or those out of school up to the age of 17 years, is organized by NIF every year to promote creativity and originality among children. The winners of the 2019 competition were announced on the 15th October, 2019 on the birthday of late Dr APJ Abdul Kalam, which is celebrated as the Children's Creativity and Innovation Day by NIF.
A number of State Boards/Councils/ Directorates/ Departments of Education/Secondary Education/ Higher Secondary of the states of Andhra Pradesh, Gujarat, Haryana, Himachal Pradesh, Kerala, Maharashtra, Nagaland, Telangana, Meghalaya, Mizoram, West Bengal, Rajasthan, Karnataka, Punjab, Tamil Nadu, and Chhattisgarh actively promoted the IGNITE 2019 campaign.
Among the other dignitaries present on the occasion were Shri Acharya Devvrat, Hon'ble Governor of Gujarat; Dr P S Goel, Chairperson NIF; Prof Anil K Gupta, founder, Honey Bee Network and Dr Vipin Kumar, Director, NIF.
Annexure 1
Dr A P J Abdul Kalam IGNITE Competition 2019 - List of awardees
S.N.

Idea/innovation

Student Name

Class

School Name

District

State/UT

1.

Solar ironing cart

 

Vinisha Umashankar

8

The Path Global Public School, Malappambadi

Thiruvannamalai

Tamil Nadu

2.

Visually challenged friendly toilets

Baibhav Parida

 

8

Dev Public School, Chandresekharpur

Khordha

Odisha

3.

Expandable food plate

Padmashri G.

6

GKHPS Doddabompalli

Kolar

Karnataka

4.

Insect killing dustbin

Tanmay Kumar Sethi

7

Delhi Public School

Rourkela

Odisha

5.

Modified broom with dust collector for cleaning ceiling

Swadha Krishn

7

Delhi Public School, North Bangalore

Bengaluru

Karnataka

Swastik Subham

6

Kendriya Vidyalaya No. 1

Sambalpur

Odisha

6.

Plate with inbuilt detachable glass

Vishwa Goswami

 

UKG

Bhaskar Play School, Pethapur

Gandhinagar

Gujarat

7.

Quick finger duster for whiteboards

Archit Aryaman

 

9

Army Public School, Narangi

Kamrup Metropolitan

Assam

8.

Fast drying shoes

Devjit Prasad Majhi

9

Buxi Jagabandhu English Medium School, Bhubaneswar

Khordha

Odisha

9.

Intelligent stair case

Anuj Mishra

9

Vindhyavasini Public School, Bharuhana

Mirzapur

Uttar Pradesh

10.

Innovative shading tool for drawing

Raktim Das

10

Shankar Dev Sishu Vidya Niketan, Dadara

Kamrup

Assam

11.

Easy cleaning water tank

Siddhant Kumar

9

Govt High School, Rana Bigha

Nalanda

Bihar

12.

Manual Cole crop harvester

Yash Pramod Jadhav

10

Shardabai Pawar Vidyalaya, Shivnagar

Pune

Maharashtra

13.

Stapler for leaf plate making

Suyash Patel

10

Sri Chaitanya Techno School, Kaggadasapura

Bengaluru

Karnataka

14.

Spill-proof Kaangri

Asim Sikandar Mir

8

Shemford Futuristic School, Wanpoh

Anantnag

Jammu & Kashmir (UT)

15.

Perspiration absorbing shoe

Sayeeda Banoo

9

Govt High School, Poyen

Kargil

Ladakh (UT)

16.

Sickle housing first aid kit

Kishan H. Thakor

12

Gramshala, Grambharti, Amrapur

Gandhinagar

Gujarat

17.

Sleep-walking detector and preventer

Shivam Amritesh

 

11

Sanskar Bharti Global School, Phulparas

Madhubani

Bihar

18.

Semi-automatic flower garland maker and packer

A.J. Surya, S. Venkateswaran and Venuram R.R.

12

Vidya Mandir Senior Secondary School, Mylapore

Chennai

Tamil Nadu