A new energy-efficient carbon dioxide capture technology that converts carbon dioxide to carbon monoxide under electro catalytic conditions under ambient temperatures in the presence of water has been developed with potential for application in the steel sector.
In efforts to support India's goal for net-zero emissions by 2070, the DST-supported National Centre of Excellence in Carbon Capture and Utilisation (NCoE-CCU) at IIT Bombay is actively working towards developing novel, scalable and affordable pathways on capturing CO2 from various emission sources, and converting it into usable chemicals or permanent storage, representing a crucial pathway for greenhouse gas mitigation.
In a significant development, a team of investigators led by Dr. Arnab Dutta and Dr. Vikram Vishal, along with dedicated research scholars at the national centre has been granted a patent for CO2 to carbon monoxide (CO) conversion technology. The innovation is also accepted for publication in the international journal, Nature Communications.
Carbon monoxide (CO) is a widely used chemical in the industry especially in the form of syn gas. In the steel industry, CO is an essential ingredient for converting iron ores to metallic iron in blast furnaces. Currently, CO is generated by partial oxidation of coke/coal, which leads to a significant production of CO2 as an end product of this process. If this emitted CO2 can be captured and converted into CO, it can lead to a circular economy in this process while reducing the carbon footprint and associated costs. The process for CO2 to CO conversion that is widely in use currently occurs at elevated temperatures (400-750 °C), and the presence of the equivalent amount of H2 is necessary for driving this reaction forward making it an energy-intensive process.
The newly developed process by IIT Bombay's NCoE-CCU requires only minimal energy as it can proceed under ambient temperatures (25-40 °C) in the presence of water. The energy required for this electrocatalysis reaction can be harnessed directly from a renewable energy source (in the form of a solar panel or windmill), which ensures a carbon-neutral operating scenario for a facile CO2 to CO conversion.
This technology holds promise for various industrial applications and is being actively pursued for scaling up through the recently incubated start-up UrjanovaC Private Limited for potential application in the steel sector. In addition, another aqueous-based CO2 capture and conversion to calcium carbonate technology emerging from the activities of the DST-supported NCoE-CCU is also licensed to UrjanovaC Private Limited incubated through SINE at IIT Bombay.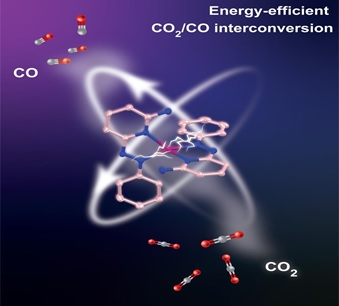 Figure: Energy-efficient CO2/CO Interconversion