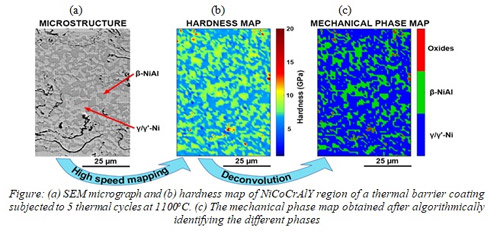 Scientists from International Advanced Research Centre for Powder Metallurgy and New Materials (ARCI) an autonomous institute under the Department of Science & Technology, Govt. of India in collaboration with Nanomechanics Inc., Oak Ridge, USA have jointly developed an advanced tool for mapping nano-mechanical properties of materials like multi-phase alloys, composites, and multi-layered coatings.
The tool called NanoBlitz 3D has also been found to yield excellent results on a wide range of material systems, including glass-fibre-reinforced polymer composites, dual-phase steels, softwood and shale. An important aspect of this technique is its high-throughput, with just a few hours of testing required for generating more than 10,000 data points that can be processed using machine learning (ML) algorithms.
It enables the performance of a large array, typically consisting of 1000s high-speed nano-indentation tests, wherein each indentation tests takes less than one second to measure hardness and elastic modulus of a given material. In addition, it provides capabilities to carry out advanced data analysis, such as identifying and quantifying the mechanical properties of constituent phases, features or components of multi-phase alloys, composites, multi-layered coatings and so on.
The high-speed mapping capabilities of the tool can also be used to quickly establish structure-property linkages at a micrometer length scale or higher, which can help to understand multiscale mechanics and aid in development of hierarchical materials. This, in turn, expedites the development of high-performance novel materials under an Integrated Computational Material Engineering (ICME) approach.
The product was released in San Antonio, USA by Dr. G. Padmanabham, Director, ARCI, on the sidelines of The Minerals, Metals & Materials Society 2019 Annual Meeting and Exhibition. As data science is considered as the new avenue for accelerating materials design and discovery, this technique with high-fidelity and high-throughput can greatly contribute to this new paradigm.
Dr. Sudharshan Phani, spphani[at]arci[dot]res[dot]in, can be contacted for further details.