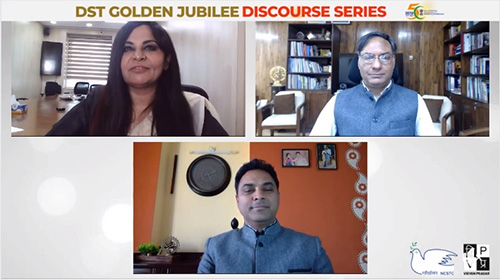 Experts underscored the contribution of science and technology policies in India's path towards Atmanirbhar Bharat at the DST Golden Jubilee Discourse Series on Mapping Post Covid Economy organized on the occasion of the yearlong golden jubilee celebrations of the Department of Science and Technology (DST).
"While world was battling COVID-19 pandemic, DST came up with four policies that would greatly help science and technology to contribute immensely in making India become Atmanirbhar in all sectors and democratization of science and technology," said Secretary DST, Prof Ashutosh Sharma at the online discourse series organized on February 25.
The DST Secretary spoke about the upcoming Science, Technology and Innovation Policy (STIP), Scientific Social Responsibility (SSR) policy, Science and Technology Infrastructure Policy, and the recently released Geospatial Data Policy.
"Things are happening at great speed. STIP is very detailed and well-thought-of policy, and it would help in democratisation of science. SSR can offer to society a lot by forming a direct interface. Science and Technology Infrastructure Policy is aimed at creating, maintaining, sharing, using, and connecting the infrastructure with the stakeholders and people. The geospatial data policy calls for the liberalisation of Geospatial Data and would open many new possibilities in geospatial and other sectors," professor Sharma added.
Chief Economic Adviser Dr. Krishnamurthy Venkata Subramanian pointed out that the liberalisation of Geospatial Data was a path-breaking change and needs to be commended by all. Timely measures like lockdown, financial help, and support to people, as well as our courage and conviction, worked as short-term pain and long-term gain policy and helped manage the COVID 19 pandemic effectively, he added.