Union Minister of State (Independent Charge) Science & Technology; Minister of State (Independent Charge) Earth Sciences; MoS PMO, Personnel, Public Grievances, Pensions, Atomic Energy and Space, Dr. Jitendra Singh announced a special drive for StartUps and R&D activities in the new and emerging areas in the University ecosystems of North Eastern region, Jammu & Kashmir and Ladakh, in addition to Madhya Pradesh, Chhattisgarh, Jharkhand, Bihar, Telangana, and Rajasthan by providing basic infrastructure and enabling scientific facilities, at the "Vishwavidyalaya Anusandhan Utsav 2023" organised today at Dr Ambedkar International Centre here.
"In India's quest for competitive advantage, our universities and related institutions need to play a major role towards generating high calibre human resources as repositories of national intellectual wealth in the S&T sector. In light of the vision by our Hon'ble PM that India's self-reliance will be based on five pillars -- economy, infrastructure, technology-driven system, vibrant demography, and demand it is prudent to strengthen the foundation of relevant R&D infrastructure across the Nation to contribute to the development of a self-reliant India," Dr. Singh said at the inauguration of the Utsav.
Dr Jitendra Singh said that in order to meet these diverse challenges and strengthen the S&T infrastructure support system in the universities and other related academic institutions, the Department of Science and Technology (DST) nurtures and supports a variety of infrastructure related schemes like FIST, PURSE, SAIF, etc. towards augmenting/ facilitating the R&D equipment for research activities at various Universities/ Institutes and other Academic organizations as well as promote industry-academia linkages.It's our endeavour that the youth of our country have access to quality R&D infrastructure to pursue research in all areas of S&T," Dr. Singh added while speaking at the Utsav organised to showcase the achievements of the PURSE supported Universities.
Dr Jitendra Singh said that the Honourable Prime Minister's vision is to step up the efforts in various fields to make the country 'the most advanced laboratory for modern science' in the 'Amrit Kaal'-the next 25 years leading to the centenary of India's Independence. Working towards this vision, the Government has committed to invest heavily on building research infrastructure in the country. Under FIST Program, DST has supported 3074 Departments and PG Colleges at a total budget of about Rs. 3130.82 crores for Scientific Infrastructure Building in various STEM Departments in Universities and academic institutions.
Dr. Singh pointed out that flexible infrastructure grants are being provided to universities nationwide to keep up the vigour of conducting highly challenging R&D activities with an investment of Rs 950 Crores till date. The Promotion of University Research and Scientific Excellence (PURSE) with a nationwide reach supports the university's research ecosystem by making high-end research equipment available to our academicians/scientists, enabling our universities to compete with global standards.
The Union Minister launched a new scheme, SUPREME, a first-of-its-kind program by the Government of India, to provide financial support for repair/ upgradation/ maintenance/ retrofitting or acquiring additional attachments to increase functional capabilities of existing analytical instrumentation facilities (AIFs) during the programme.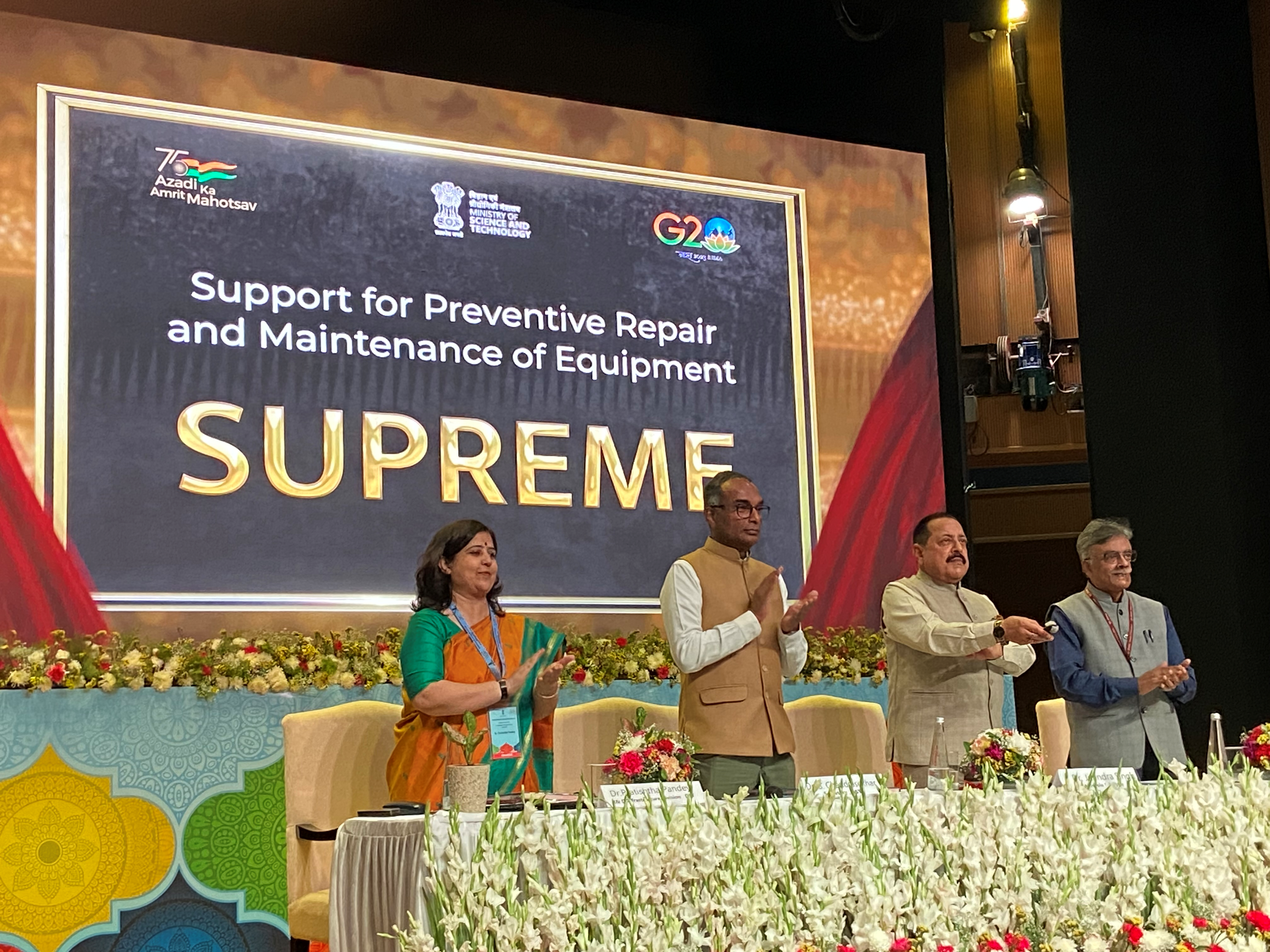 Dr. S Chandrasekhar, DST Secretary said that the future of scientific research will call for deeper and more widespread multidisciplinary collaboration among countries which will enable researchers to optimize the precondition of securing sustainable scientific collaboration. India can escalate this through deeper collaborations while hosting the G20 nations.
Department of Science and Technology has supported numerous Universities to augment their research infrastructure as they are striving towards potentially high-impact, interdisciplinary research (both basic and applied) aligned to national priorities and missions. Universities supported under the various programmes showcased their research accomplishments, novel findings, and technologies under the common platform for knowledge sharing provided by Vishwavidyalaya Anusandhan Utsav. A Book on the achievements of various universities supported under PURSE was also released.