On the occasion of the "National Science Day" today, Union Minister of State (Independent Charge) Science & Technology; Minister of State (Independent Charge) Earth Sciences; MoS PMO, Personnel, Public Grievances, Pensions, Atomic Energy and Space, Dr Jitendra Singh today launched VAIBHAV Fellowship scheme for the Indian Diaspora abroad.
Speaking at an event at Vigyan Bhavan, Dr Jitendra Singh said, the Vaibhav Fellowship aims at improving the research ecosystem of India's Higher Educational Institutions by facilitating academic and research collaborations between Indian Institutions and the best institutions in the world through mobility of faculty/researcher from overseas institutions to India. He said, the best of Diaspora minds will collaborate with domestic Minds to deliver world class projects and products.
The Minister said, the applicant should be Non-Resident Indian (NRI), Persons of Indian Origin (PIO) or Overseas Citizen of India (OCI) and she or he must have obtained Ph.D/M.D/M.S degree from a recognized University. Moreover, the applicant must be a researcher engaged in an overseas academic / research / industrial organization with a proven track record of research & development and plan to work for a minimum of 1 month to a maximum of 2 months a year in a research institution / academic institution in India.
Delivering the keynote address, Dr Jitendra Singh said, since May, 2014, when Prime Minister Narendra Modi took charge, there has been a visible change in priorities and shift in goals for the Science and Technology Ministry and other Science Departments like Space, Atomic Energy, and Ministry of Earth Sciences. He said, there was no dearth of talent and capabilities, but the vindication came in 2014, both at the policy planning level as well as at the political dispensation.
Dr Jitendra Singh reminded the august audience that in each of his nine Independence Day addresses as Prime Minister till now, Modi has announced the pathbreaking Scientific Initiatives.
He recalled starting from 15th August, 2014, when the Swachh Bharat Mission was announced to build individual household toilets, thus giving a huge sigh of relief to the rural poor, especially the young girls and women in terms of health and hygiene. Similarly, the other historic announcement "Start-Up India, Stand-Up India" was made by him onIndependence Day of 2015, then Digital India, which led to DBT, JAM Trinity and UPI, followed by Gaganyaan Mission, Digital Health, Deep Sea Mission and last year his pitch for Innovation with the clarion call of "Jai Jawan, Jai Kisan, Jai Vigyan and Jai Anusandhan". Subsequently, PM Modi spoke of Digital Health Mission and in his two consecutive Independence addresses of 2021 and 2022 he spoke of Deep Sea Mission, added the Minister.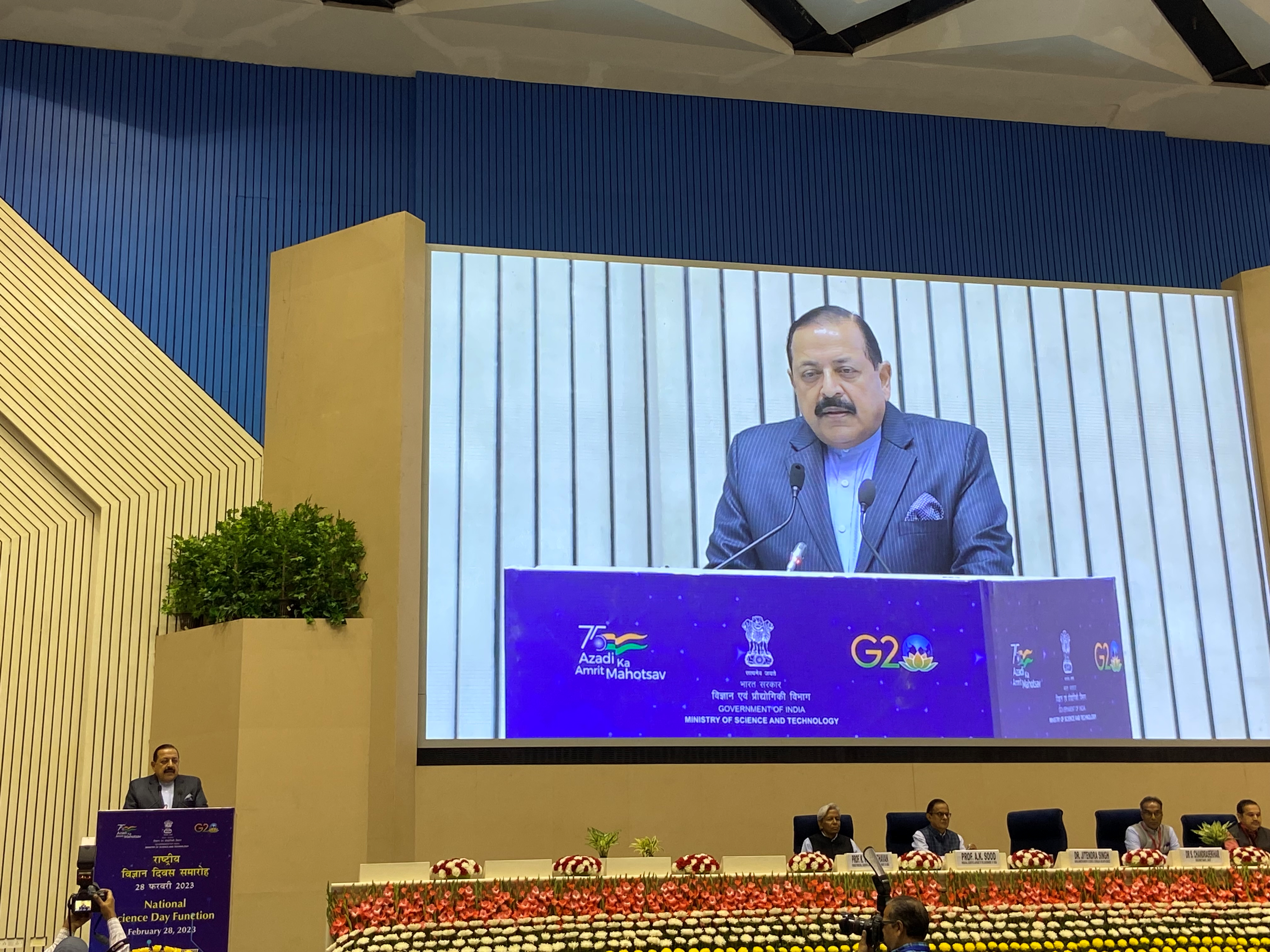 Dr Jitendra Singh said, out of 130 countries, we were at number 81 in the Global Innovation Index till 2015, but we have jumped to 40th position in 2022. Today India is among the top three countries in the world in terms of PhDs and among the top three countries in the world in terms of start-up ecosystem". The Minister also added that there has been a significant rise in the country's overall performance in terms of a number of publications (globally ranked 3rd now from 6th in 2013 based on National Science Foundation database), patents (globally ranked 9th in terms of resident patent filing) and quality of research publications (globally ranked 9th now from 13th in 2013) during the last 9 years.
Dr Jitendra Singh concluded by saying that India's Scientific Prowess will define and determine India's Future Economy in the Amrit Kaal of next 25 years.
In his address, Prof Ajay Kumar Sood, Principal Scientific Advisor to the Government of India said that the theme of this year's National Science Day "Global Science for Global Wellbeing" was chosen by Dr Jitendra Singh to coincide with India's Presidency of G-20. He said, India is committed to working with G-20 and other countries to drive scientific progress for the betterment of All. He said, Science, Technology and Innovation has become the core pillar of India's Economic Progress.
Dr S. Chandrasekhar, Secretary, DST said, STI has a critical role to play in realizing Prime Minister's vision of Atmanirbhar Bharat. He also informed that the Government of India is giving huge priority to the Science Streams and even this year budget for S&T ministry also got enhanced allocation.
Former PSA, Prof K Vijay Raghvan, Secretary, DBT, Dr Rajesh Gokhale, Secretary, Ministry of Earth Sciences, Dr M Ravichandran, former Secretaries and scientists took part in the celebrations.