Union Minister of State (Independent Charge) Science & Technology; MoS PMO, Personnel, Public Grievances, Pensions, Atomic Energy and Space, Dr Jitendra Singh today said, StartUps are the torch-bearers of India's Amrit Kaal journey over the next 25 years.
Addressing the Agri-Tech Start-up Conclave titled "ATMAN-2023", Dr Jitendra Singh called for wider synergy among the Research, Academia, StartUps and Industry for having a win-win proposition not only for innovative product development, but also for effective national and global branding and marketing.
Dr Jitendra Singh was happy to note that in the last 10 years, over 142 Deep-Tech Start-ups sprung up in Agriculture Sector and informed that 60 more will be added today during the Atman Conclave, a True Sangam of four IITs-- Ropar, Bombay, Indore and Kharagpur, came together to address the agricultural challenges facing the country.
Dr Jitendra Singh described Atman as a unique initiative as the ATMAN partners are working together as a team to provide an exclusive platform for the agricultural startups and innovations and some of these technologies have been displayed and demonstrated at the Expo organized during the programme. "The event was organized to help potential startups with financial and technical assistance with promising ideas, innovations, and technologies for proof of concept, prototype development, product trials, and market entry. The Technology Innovation Hubs at IITs Bombay, Ropar, Indore and Kharagpur are collectively offering a total fund of Rs 20 Crore to provide financial support to the tune of Rs 50 lakhs to each startup," Dr Singh explained.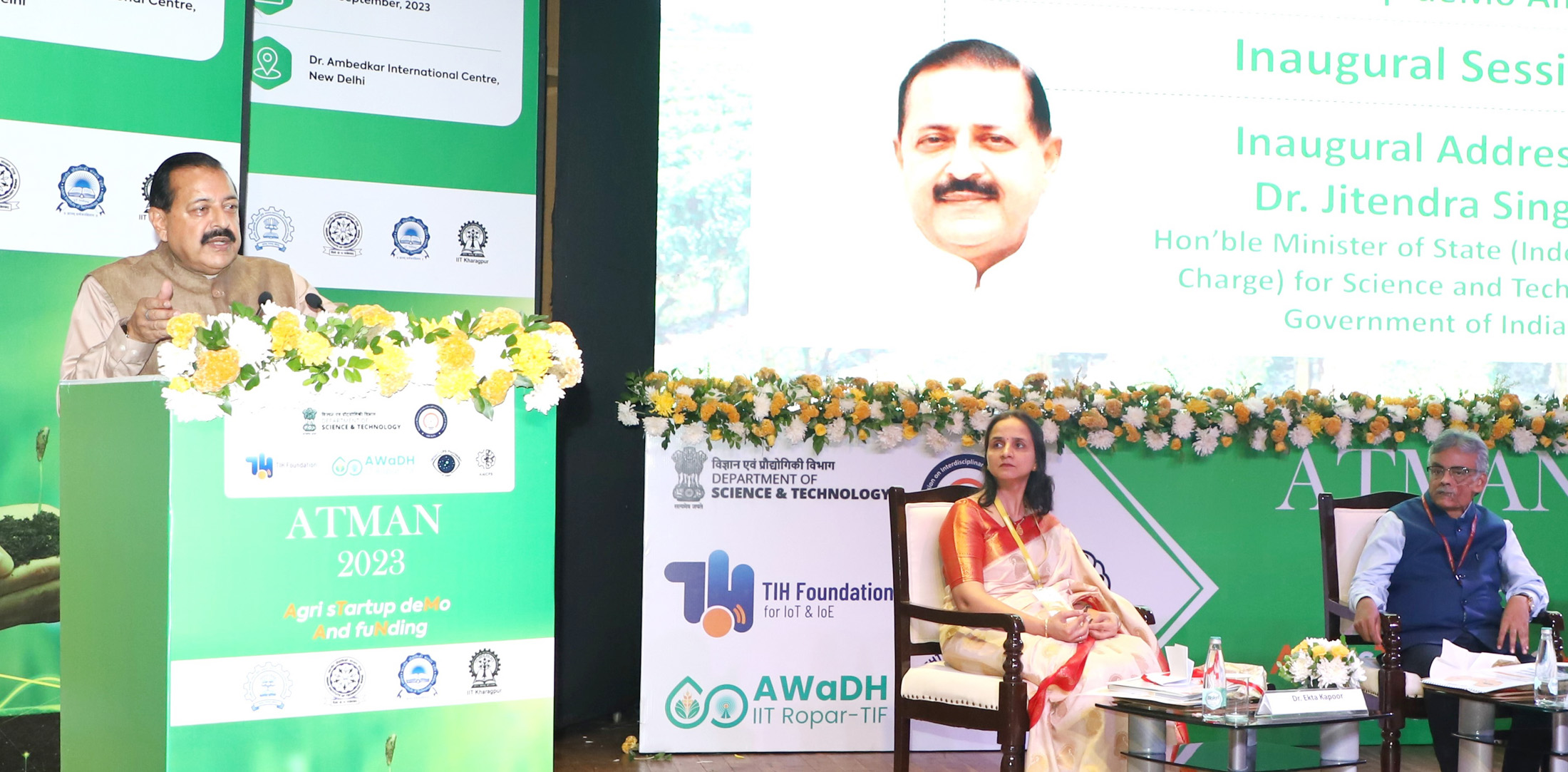 Dr Jitendra Singh pointed out that in line with the clarion call by the Prime Minister Shri Narendra Modi"Jai Jawan, Jai Kisan, Jai Vigyan and Jai Anusandhan" the four Technology Innovation Hubs are developing advanced deep technologies to transform agriculture. These can enable data-driven decision-making, automation, and precision in farming practices, ultimately contributing to the modernization and improvement of the agricultural sector, he added.
Dr Jitendra, however, pointed out that the agriculture sector in India faces numerous challenges such as climate change, fragmented landholdings, and resource constraints. He said, by introducing suitable technological interventions, India can modernize its agricultural practices to enhance productivity, reduce waste, and improve the overall efficiency of the sector.
Dr Jitendra Singh re-emphasized that it is high time to bring technological interventions in the agricultural sector—India's traditional sector, to modernise it, cater to the challenges, drive towards sustainability and address global food security.
Referring to the success of CSIR led Lavender Mission, which has changed the lives of many farmers, Dr Jitendra Singh underlined that Prime Minister in the 99th Edition of Mann ki Baat, appreciated the efforts of the Council of Scientific & Industrial Research- Indian Institute of Integrative Medicine (CSIR-IIIM) in supporting farmers in the cultivation of Lavender in the Bhaderwah, Doda district, J&K under CSIR-Aroma Mission. He said, "Farmers had been engaged in traditional maize cultivation for decades, but some farmers thought of doing something different. They turned to floriculture, that is, the cultivation of flowers. Today, around two and a half thousand farmers are cultivating Lavender here. They have also been handheld through the Aroma Mission of the Central Government. This new cultivation has greatly increased the income of the farmers."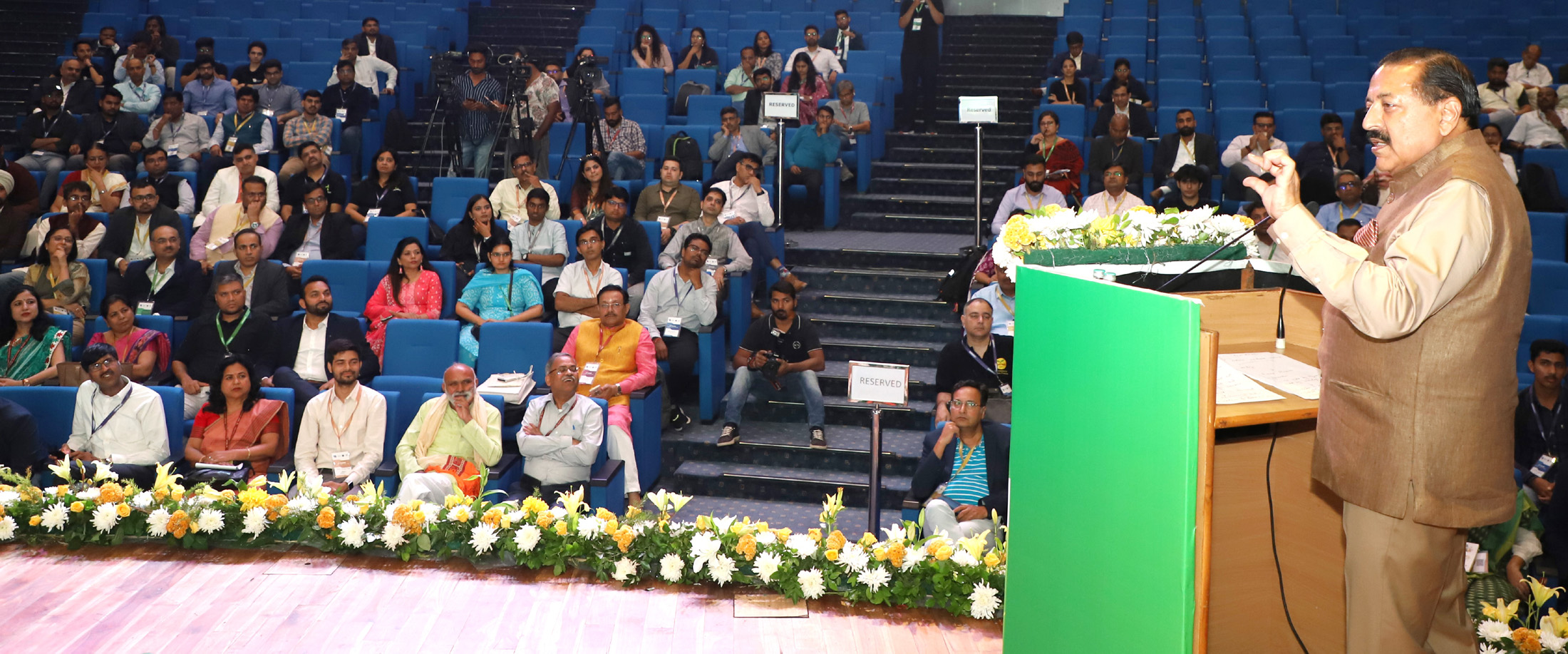 Dr Jitendra Singh said, about three to four thousand persons engaged with Lavender cultivation and earning lakhs of rupees by selling and marketing Lavender Oil. He also added that 70 percent of this youth brigade is not even graduates, but they have innovative bent of mind and risk-taking capacity to move away from low income generating maize cultivation to Lavender.
In his address, Secretary, Department of Biotechnology, Dr Rajesh Gokhale said, Science, Technology and Innovations have assumed a new dimension in the last 6-7 years and hoped that STI solutions will witness a big leap in the Agri Sector in coming days.
Dr Akhilesh Gupta, Senior Adviser at the Department of Science and Technology (DST)informed that four of the Technology Innovation Hubs which are among the 25 innovation hubs set up under the National Mission on Interdisciplinary Cyber Physical Systems (NM-ICPS) of DST are demonstrating 20 key agri-tech technologies at ATMAN
The ATMAN 2023 programme, was planned to promote Innovation and Entrepreneurship and support the AgriTech Startup Ecosystem to increase the number, success rate, and impact of Agri Tech startups. It has brought in the participation of stakeholders from government, industry, and academia, as well as farmer producer organizations and NGOs taking forward DST's unwavering commitment to advancing AgriTech innovation in India.