Union Minister of State (Independent Charge) Science & Technology; Minister of State (Independent Charge) Earth Sciences; MoS PMO, Personnel, Public Grievances, Pensions, Atomic Energy and Space, Dr Jitendra Singh today said, the Troika of Space, Drone and Geospatial Policy will propel India as a pre-eminent Technological Power in a few Years from now.
Addressing a National Conference on "Geospatial Policy for National Development" in Delhi, Dr Jitendra Singh said, unlocking of the Space sector for private participation in June 2020, issue of Liberalized Guidelines for Geospatial Data in February 2021 and final approval of Geospatial Policy in December 2022 and Liberalized Drone Rules, followed by Drone Amendment Rules-2022 notified by Ministry of Civil Aviation, all these transformative, game changer decisions came during the 2nd stint of Prime Minister Narendra Modi after May, 2019.
Dwelling on Geospatial Policy, Dr Jitendra Singh said, this technology is going to be an instrument of change in 21st Century India as apart from huge revenue generation potential, it will also open huge employment opportunities. He said, as per one industry estimate, Indian Geospatial economy in 2021 employed approximately 5 Lakh people across the country spread across the domestic market (including user industries, government services and export services) which is expected to rise over 10 lakhs by 2025.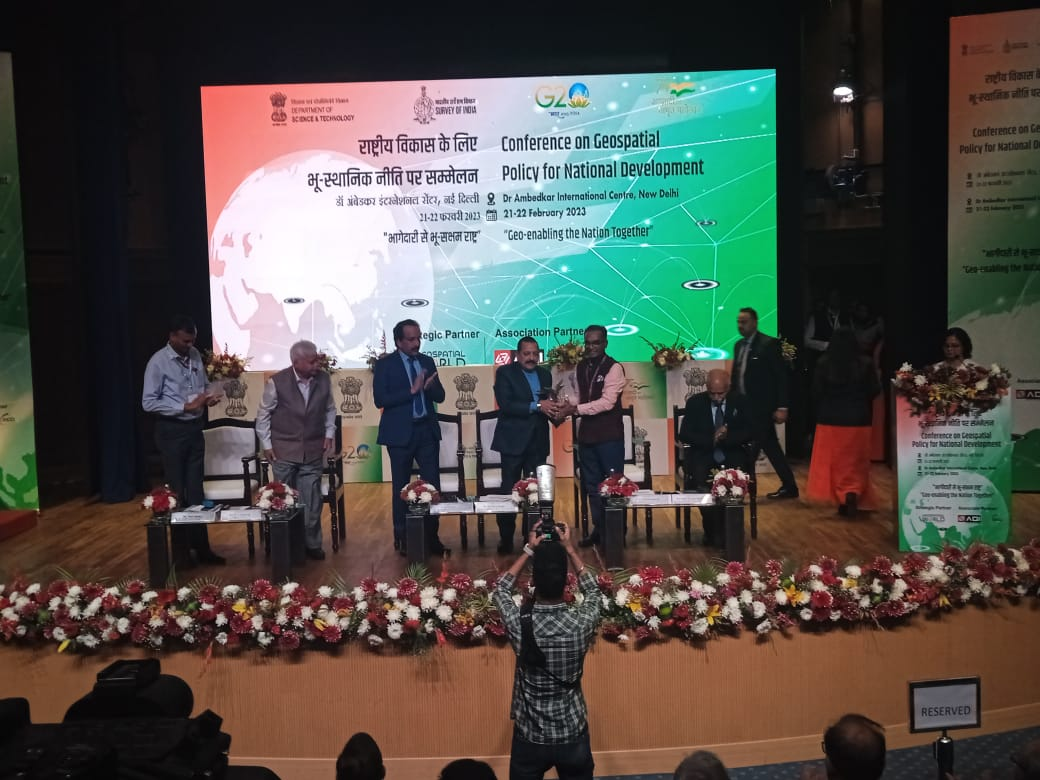 Dr Jitendra Singh said, in line with the vision of Prime Minister Shri Narendra Modi, India is on the cusp of Geospatial Revolution and a healthy synergy among Government, Industry and Scientific Community will tremendously boost up economic output and would help India becoming a 10 trillion Dollar Economy by 2030. He added that Geospatial information has an important role to play in the sectors like agriculture, environment protection, power, water, transportation, communication and health etc. 
Dr Jitendra Singh said, the role of private sector would be very crucial in strengthening the Geospatial infrastructure of the nation and added that actual collection and collation of data and development of data themes have to be increasingly done with private sector participation consistent with Geospatial Guidelines. He emphasized that the needs and requirements of the citizens related to various Geospatial/location-based solutions have to be predominantly serviced by the private sector with SoI and nodal ministries & agencies of various Geospatial Data Themes in a facilitative role. The Private Sector has to play a key role in creation and maintenance of Geospatial and mapping Infrastructures, innovations and process improvements and monetization of Geospatial data, the Minister added.
Secretary, Ministry of Science and Technology, Dr Chandrasekhar said in his address that the Survey of India will provide the baseline for collection and collation of Data by the private sector for strengthening the Geospatial Infrastructure. He hoped that in coming years more and more Start-Ups will mushroom in this sector, thus opening floodgates of job opportunities. He also underlined that in the next 10 years this sector will be a boomer.
Secretary, DoS, Dr S.Somanath said that with New Generation taking over, Geospatial will be an important arm for converting India into Digital India in various sectors. Referring to the Brainstorming Session convened by Prime Minister in 2015 with ISRO and Line Ministries in Vigyan Bhawan, he said, that meeting was a turning point and today every Ministry/Department of the Central Government has at least one Space Project.
Dr Somanath said, after Space and Drone policies, Geospatial will help in Grand Realization of Transforming India into a Digital Economy.
Shri R.S.Sharma,former Secretary to the Government of India and newly appointed Chairman of Geospatial Data Promotion and Development Committee (GDPDC) said, Geospatial Policy enables both the Government and Private sector to work in harmony to help India emerge as a true World Power. He said, any technology including Geospatial must be Inclusive, Open( based on API). Cost effective and bring Ease of Living for common man.
Sunil Kumar, Joint Secretary in Ministry of Science and Technology in his welcome address said that Geospatial technology has applications in almost every domain of the economy ranging from agriculture to industries, development of urban or rural infrastructure, administration of land, economic activities of banking and finance, resources, mining, water, disaster management, social planning, delivery services, etc. He said, Geospatial data is now widely accepted as a critical national infrastructure and information resource with proven societal, economic, and environmental value that enables government systems and services, and sustainable national development initiatives, to be integrated using location as a common reference frame.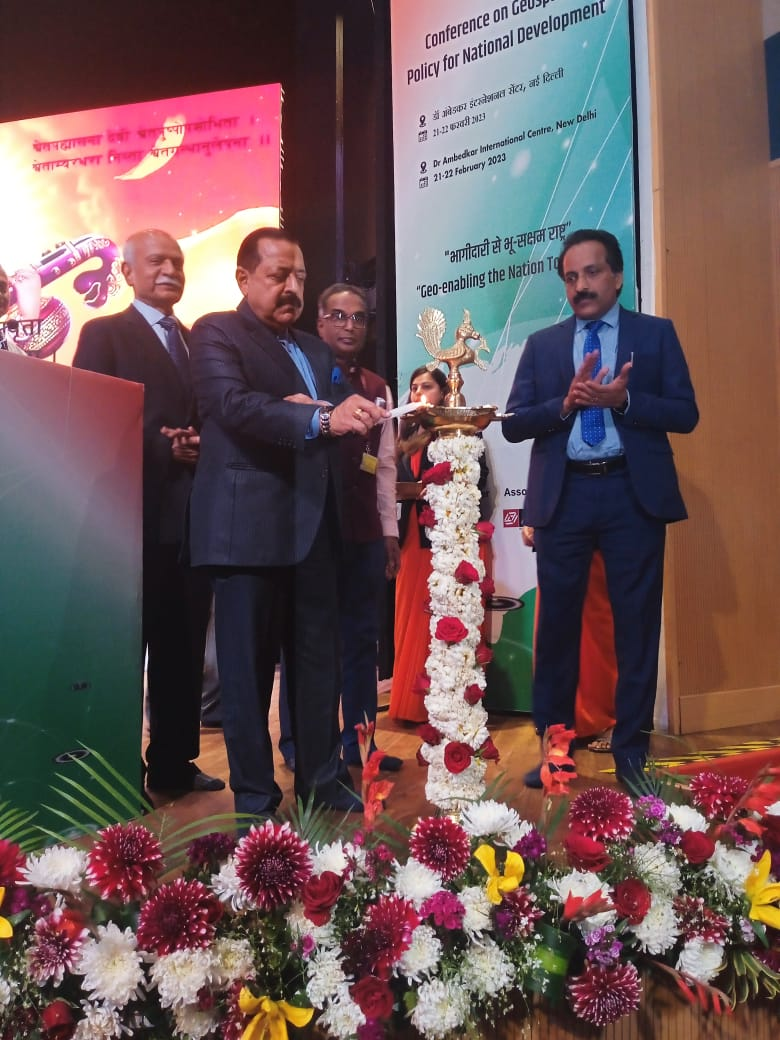 Some of the important applications of Geospatial Policy-
Digital India Land Resources Modernization Program (DILRMP) of the Ministry of Rural Development has led to creation of huge spatial data with sizeable number of cadastral maps digitized and geo-referenced. India's leading programme 'Namami Gange' uses geospatial technologies for river basin management and regulating the proposed protected and regulatory zones along the banks of the river.
Under the SVAMITVA (Survey of Villages Abadi and Mapping with Improvised Technology in Village Areas) scheme of the Ministry of Panchayati Raj, the large scale mapping of rural inhabited areas has created durable records of village property holdings which will support comprehensive village level planning.
The urban geospatial database prepared under AMRUT has enabled the State Urban Local Bodies to prepare their city Master Plans and facilitated the development of sectoral plans, infrastructure planning, utility planning, eco-sensitive areas protection & management, encroachment monitoring, geospatial governance, and municipal applications.
PM GatiShakti National Master Plan has been launched by the Government to prosper economic growth and sustainable development of India by providing multimodal connectivity infrastructure to various economic zones. The plan has been developed as a Digital Master Planning tool and prepared in dynamic Geographic Information System (GIS) platform wherein data on specific action plan of all the Ministries/Departments have been incorporated within a comprehensive database. Dynamic mapping of all infrastructure projects with real- time updation will be provided by way of a map developed by BISAG-N. The map will be built on open-source technologies and hosted securely on MEGHRAJ. It will use satellite imagery available from ISRO and base maps from Survey of India. The comprehensive database of the ongoing & future projects of various Ministries has been integrated with 200+ GIS layers thereby facilitating planning, designing and execution of the infrastructure projects with a common vision.