Union Minister of State (Independent Charge) Science & Technology; Minister of State (Independent Charge) Earth Sciences; MoS PMO, Personnel, Public Grievances, Pensions, Atomic Energy and Space, Dr Jitendra Singh today released the theme for the "National Science Day 2023", titled "Global Science for Global Wellbeing" at National Media Centre, here.
The Minister said, as India enters 2023, the theme indicates India's emerging global role and rising visibility in the international arena.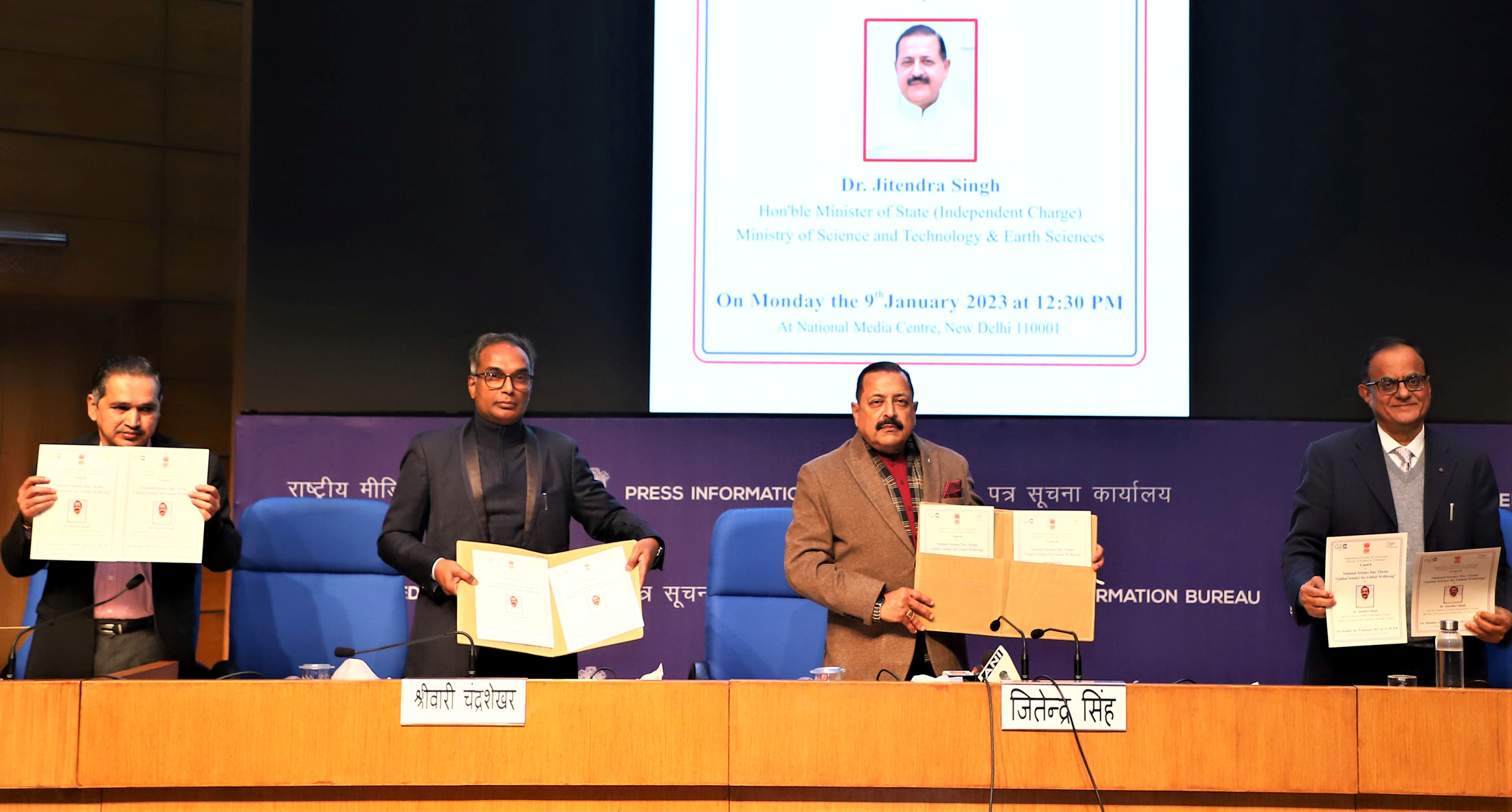 Dr Jitendra Singh expressed his deep gratitude to Prime Minister Narendra Modi for his meticulous guidance on the theme, subject and events of the National Science Day.
Dr Jitendra Singh said, the theme of "Global Science for Global Wellbeing" is perfectly in sync with India assuming the Presidency of G-20, where she will become the voice of the global south that is the developing countries of Asia, Africa and South America.
Dr Jitendra Singh said, India has acquired Global Visibility in the Comity of Nations under Prime Minister Modi and we are ready for Outcome oriented Global Collaboration to address the Global Challenges. He said, when concerns, challenges and benchmarks have assumed global dimensions, the redressal should also be of the global nature.
The National Science Day (NSD) is celebrated every year on 28 February to commemorate the discovery of the 'Raman Effect'. Government of India designated 28 February as National Science Day (NSD) in 1986. On this day Sir C.V. Raman announced the discovery of the 'Raman Effect' for which he was awarded the Nobel Prize in 1930. On this occasion, theme-based science communication activities are carried out all over the country.
Dr Jitendra Singh recalled that Modi had extended National Science Day greetings to all scientists and science enthusiasts last year and called for Global Good, when he said, "Let us reaffirm our commitment towards fulfilling our collective scientific responsibility and leveraging the power of science for human progress".
Dr Jitendra Singh informed that the Global Science for Global Wellbeing theme has been chosen for the purpose of raising public appreciation of the scientific issues in global context which is having a bearing upon global wellbeing.
He said, today, Indian scientific breakthroughs have reached from the lab to the land, indeed applications of science are being used by every household to bring "Ease of Living" for the common man. It also heralds a new era to provide opportunities to people and scientific fraternity in the country and abroad to come together, work together and experience the joy of doing science for the wellbeing of mankind, the Minister added.
Dr Jitendra Singh said, Science and Technology ecosystem in the country has made rapid strides in the last 8 and half years by initiating several new landmark reforms with far reaching implications for the country. He also reiterated the Government's stand that with renewed focus on Science, India is progressively marching towards becoming a global leader in industrialization and technological development. India's new plan, called Science, Technology, and Innovation Policy 2020, plans to promote Science more effectively and experts-driven, the Minister added.
Principal Scientific Advisor to the Government of India, Dr Ajay Kumar Sood explained the rationale behind the theme OF "Global Science for Global Wellbeing" and said in the wake of COVID-19, the World has become more closer to fight global challenges. Dr Sood also explained in detail that it was on February 28 in 1928 that iconic Indian physicist C.V. Raman made an important discovery, known as the Raman Effect. The discovery was that when a beam of coloured light entered a liquid, a fraction of the light scattered by that liquid was of a different color. Raman showed that the nature of this scattered light was dependent on the type of sample present.
Secretary, Department of Science and Technology (DST) Shri S. Chandrasekhar in his welcome address said that celebrations of important Scientific Days with associated events bring scientific awareness in the community. Many institutions organise open houses for their laboratories and appraise students about career opportunities available in a particular research laboratory/institution. The Department of Science and Technology (DST) acts as a nodal agency to support, catalyse and coordinate celebration of the National Science Day throughout the country in scientific institutions, research laboratories and autonomous scientific institutions associated with the Department of Science and Technology. National Council for Science & Technology Communication (NCSTC), DST has supported various programmes countrywide through State S&T Councils & Departments for organisation of lectures, quizzes, open houses, etc.
Dr Manoranjan Mohanty, Head, NCSTC, DST and other Senior officials of the Ministry of Science and Technology took part in today's event.