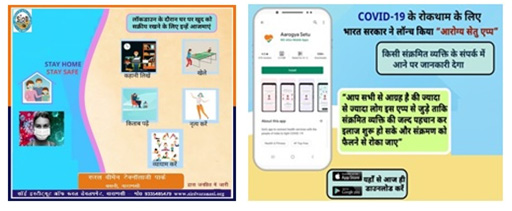 Rural Women Technology Park (RWTP) at Basani, Varanasi, supported by the Department of Science and Technology (DST) has joined India's fight against the COVID 19 pandemic by extending a helping hand to migrant workers by training and engaging women in making facemask as per WHO guidelines, distributing food as well as hand sanitizers.
More than 500 masks created at the RWTP center have been distributed among migrant laborers, tribal families in the neighbouring areas of Koiripur, Anei, Kuwar, Chanauli, Barhi Nevada of development block Baragaon, Varanasi.
The WTP staff has also distributed more than 200 food grains packs (containing 2 kg rice, 2kg wheat & 1 kg daal) in 15 nearby villages and to the migrant workers who are most affected in this pandemic situation. Social distancing was maintained during the distribution. They also produced and distributed hand sanitizers to the migrant workers, ration & food supply distributors, and villagers to be protect them from Corona Virus.
They are conducting online training to create digital designs and generating finished products to help the women beneficiaries to gainfully utilize their time at home during the lockdown period. WTP staff is also sending online advisories of AYUSH to help them stay fit to keep fit at home.
Around 250 women were trained to install 'ArogyaSetu App' and send the link of the ArogyaSetu App to more than 4000 families digitally. The app is helping the rural women to get the information related on COVID-19.
The RWTP focuses on the Women Empowerment through Skill Enhancement, Entrepreneurship Development, and Providing Market Linkages.
"Creating large scale awareness on the use of measures such as the ArogyaSetu App and distribution of aids such as DIY masks and sanitizers in the rural, semi-urban, and migrant workers is of utmost importance. These are precisely the tasks that enlightened and empowered NGOs and Self-Help Groups working at grass-roots are best at doing", said Professor Ashutosh Sharma, Secretary, DST.
For more details: Dr Indu Puri, Scientists 'F', DST, indub[dot]puri[at]nic[dot]in, Mob: 9810557964