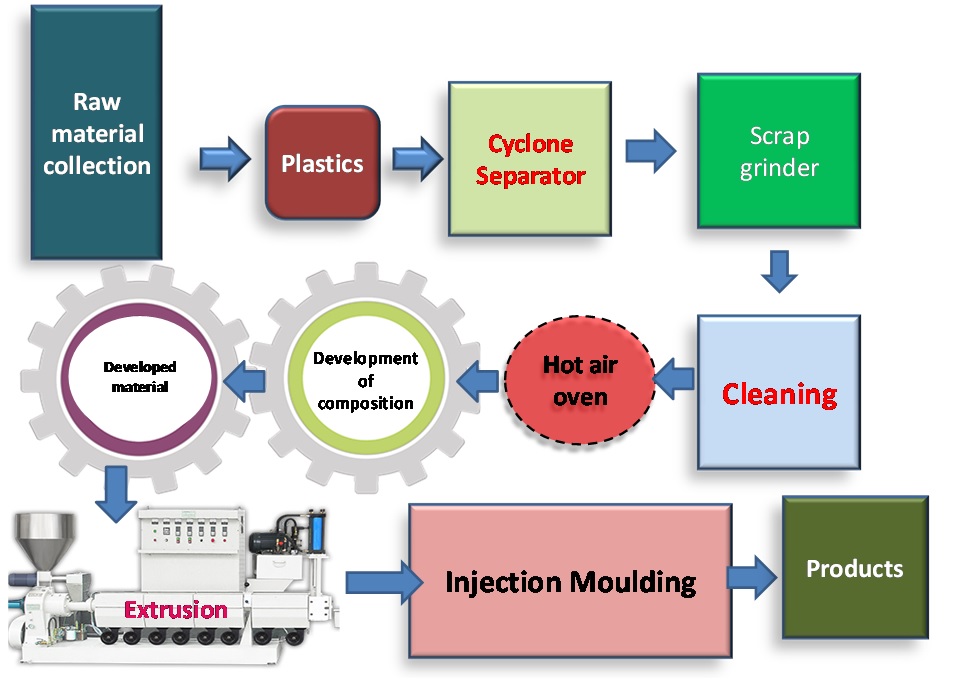 Laboratory for Advanced Research in Polymeric Materials (LARPM) Bhubaneswar under Central Institute of Plastics Engineering & Technology (CIPET) has developed an eco- friendly viable technology to streamline the segregation methodology, categorization of plastics waste. The technology will also value add to the plastic to recycle them for commercial usage.
Dr. Smita Mohanty of the School for Advanced Research in Polymers (SARP) and her team at LARPM tweaked the property of recycled plastics from E-waste by blending and effective utilization of additives and fillers. Several prototypes as proof-of-concept have been developed for product validation, which has been further verified by different characterization methods. The cost of production of this recycled plastic is around 60-70% less than the virgin counterpart of the plastic. 
The technology developed under Waste Management Technology (WMT) program of the Department of Science & Technology (DST), can be used by recylers, polymer manufacturers and product developers and finds application for developing raw materials for different range of high-end products, particularly having good mechanical strength and flow ability, specially at a time when India has launched a ban on single use plastics.

So far the laboratory has developed four different grades of formulations for utilizing waste plastics collected from E-Waste like, High Impact grade, Improved Flow Grade, Flame retardant (FR) grade and Improved Impact with Better flow grade. All these formulations have been successfully validated for many high-end applications with reduction in cost & improved processes.  The optimized formulations were found to be stable for nearly 5-10 years in normal environmental conditions and can be easily reprocessed without any appreciable change in its mechanical performance or durability.
The  laboratory  has established  a  demo-recycling unit  in  the  city  of  Bhubaneswar   to   support the  technical  knowhow  for  E-waste   recyclers and    interested    industrialists    and entrepreneurs.
The team is also working for effective utilization of Brominated flame retardants (BFRs) plastics and other smaller plastics materials obtained from LED and LCD screen, connectors and batteries in future.