Efforts of all sectors during COVID-19 helped India to move towards atmnirbharata in medical field: DST Secretary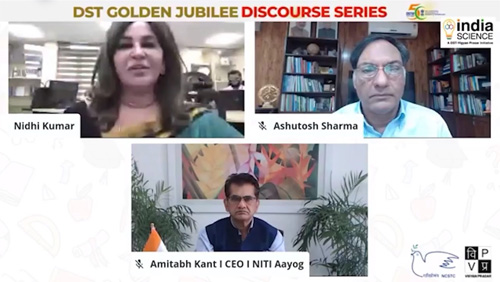 COVID-19 is on the downtrend, Prof Ashutosh Sharma, Secretary, Department of Science and Technology (DST), pointed out while praising the efforts of all sectors in COVID-19 time that helped India to take steps towards being atmnirbhar in medical field. He added that, however, in view of the number of festivals in the coming months, there is a strong possibility of transmission.
"If we look and analyse the data and number of cases, it can certainly be said that it is on the downtrend. But this is conditional, and this is also the time people need to be more careful. We have to religiously follow the COVID-19 protocols given by the Government. People need to wear mask at all times, wash their hands regularly, take social distancing very seriously and take all the precautions", Prof Sharma said during a lecture as part of the DST Golden Jubilee Discourse Series.
Answering questions on various issues, DST Secretary said that the future is about conversion of technologies by leveraging technologies in order to fulfil the Prime Minister's vision of Aatmnirbhar Bharat. He said that India was already among the top countries in the world in creating scientific knowledge and is already Atmnirbhar in this field. However, there is scope for lots of changes in education and societal attitude to achieve the goal of becoming truly atmnirbhar in all the fields.
Stressing that education and research are twins, he said, "Major changes need to take place in education sector, and synthesis of education is the way forward for optimum use of knowledge."
"Science, Technology, and Innovation is the key in becoming atmnirbhar. In COVID-19 time, we have used this to produce ventilators, personal protection equipment, medicines at grand speed, and scale. Today we can export it at the price we were importing them. COVID-19 has, in a way, shown us that we are capable of competing with the global market", Prof Sharma added. 
Mr. Amitabh Kant, CEO, NITI Aayog sharing his thoughts on Aatmnirbhar Bharat as part of the discussions, said that with the fall in international travel and restrictions in place due to COVID 19, domestic tourism has huge potential and immense possibilities in the future. Domestic tourism has a potential of huge growth in the present scenario and could be a key driver of growth and jobs," he pointed out.
Mr. Kant also said that there was also an urgent need of reform in agriculture sector, and there was need for reform in Mandi-system in order to have a barrier-free national market for agriculture sector so that farmers get higher prices for the product.