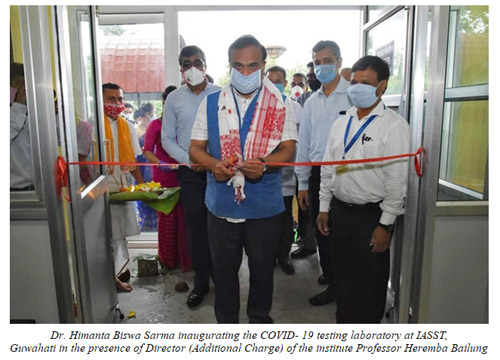 Institute of Advanced Study in Science and Technology (IASST), Guwahati, an autonomous institute of the Department of Science & Technology (DST), Govt. of India in coordination with Guwahati Medical College & Hospital (GMCH) and National Health Mission has set up a COVID-19 testing and research laboratory. The lab will not only help identify and treat positive cases at an early stage but can also trigger collaborative research in the disease.
Inaugurating the laboratory, Dr. Himanta Biswa Sarma, Minister, Health, Education, and Finance, Govt. of Assam said that this laboratory with a capacity of 1000 tests per day will boost the Government's fight against COVID-19. A higher testing rate will reduce the institutional quarantine duration for negative cases and will help to provide treatment to the positive cases at an early stage. Dr. Sarma also expected that this facility would provide a unique platform to carry out collaborative research work between faculty of IASST and GMCH.
Most of the equipment, including RT-PCR, biosafety cabinets, deep refrigerators, refrigerated centrifuge, laminar flow, autoclave, etc. are arranged from IASST. Another RT-PCR has also been provided by the IIT, Guwahati, for the laboratory. A three-member Coordination Committee of IASST Faculty with GMCH doctors and medical staff will run this laboratory along with ten research scholars of IASST as volunteers.
Dr. Sarma also interacted with the faculty of IASST and expressed his happiness, knowing that some of the patented technologies of IASST have been transferred to industry. A 3D plaque of Khamakhya temple made of bell metal designed and coated with a transparent metal oxide film (a patented plasma-based technology of IASST) for surface protection was presented to Dr. Sarma.
IASST has planned a few research initiatives using this facility, said Prof. H. Bailung, Director (Additional Charge), IASST. One among them is to investigate the association of gut microbiome with the COVID-19 virus. They also plan to develop a device for effective disinfection of material and biological surfaces (from COVID-10 virus) using cold atmospheric pressure plasma.
Professor Ashutosh Sharma, Secretary, Department of Science and Technology, Govt. of India in a message expressed his happiness and said, "This laboratory will serve as a platform for mitigating an urgent need to ramp up testing, as well as strengthen the scientific research in North East India. This is a compelling example of re-purposing our research infrastructure for the societal needs as conceptualized also in the policy on Scientific Social Responsibility."