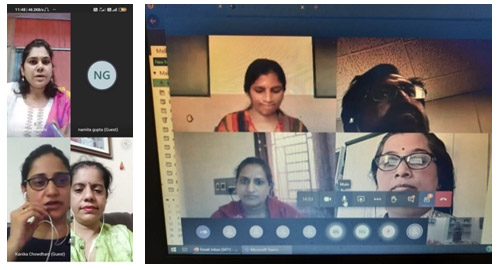 The pandemic and associated lockdown has affected people in different ways. Due to closure of institutions, woman scientists specially those working on projects to address societal challenges through S&T solutions, have been facing several challenges in carrying out fieldwork, data collection, surveys required in their projects and other administrative issues such as timely documentation, the release of fellowships and so on. Keeping their needs in mind, KIRAN division of the Department of Science and Technology (DST) held an online interaction meeting with these women scientists to help them overcome the challenges.
In this online session, 70 Women scientists from all over India, including the northeast interacted with DST officials handling Women Scientist Program along with the head of KIRAN division Dr. Sanjay Mishra. Scientists like Dr. Wanglar Chimwar from Manipur spoke about the challenges they faced during this pandemic, and DST scientists provided all possible technical and administrative guidance related to their scientific projects. Dr. Wanglar Chimwarn is working on development of a package of practice for broodstock management, breeding, and marketing of different varieties of Japanese koi carp for improving the economic status of rural women in Manipur.
The interaction session was organized on 23rd July 2020 for those working on societal projects under the WOS-B component of the Women Scientist Scheme. Women scientists working as Principal Investigators of projects found the session very useful and appreciated DST's efforts to reach out to them and clear their doubts. "All these issues were really bothering all of us amidst the prevailing pandemic condition and lockdown. However, after the interactive discussion with the DST scientists, all the above issues had been well clarified," said Dr. Payal Bhardwaj, a woman scientist from Panjab University Chandigarh.