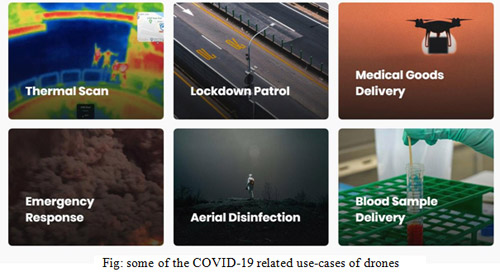 FlytBase, an enterprise Incubated at the Bhau Institute's Incubation Centre, Government College of Engineering, Pune, Technology Business Incubator (TBI), under a Department of Science & Technology's (DST) NIDHI TBI Scheme is offering a digital platform that can monitor ground level situations by integrating with drones. 
The platform called FlyNow allows drones—increasingly being used for aerial monitoring, emergency response, or urgent delivery of blood samples, medicines as well as lockdown surveillance, to be operated remotely for managing different aspects of COVID-19. Via FlytNow, police authorities are now carrying out live, remote drone operations to monitor the overall social situation through an operator-friendly dashboard and take measures to monitor crowds and maintain public safety.
 It has already being implemented in Gujarat, where Dronelab working along with 200 local drone operators, is helping authorities to identify crowded areas and intimating the police control rooms in real-time in order to take necessary action using the FlytNow platform. FlytNow enabled the police to stream live multi-video feeds from multiple drones to their control room, thus providing situational awareness and enabling them to respond quickly to emergencies. The system also allowed drone operators to help the police while remaining in the safety of their homes, eliminating the need to be present on the field. Whenever a request was triggered, operators could fly a drone from their home terrace and stream the video feed directly to the central dashboard. Currently, a pilot is also being done in Bangalore. If successful, it will be deployed across multiple cities.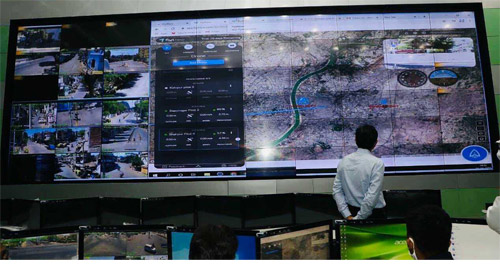 "COVID-19 has rapidly brought sharper focus on the autonomous unmanned Cyber-Physical Systems that collect information, make decisions based on artificial intelligence, and act on them as demanded by the situation. For example, drones and robots can remotely monitor a plethora of situations, transmit relevant information and alerts, deliver and pick up medical and essential supplies, carry out disinfection, etc., thus helping social-distancing while bringing in speed, cost reduction and efficiency," said Professor Ashutosh Sharma, Secretary, DST.
"Our focus is on automation and autonomy, that is removing humans from the risk equation by using software to remotely manage drone operations in the public health context," said Nitin Gupta, FlytBase CEO. 
With this platform, Unmanned Aerial Vehicles (UAVs) can be deployed without putting human helpers at risk of contracting the coronavirus. Equipped with payloads such as beacons, loudspeakers, and sirens, drones are serving as a public safety aid -- sending live video feeds to COVID-19 control centers, warning people of the need to stay indoors, as well as potentially spraying disinfectants and the platform, can help the COVD warriors do this safely from their homes. 
Five more startups incubated at the same centre have come up with significant solutions to tackle COVID 19 --- Sushrut Designs working on manufacturing the low-cost ventilator, Mediasha manufacturing masks as effective as N95, Shunya O/S, IoTIoT. In community builder working with IISER Pune to develop ventilators which can be used for multiple patients at the same time, Kalpik Agrotech with a simple disinfectant sprayer that can disinfect entire human being in few seconds and Iowaaska Technologies working on the mapping of the areas which have more concentration of patients on the GIS maps and command center for the state. 
For further details, please contact, Mr. Nitin Gupta, CEO, FlyBase, Email: nitin[at]flybase[dot]com      Mob No: +91-9272174724