Plastic waste is a ecological hazard. Acknowledging this, government of India has announced the ban of single use plastics. In pursuance of the government's initiative to address the plastic problem, Department of Science &Technology(DST) has taken several initiatives to recycle plastic waste. Several technologies have been developed with support from DST for recycling of polystyrene waste, recycling plastics and metallic components to combat plastic pollution.
Recycling Polystyrene Waste with Citrus Peel Extract

Indian Institute of Technology, Hyderabad (IIT-H) has developed a new technology to recycle waste polystyrene (PS) using an agriculture waste (citrus peel extract) and develop it into a non-woven fabric. Polystyrene (e.g. thermocol) is a non-biodegradable materialthat leads to serious impact on health and environment as a waste. This fabric can selectively absorb oil and are hydrophobic. Therefore it can be used for a wide variety of applications ranging from kitchen napkins, to flexible packaging to oil spillage remediation.
This is the first such technology which utilises two different types of waste (plastic & agro waste) together. The technology was developed by Dr. Chandra Shekhar Sharma, Associate Professor, Department of Chemical Engineering and his team and the projectwas supported under Waste Management Technology (WMT) program of the Department of Science & Technology (DST).
The product (recycled polystyrene fabric) is validated and tested at different restaurants and other places where they were used effectively. Currently, the polystyrene waste is being collected from IIT-H [A1] campus, recycling it into fabric and then using it for oil spills cleaning in lab/households locally, as a circular economy approach.
The technology is ready to be commercialized and  technology transfer is in progress through a start-up company, M/s. Restyro Technologies Pvt. Ltd. in IIT Hyderabad Incubation Centre.
Plastic and metal waste recycling technology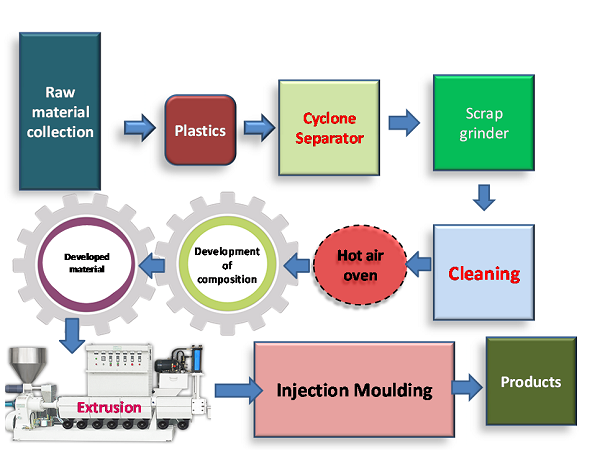 Central Institute of Plastics Engineering &Technology (CIPET):[A1] School for Advanced Research in Polymeric materials (SARP), Bhubaneswar developed an eco-friendly viable technology for streamlining of segregation methodology, categorization of plastics waste and value addition of plastics for commercial exploitation.
Dr. Smita Mohanty and her team have developed four different grades of formulations utilizing waste plastics collected from E-wastes-- high impact grade, improved flow grade, Fire Retardant (FR)[A2] grade and improved impact with better flow grade. They have been successfully validated for many high-end applications with reduction in cost and improved process parameters as well. The project was supported under Waste Management Technology (WMT) programme of the Department of Science & Technology (DST).
Their laboratory has established a demo-recycling unit in the city of Bhubaneswar to support the technical knowhow for E-waste recyclers and interested industrialists  and entrepreneurs.
Property enhancement of the recycled plastics from E-waste has been achieved by blending and effective utilization of additives and fillers. Several prototypes as proof-of-concept have been developed for product validation, which is further verified by different characterization methods.

Recyclers, Polymer Manufacturers and Product Developers can effectively use the developed raw materials for a range of high-end products, particularly having good mechanical strength and flow ability.
The optimized formulations were also subjected to life cycle analysis in an accelerated weathering condition and repeated reprocessing cycles. The results show that the developed formulation is stable to nearly 5-10 years in normal environmental conditions and can be easily reprocessed without any appreciable change in its mechanical performance or durability.
Waste to weave green technologies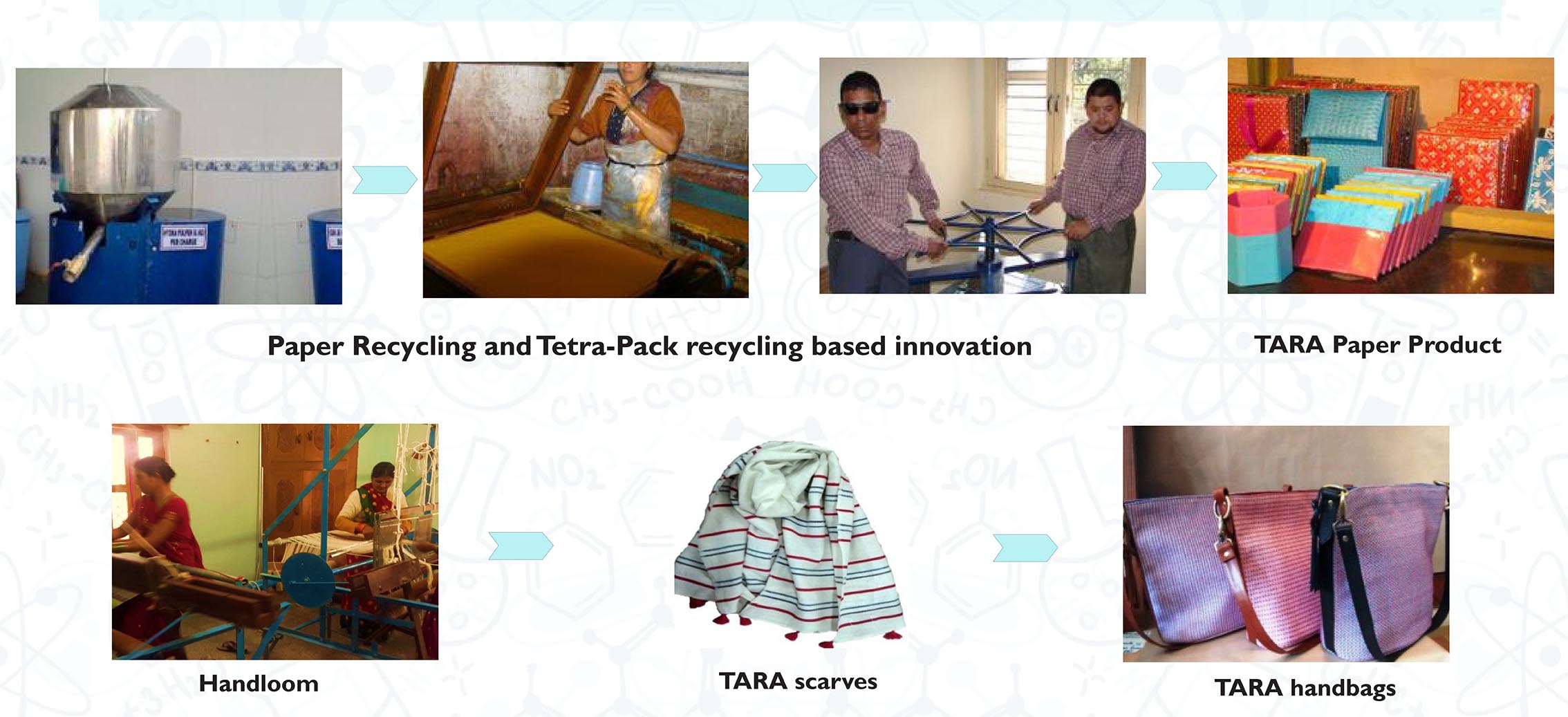 With support from DST SEED, DST, Core Group - Development Alternative has developed a technology of weaving together plastic recycled PET bottle yarn with any natural yarn and waste cloth. The technology integrates recycled PET (r-PET) bottle yarns with the natural fiber yarns produced in the TARA Loom. This can help revive the use of the natural fibers with the right kind of technology and design intervention to maximize livelihoods of those who are involved in the process.
It can also take forward the larger goal of providing market access to rural poor through technology based livelihood, range of hand-woven fabrics and green lifestyle products.  Traditional women weavers were trained and a resource centre set up for producing high- end market products.
Around 90 percent of the plastic the world has produced so far has been discarded as waste. India generates 25,940 tonnes of plastic waste every day, according to a Central Pollution Control Board (CPCB) estimate from 2012.  94 percent of this is thermoplastic, or recyclable materials such as PET (polyethylene terephthalate), and PVC (polyvinyl chloride).
Such technologies of waste recycling and usage can go a long way to address the plastic waste problem of India.