A panel of experts from different sectors like Industry, Academia, and Government bodies suggested developing a technology roadmap for next 10 years that could help develop industry-ready projects and encourage translational research in the Indian academic system to promote product development at a breakaway session of a Post Budget Webinar on Promoting R&D, Human Resources in Emerging Areas inaugurated by the Prime Minister. 
"Providing incentives to Private Sector for enhanced R&D Investment,  setting up 'Science and Technology Clusters' for solving Industry-Research Problems and catering to local and regional problems, streamlining science, technology, and innovation governance in the country, building system interconnectedness by strengthening inter-ministerial and Centre-State STI Coordination are some of the major interventions needed for enhancing Academia-Industry collaboration," said Dr. S. Chandrasekhar, Secretary, Department of Science & Technology (DST) at the breakaway session on revitalizing industry-academia collaboration led by DST.
The webinar titled "Technology-enabled development" was organized by Office of the Principal Scientific Adviser (PSA) along with several scientific ministries and departments of the Government of India.
"In most of the developed countries, nearly 70% of GERD is contributed by the private sector. In India, this percentage is only 40%. India has been aiming to achieve GERD at 2% of GDP in R&D. This can be achieved if the private sector, primarily the industrial sector, raises its R&D investment so that it matches the government's contribution as prevalent in some developed economies," he added.
The Secretary also pointed out that the world has begun to recognize that science has solutions for every socio-economic problem and can help improving the quality of life of every citizen by revisiting and re-energizing the way research is conducted, and technologies are developed, deployed, and translated for larger socio-economic progress and welfare.
"Continuous monitoring of projects is needed through scientific and technological audits, correction of tax inconsistency and incentivizing investment by industry for R&D, enhancing financial outlay from less than 1% to 2-3% of GDP for S-E-T in phases," said Prof Indranil Manna, President, INAE.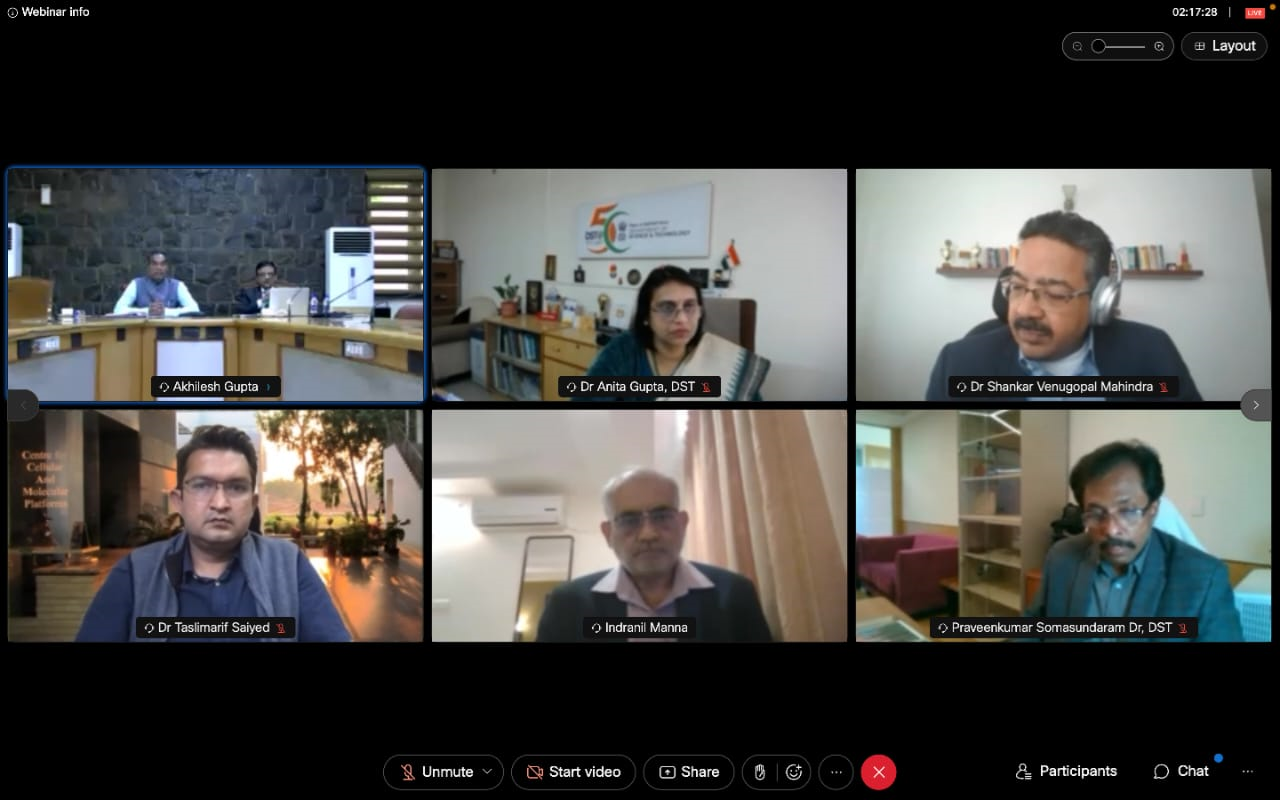 Dr. K. Satish Reddy, Chairman, Dr. Reddy's Lab, highlighted, "There is a need for very strong linkages between industry and academia with industry-oriented research and strong government support. We develop a culture of innovation across the spectrum in the academic institutes and industry-led PPP model for cross-disciplinary activities.
"There is a need to focus on a bottom-up approach and creation of a mechanism by which more and more engineering colleges take local actions, where industry provides problems, students provide solutions and academics oversee the process of publications," Dr. Chintan Vaishnav, Mission Director, AIM, NITI Aayog pointed out.
Prof. Sandeep Verma, Secretary, SERB, highlighted the barriers and drivers of academia-industry collaboration like funding barrier in academic institutes, communication barrier between industry and academia and suggested setting up multiple corporate labs in academic institutes, envisaging funding mechanisms to strengthen academic institutes. 
"Micro- sabbaticals can be provided to academicians in industry to get end to end feel of projects, a technology roadmap can be developed for next 10 years, joint courses can be designed by industry and academia for knowledge translation," said Dr. Shankar Venugopal, Head R&D, Mahindra & Mahindra.
Dr. Anita Gupta, Adviser, DST, said, "There is a need for new interventions and mechanisms where industry and academia could collaborate. The industry needs to chip in and give a successful demonstration of projects and make the innovation to market value chain stronger.
Dr. Taslimarif Saiyed, CEO & Director, C-CAMP, underlined the need for innovations in agriculture and suggested introducing translation accelerators- as bridge between academia and industry-ready technologies.
Dr. Akhilesh Gupta, Senior Adviser, DST, highlighted the necessity of trust-building pathways to pursue collaborative research, enhancing TRL in academic research, time-bound peer reviews along with technical and transactional audits from time to time to monitor public financing across various stakeholders of the STI ecosystem.
The experts recommended that industry and academia should jointly develop courses for knowledge translation and also promote directed and domain-specific incubators jointly working with industry.
They also suggested restructuring the post-doctorate culture for the Indian research ecosystem, continuous monitoring of projects through scientific/technological audits, industry-led PPP model, envisaging funding mechanism to strengthen academic institutions. Introducing Micro Sabbaticals (2-3months) for faculty members from the Universities to work in industry and expose them to problems of interest to industries was also suggested as one of the several recommendations at the webinar to revitalize Industry-Academia Collaboration to cater to the entire innovation and technology life cycle.