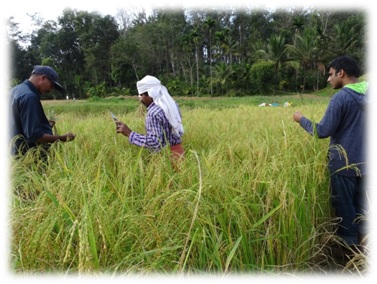 The rice growers of Wayanad District in Kerala are busy sowing the seeds of change and reaping its benefits too. The seeds of change are primarily high-quality, traditional rice varieties that have grown in the region for decades if not centuries. Farmers like Cheruvayal Raman have worked relentlessly to conserve such traditional varieties that withstood erratic natural conditions, implemented organic farming, propagated traditional variety conservation by helping fellow farmers, and took home recognitions like the Genome Saviour Award 2016 given by Protection of Plant Varieties and Farmers' Rights Authority (PPVFRA), Government of India. When awarded, the paddy conservationist from the Kurichya tribal community was the custodian of many indigenous varieties of rice.
Known for its rich variety of rice, Wayanad today is admired for its farming community who have worked for conserving traditional varieties of rice. Farmers like Suresh Puthurvayal, Balan Paramoola, Surendran Erumadu, Anil Kallanchira and Kelu Tengakolli are active members of the Rice Seed Village programme of the Community Agro-biodiversity Centre (CAbC) of MS Swaminathan Research Foundation (MSSRF), Wayanad, Kerala. The initiative is significant if one considers the fact that the district, till two to three decades ago, had about 75 traditional rice varieties in cultivation. The varieties―best suited to various land types and agro-climate conditions of the region―have now been narrowed down to less than 20 varieties. To address the loss and conserve such bio resources, MSSRF stepped in 1998 to initiate Rice SEED Village Program, recognising the importance of rice fields and landraces of rice from the point of view of agr-obiodiversity, local livelihoods system and socio-economic background of Wayanad.
The late Dr. RH Richharia―one of the leading experts on rice in India who documented and collected an amazing 19,000 rice varieties during his career―said that India was home to 20,000 traditional rice varieties. A total of 75 odd traditional rice varieties suited to various land types and the agro-climatic conditions of Wayanad were in cultivation about 20-30 years back. Most of these varieties were marked by distinct functional traits that assured livelihoods stability of the population and better suitable mechanisms to various biotic and abiotic stresses.
The objective of MSSRF's Rice Seed Village Program is to promote on-farm conservation of promising traditional rice varieties. The foundation started its work in revitalising rice cultivation in Wayanad in 2000. "In 2005, the specific program to promote economically important specialty rice varieties was launched to validate and commercialize medicinal and aromatic rice varieties of the district. Under the conservation  program, MSSRF created awareness, trained farmers and did their capacity building, distributed quality seeds of rice varieties, introduced advanced technologies to increase crop yield, promoted economically important varieties, and worked on market linkage and value addition and promotion of organic rice farming," said N. Anil Kumar, Executive Director, MSSRF.
In 2008, the PPVFRA recognized the on-farm conservation of 20 varieties by tribal communities of Wayanad, namely Kurichiya and Kuruma, under the title, Genome Saviours.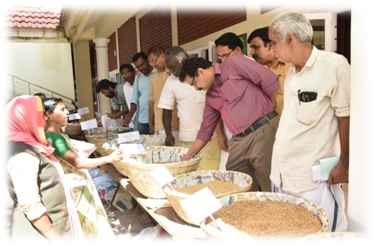 Awareness and participation: Farmers as Change makers
CAbC, MSSRF has adopted farm conservation of traditional paddy varieties, seed purification (to give farmers access to pure seeds), and sensitisation of farmers on the importance of conserving and adopting traditional paddy varieties through Seed Village Program. Today, farmers of Wayanad have 20 registered Farmers' Rice Varieties and are able to exchange purified seeds free from varietal admixtures with other farmers.
A prime reason for the sustainability and eventual success of the Rice Seed Village program was that the activities of MSSRF were achieved through a network of farmers and not through single farmers. The seeds exchanged with other farmers assured further cultivation of traditional varieties. In this process, the farmers were encouraged to return the same quantity of traditional seeds purchased from the centre after the harvest of their crop.
In its mission, the Community Agro-biodiversity Centre of MSSRF has now been supported as Core Support Group by the SEED Division of Department of Science and Technology (DST), Government of India. Core support has been instrumental in addressing well-identified, location-specific challenges through S&T interventions leading to registration and promotion of traditional varieties with PPVFRA.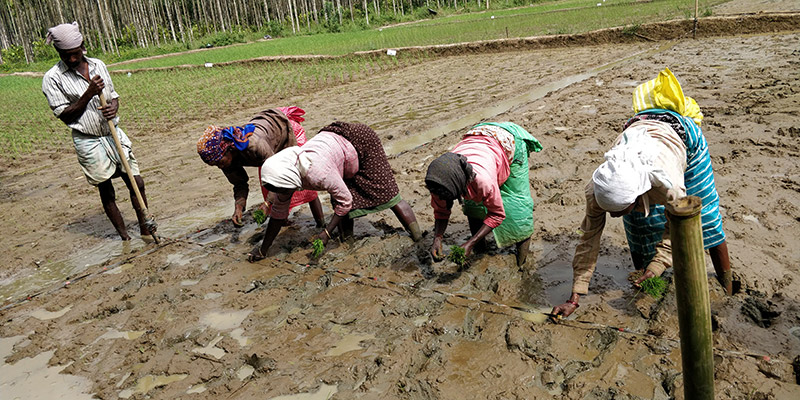 In such an endevour, today, each seed village has more than two farming families conserving three to five traditional varieties of rice. The seed villages give their rice seeds to other farmers on a fixed rate with proper record management as well. "The registers of seed exchange kept in each seed village shows the quantity of seed exchanged and how much area could be planted using the seeds. The seed purification process in scientific way provides farmers quality seeds free from varietal admixtures. More than 300 farmer families are being benefited from this program and more than 1,250 farmers have access to quality seeds. Technologies like System of Rice Intensification (SRI) are also being adopted to enhance the production of rice," said Dr. Shely Mary Koshy, Program Charge, Rice Seed Village.
Looking at the success of the program, the Community Agrobiodiversity Centre aims to promote and take the traditional paddy varieties beyond the district. "Every year, a seed festival is conducted wherein farmers display and sell seeds. Many farmers come forward to collect these seeds. A stock of traditional varieties is also kept at the centre so that farmers can come to procure the seeds. Here, we do not give seeds to the needy farmers at a price; rather, we ask them to return double the quantity of seeds they collected from us. This strengthens the network of farmers and its value to ensures cultivation and conservation," added Dr. Koshy.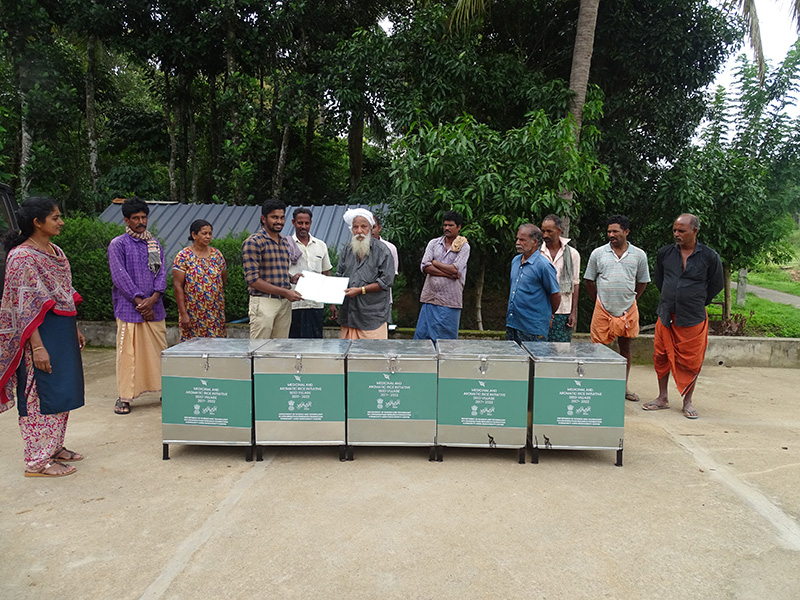 Collective Efforts to Address Conservation & Livelihoods issues: Benefits to everyone
Looking at the concerted and collective  efforts of farmers, the government and community based S&T organizations  like MSSRF, one wonders about the efforts and need with people -centric approach to preserve indigenous seeds in times of high-yielding, genetically modified seeds. "The traditional paddy varieties have advantage as they can withstand extreme natural conditions such as flood and drought. These seeds are tolerant to pest and diseases, and possess medicinal and scented properties. Just like the jasmine rice native to Thailand and famous all over the world, the scented varieties from Wayanad, India also have the scope to be popularized, provided there is sufficient production to meet the market demand," said N Anil Kumar.
Suresh Puthurvayal, a farmer, briefly shared his journey as an associate of the program. "The reason we began cultivating the traditional varieties was because these were an integral part of our culture. Today, we also have a marginal increase in our farm income. The program made us realise the importance of carrying out seed selection and cultivation practices in scientific manner as well. The results of seed purification have been incredible."
In 2017, CAbC, MSSRF initiated participatory seed purification activities in Athikkolli in Wayanad with the support of DST. Medicinal and aromatic rice landraces such as Chennellu, Gandhakasala, Chenthadi, and Chennel Thondi were selected for seed purification. The process included blending of traditional and modern methods of seed selection, storage and seed treatment. Field-level workshops were organised to understand farmers' methods and documented seed selection practices adopted by the Kurichiyas, tribal community in the area.
The application of organic fertilizers and soil improvement practices based on soil testing also improved the soil quality. Farmers, who adopted the SRI method, opined that the yield obtained was good, but due to heavy labour charges and planting method, could not be adopted on a large scale.
"Another benefit we receive is in monetary terms, i.e. we can sell paddy for seed purpose at Rs. 40 per kg for normal traditional variety and at Rs. 70 per kg for scented varieties to the farmers from other villages. Earlier, we sold rice at a very low price as grains were for consumption purpose," said farmer, Kelu Tengakolli.
Being suitable to local conditions, many of the indigenous varieties provide insurance against crop failure. "Cooking quality, grain colour, aroma, calorie content, feeling of stomach fullness, medicinal qualities, high fodder and grain yield are some others attributes that influence the choice of a variety among the traditional rice cultivators," added Dr. Shely Mary Koshy.
Led by these benefits, the Rice Seed Village has registered steady increase in the number of farmer members. From 2011, many farmers have come forward to participate in the program. From 2011-2016 till date, 25 seed villages have been established.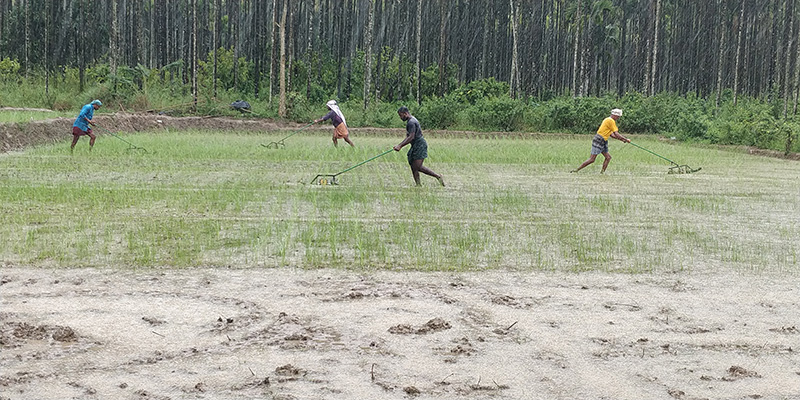 Overcoming challenges & way forward
While the results of the Rice Seed Village program are impressive today, the CAbC, MSSRF had to overcome several challenges to come this far. Earlier, traditional paddy has a very low yield when compared to a high-yielding variety. So, it was difficult to convince the farmers to grow traditional varieties. Moreover, the reduced area under paddy cultivation, lack of labour, high labour cost and wildlife attacks inhibit paddy farmers in adopting rice farming. It was observed that nowadays, in Wayanad, most of the paddy fields are used for banana cultivation, which is more lucrative than paddy.
Today, with the introduction of Seed village program, participatory seed purification process is carried out regularly in seed villages to sensitize farm families about the need for purifying seeds. The villages are also given seed boxes to store paddy varieties once the harvest is over. "Earlier, the farmers used to store seeds in gunny bags that were easily infested by pests and rats. The seed boxes have ensured safe storage of the seeds for the coming years," informed N. Anil Kumar.
Each of the seed villages has clusters formed with a seed bank management committee that has its representation in Seed Care, an association of traditional seed growers. The committee takes strategic decisions, such as how much quantity of seeds is to be sold and other issues. The clusters were possible due to better contacts and linkages established by Seed Care. Earlier, the rice farmers didn't have a seed market and used to sell their entire paddy crop as grains at Rs. 14-15 per kg. Today, the paddy for seed purpose is priced at Rs.40-70 per kg for farmers from other villages. The better rate has definitely helped in changing the attitude of farmers towards associating with indigenous seed varieties. The recent flood in the state was another reason for many to come forward, as other non-traditional varieties failed to survive the flood.
The story does not end here, as MSSRF is also doing a trial on organic package of practice in a farmer's field. "The trial, using various organic treatments, is being conducted along with SRI technology. If the results turn out to be positive, we will adopt it in a traditional paddy field. This may lead to increased production of the traditional rice crop to support and strengthen local livelihoods system. Just like in Wayanad, other districts also have traditional varieties; the program can be replicated in neighboring districts of Kozhikode and Kasaragode as well," said N Anil Kumar.
For more details: sunilag[at]nic[dot]in (SEED, DST) & anil[at]mssrf[dot]res[dot]in (MSSRF)
Write-up by Jyoti Verma, Science Journalist