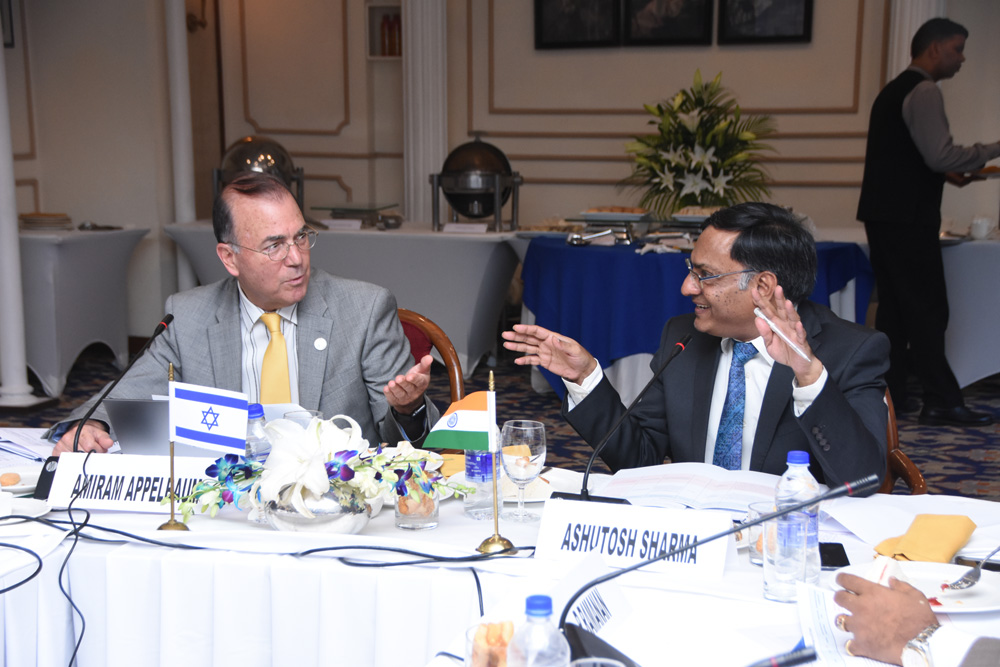 View YouTube Video
India and Israel have come together to announce support for collaborative initiatives  in areas like affordable surgical devices and water, energy and cellular phone through a joint technology innovation fund set up by the two nations.  
A total of four joint Industrial R&D projects were awarded and the first recipients selected for the fund announced at the Industrial R&D and Technological Innovation Fund (I4F) Conclave jointly organized by the Department of Science and Technology (DST), Israel Innovation Authority (IIA), Global Innovation and Technology Alliance (GITA) and Confederation of Indian Industry (CII) on 24 July & 25 July, 2018.
Prof Ashutosh Sharma, Secretary, Department of Science & Technology and the India Co-Chair, I4F Governing Board said that the I4F platform will enable the Governments of India and Israel to play a catalytic role for joint industry-led, last mile research and development (R&D) resulting in commercialization. This, he said, would take the industrial R&D and technological innovation partnership between India and Israel to a new level and indeed be a role model for others.
"Israel is going to be a significant partner in the Science & Technology programmes like NIDHI that boosts innovation ecosystem in India and can strengthen and accelerate them. Moreover considering the size & potential of our country, we need to increase the number of startups by ten times in next 5-10 years & the strengthened partnership can go a long way to help in that," he added.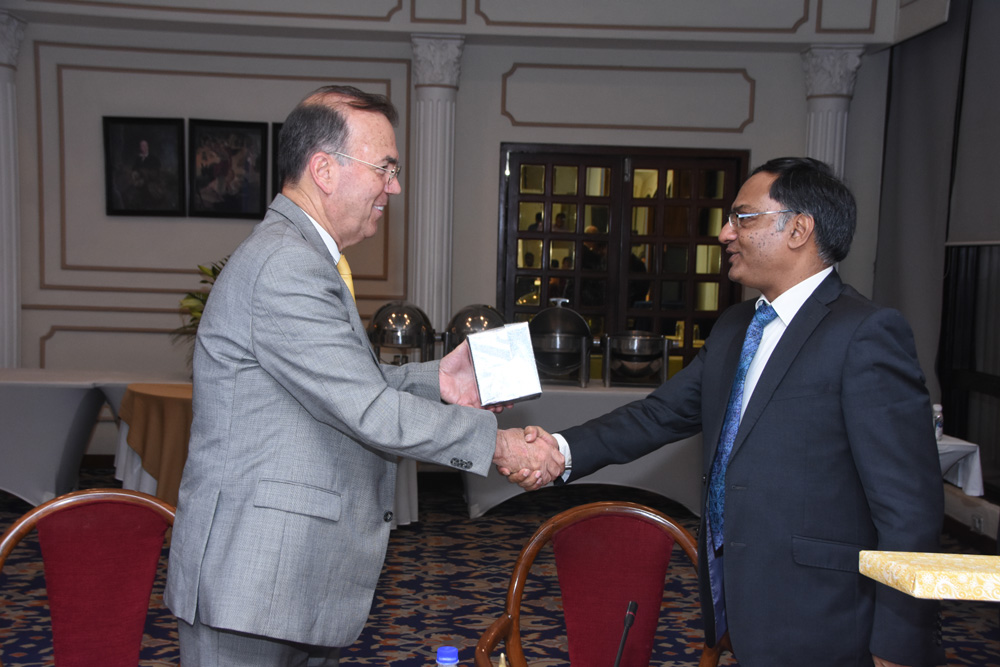 This US$40 mn Fund set up to boost collaboration between researchers and firms, is one of the outcomes of the historic, first-ever visit of Hon'ble Prime Minister Narendra Modi to Israel in July 2017.
The Call for Proposals under which the awards were made was launched in January 2018 in New Delhi by the Prime Ministers of the two countries. The Department of Science & Technology (DST) and the Israel Innovation Authority are the respective funding agencies. It is envisaged to fund six projects a year.
Only for profit companies registered in India and Israel are eligible to make joint application. Participation of academic or research organisations is voluntary and up to the consent of the lead company.
The Fund is for a period of five years and could be considered for further renewal. Each project is for two years duration. Only those projects are taken which are proven at lab scale for further commercialisation (at TRL 6-9). The companies are expected to develop product within project duration and market it eventually (Each project has a pre-conceived marketing plan). 
The projects awarded covered all the five eligible areas of Agriculture, Energy, Healthcare, Information & Communication Technology (ICT) and Water.
Energy Efficiency Services Limited (India) a maker of IoT devices, and an energy service company of the Indian government and Bacsoft (Israel) will work together on increasing the water and energy efficiency in villages in India through the creation and application of water and electricity management systems and Internet of Things ( IoT) monitoring devices.
Frog Cellsat Limited (India) — a maker of radio frequency equipment and Ubiqam Ltd. (Israel) will jointly develop mobile solutions for the Indian cellular market to help mitigate the interference in cellular networks and improve network quality.
Vyoda Private Ltd. (India) and Agrosolar Irrigation Systems Ltd. (Israel) will together create solar energy-based water pump systems for irrigation that are cost-effective, efficient and suitable for any type of well, to increase electricity production and lower maintenance costs.
Appasamy Ocular Devices (P) Ltd. (India) and Sanoculis Ltd (Israel) will jointly develop affordable surgical devices to help ophthalmologists treat glaucoma in India at lower costs.
Dr Amiram Appelbaum, Chief Scientist, Ministry of Economy & Industry, Chairman, Israel Innovation Authority and the Israel Co-Chair, I4F Governing Board expressed his pleasure that the strategic relationship launched in July 2017 had, within one year, witnessed a very significant milestone with the decision to award four projects covering all five focus areas of the Call for Proposals (CFP). He stated that Israel and India had indeed embarked on a truly historic partnership.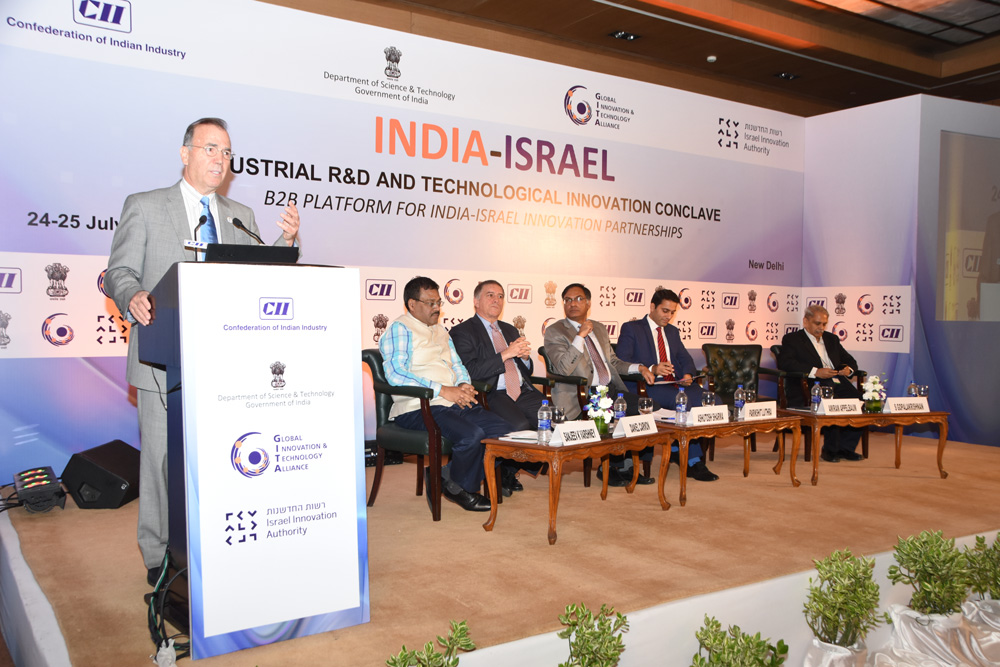 H.E. Mr Daniel Carmon, Ambassador of Israel to India said that the Fund is a unique platform designed to increase economic cooperation and boost research and development within both countries. He added that India is quickly becoming a valued partner to Israel and the Fund can play an effective role in taking the best out of Israeli and Indian entrepreneurs, making them work together and develop a solution that would fit and benefit both sides.
The awards were given by Prof. Ashutosh Sharma, Secretary, Department of Science & Technology (DST), Government of India and Dr. Amiram Appelbaum, Chief Scientist, Ministry of Economy & Industry and Chairman, Israel Innovation Authority, Government of Israel.
The 2nd Call for Proposals was also announced to be commencing in August with a deadline of November 2018. The areas of focus will remain Agriculture, Energy, Healthcare, Information & Communication Technologies (ICT) and Water.