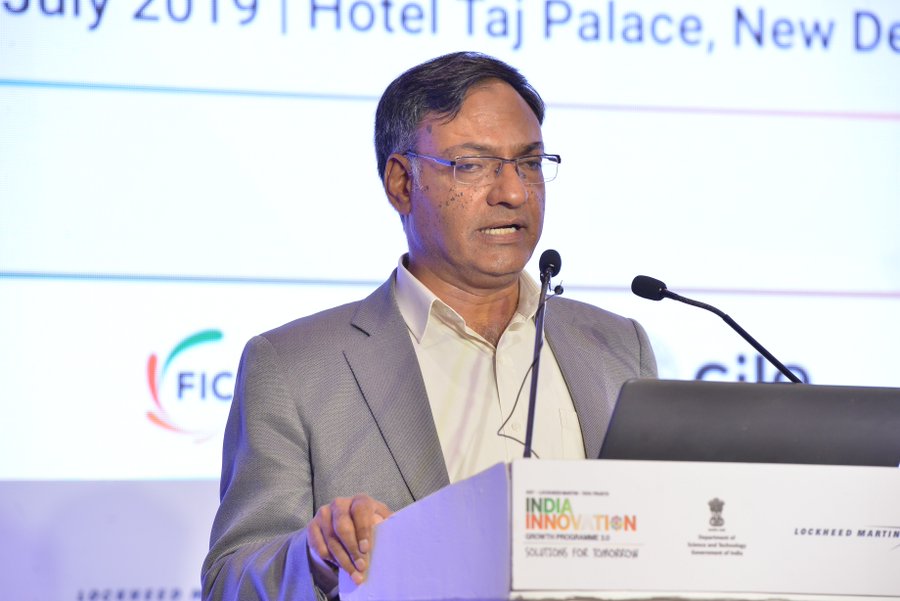 Secretary Department of Science and Technology (DST) underlined at the award ceremony of the India Innovation Growth Programme that company partnership with a start up may be topped up by a government partnership extended to a matching grant.
The India Innovation Growth Programme (IIGP) 2019 announced the winners of 2019, initiating the journey of 16 startups in their journey of evolution and maturation of their technology solutions proposals. While the start-ups from the annual Open Innovation Challenge received a grant of Rs25 Lakh, 20 university teams from the University Challenge received a grant of Rs 10 Lakh each.  
Speaking at the 'Awards Ceremony - India Innovation Growth Programme (IIGP) 2.0', Prof Ashutosh Sharma, Secretary, Department of Science and Technology (DST) said that it's time for the start ups to scale up their ventures to achieve sustainable growth. He highlighted  that if industry is partnering with a startup putting an amount of money, depending on the plans and other things, then DST will also partner and probably would put a matching amount of money in that startup.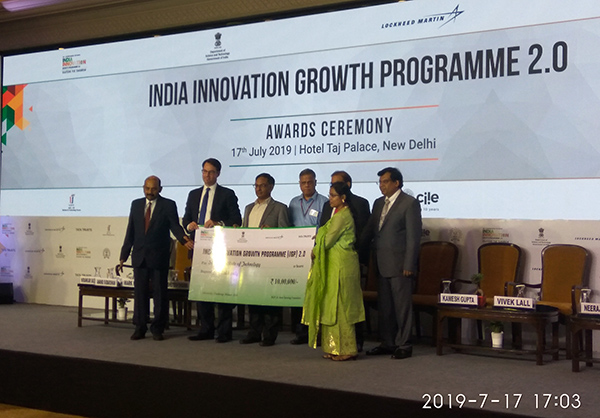 The winners of the India Innovation Growth Programme (IIGP) 2.0, a tripartite initiative of the Department of Science and Technology (DST), Government of India, Lockheed Martin and Tata Trusts were chosen from over 2,400 applicants who presented innovations that aim to bring large scale social impact and industrial transformation in India.
The applicants who came from across the nation as well as a range of educational institutions, offered a breadth and variety of excellent innovations to evaluate. They also join a cohort of over 7000 applicants from the past three years of IIGP 2.0 in submitting innovations for consideration by the IIGP 2.0 Panel of Jurors.
The innovations identified for award this year were evaluated by a panel of jurors which include IIGP 2.0 stakeholders and implementation partners as well as external experts from the innovation, science, technology and entrepreneurship ecosystem. Implementation partners include the Federation of Indian Chambers of Commerce and Industry (FICCI), Indo-US Science and Technology Forum (IUSSTF), Centre for Innovation Incubation and Entrepreneurship (CIIE) at IIM Ahmedabad and the Indian Institute of Technology Bombay.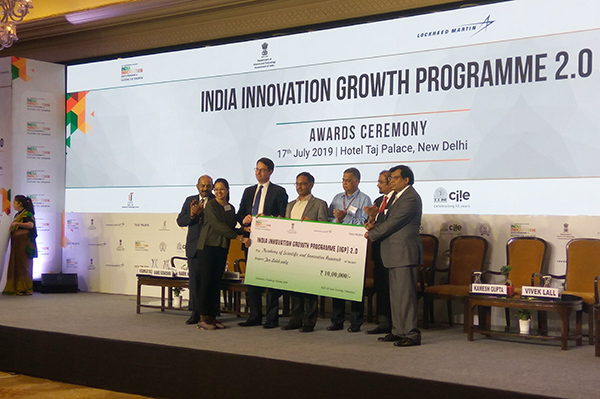 "IIGP should aim at doubling the number of awardees by next year," Professor Sharma pointed out adding that the challenge for startups is to scale up and transition into stable businesses.
He stressed that startups need access to networking, capital, information, infrastructure and technology for which three independent centers are being established to help the startups access the resources and he hoped that the Department can creating 20 such centres in coming years. "Government has rolled out various programmes like National Initiative for Development and Harnessing Innovations (NIDHI) to support startups right from scouting, mentoring, prototype to seed funding," informed Prof Sharma.
Dr. Mark Hewitt, Vice President, International Strategy, Lockheed Martin International said that IIGP has been an inspiring experience seeing the breadth and depth of innovative entrepreneurship from across India. Not just from the cities that are at the heart of India's economy, we saw brilliant ideas come from the country side too.
"Lockheed Martin is proud to be a pioneering member of IIGP since 2007 and continues to support and celebrate the culture of courage and innovation in India and bring to life some of these clearly valuable technology solutions," he added.
"One of the key issues that innovation faces is commercialisation, specially science, technology and innovation and that is where Social Alpha comes in as a platform to ensure and help these innovations reach from lab to market," Ravi Natrajan, Head of Social Finance, Social Alpha, Tata Trusts.
The purpose of IIGP 2.0 is to encourage, identify, support and incubate the technology solutions devised by ingenious local start-ups and university teams that seek to solve complex challenges.
The grants seek to enable their prototyping the proposed technology solutions and begin the process of evaluating and applying these technologies and solutions for social, commercial and industrial benefit.
In 2017, 19 teams were awarded grants while in 2018, 31 teams were awarded, demonstrating increasing depth and quality of innovations proposed. This year's applicants submitted proposals in 14 and 19 focus areas for the two parallel tracks that IIGP2.0 has identified, respectively. These are the University Challenge and Open Innovation Challenge.
Past awardees include: IIGP 2.0 alumni Sastra Robotics which has gone on to secure partnerships with international organizations and is already in process of being embedded in global supply chains; and FIB-SOL Life Technologies, a Chennai-based start-up in the agricultural sector which has successfully commercialized their fertilizer-carrying membrane and is operational in three states in India.
NoPo Nano Technologies P Ltd, Sastra Technologies P Ltd and Terero Mobility Pvt. Ltd. have signed MoUs with Lockheed Martin for helping them scale-up.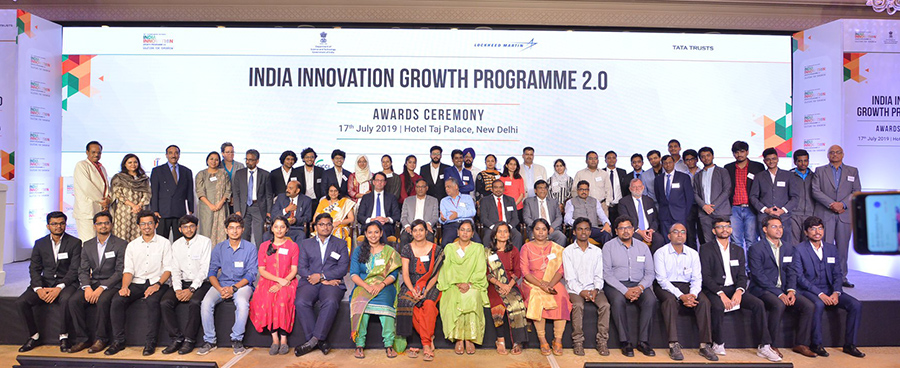 List of Open Innovation Challenge Winners 2019
1.   Astrogate Labs Pvt. Ltd.
2.   Ayu Devices Pvt. Ltd.
3.   BeAble Health Pvt. Ltd.
4.   BiolMed Innovations Pvt. Ltd.
5.   BNG Spray Solutions Pvt. Ltd.
6.   C Electric Automotive Drives Pvt. Ltd.
7.   CogniABle (SM Learning Skills Academy for Special Needs Pvt. Ltd.)
8.   CyCa Oncosolutions Pvt. Ltd.
9.   Kanpur Flowercycling Pvt. Ltd.
10.   Nubewell Networks Pvt. Ltd.
11.   Ossus Biorenewables
12. Tan90 Thermal Solution Private Limited (IIT Madras)
13.   Terero Mobility Pvt. Ltd.
14.   Unbox Robotics Labs Pvt. Ltd.
15.   Varta Labs Pvt. Ltd.
16.   Vidcare Innovations Pvt. Ltd