Dr. (Smt.) Tamilisai Soundararajan, Hon'ble Governor, Telangana, emphasised on the importance of geospatial technologies for practical planning, management and in decision-making at the valedictory session of the Second United Nations World Geospatial Information Congress (UNWGIC 2022).
Reiterating the statement of the Hon'ble Prime Minister Shri Narendra Modi –'Technology brings transformation in India, technology is not an agent of exclusion, and it's an agent of inclusion,' Dr. Soundarajan urged that geospatial technology should reach all people and the geospatial community's responsibility is to make people aware about the technology and its benefits.
Hon'ble Governor also presented the awards to top three schools who showcased their ideas on how geospatial technologies can be embedded to address local challenges at the session --'Geo-enabling the global village with Generation Z and Alpha,' as part of the UNWGIC.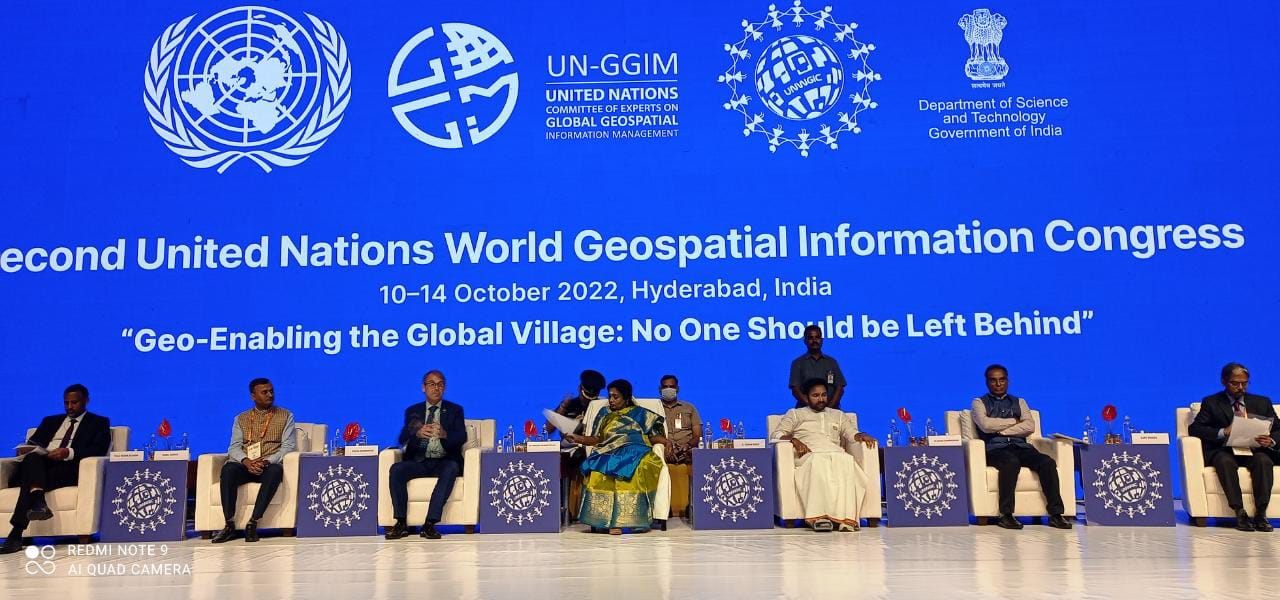 Union Minister for Culture and Tourism and Development Of North Eastern Region (DoNER) G Kishan Reddy said that the exchange of ideas, joint drafting of best practices, and sharing of innovations and applications has made this conference a powerful platform in the geospatial domain to maximize collaboration and minimize misuse.
"India has a vibrant evolving geospatial ecosystem, and India's competence, capability, and capacity make it ideal to be an end-to-end leader in the geo-spatial domain," he added.
Dr. Srivari Chandrasekhar, Secretary Department of Science and Technology (DST), said, "In the second UNWGIC, we have attempted to evolve the global geospatial ecosystem from a techno centric approach to a technology-led human development approach. In this endeavor, Congress has been carrying out many unique activities for the past three days".
"I wish the outcome of the Second UNWGIC will pave the way for a spatially enabled global village, where no one will be left behind in our global journey towards sustainable development," Dr. Chandrasekhar hoped.
Shri Ajay Tirkey, Secretary Department of Land Resources, shared his insights on the geospatial impacts in land reforms and map digitalisation. "India has formulated the Geospatial Guidelines 2021, that enables the sharing of geospatial data amongst the different sectors and agencies, to make it easier for private as well as public sector to access data and translate it for larger benefit of the citizens," he added.
"The pace of technology requires versatile policy changes that engage all stakeholders for safe implementation. Leveraging digitalization would help achieve the best possible outcomes for everyone and effective IGIF implementation. Identification of the current IP and present solutions would enable new business models to help realize the potential impact of innovation," Shri Sunil Kumar, Surveyor General of India pointed out.
Mr. Tulu Besha Bedada, Co-Chair, UNGGIM; Tim Trainer, Chair, UNWGIC 2022 Advisory Committee; Stefan Schweinfest, Director, UNGGIM & Statistics Division, United Nations, Prof. K. S. Rajan Registrar, IIIT Hyderabad and Mr. Pankaj Mishra, Deputy Surveyor General, Survey of India also attended the valedictory session.
The five-day conference is being hosted by the Department of Science & Technology (DST) and convened by the United Nations Committee of Experts on Global Geospatial Information Management. With the theme of 'Geo-Enabling the Global Village: No one should be left behind,' the Second UNWGIC 2022 reflects on the importance of integrated geospatial information infrastructure and knowledge services to support the implementation and monitoring of sustainable development goals.