Shri C V Raju and Shri Moa Subong, grassroots innovators from Andhra Pradesh and Nagaland, respectively, are amongst the 106 Padma Shri awardees announced for the year 2023.
While the awards recognized Shri C V Raju's efforts of reviving the traditional art of making Etikoppaka toys by adoption of eco-friendly technologies, Shri Moa Subong will be awarded for S&T based innovative ways of creating Naga folk music.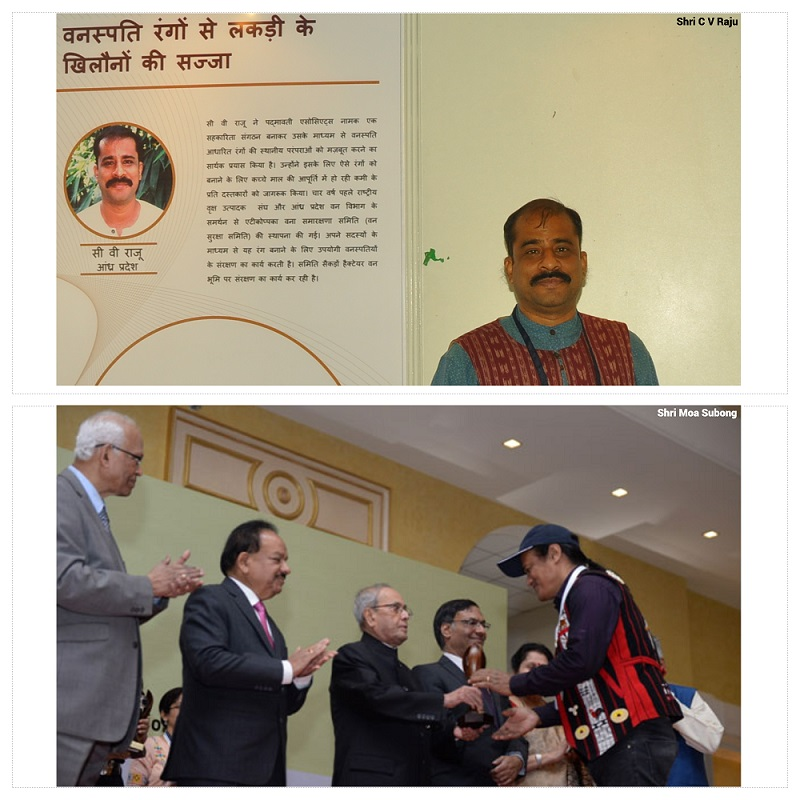 Both of them have been supported by the National Innovation Foundation (NIF) - India, an autonomous body of the Department of Science and Technology (DST), Government of India, in various forms for incubation of their respective technologies.
They have also received NIF's Biennial National Grassroots Innovation and Outstanding Traditional Knowledge Award as their first major recognition of life for Herbal Toys: Shri C V Raju (2002) conferred by then Hon'ble President of India Dr. APJ Abdul Kalam and Bamhum: an innovative wind musical instrument: Shri Moa Subong (2017) conferred by then Hon'ble President of India Shri Pranab Mukherjee.
Shri Moa Subong and Shri C V Raju have been invited to be part of the 4th (2017) and 5th (2018) batches of the Innovation Scholar-In-Residence programme at Rashtrapati Bhavan, respectively.
Shri C V Raju from Etikoppaka village, Visakhapatnam, Andhra Pradesh, is preserving the traditional method of making Etikoppaka toys, a heritage rooted in his village, by making vegetative dyes and developing technologies for increasing the shelf life of the dyes. He has developed a variety of contemporary toys for which the market continues to emerge in India and abroad.
This traditional method of making wooden toys using non-toxic paints and natural dyes, an identity that defined the craft community of the Etikoppaka village in Southern India, was otherwise a dying art. Shri C V Raju started a cooperative association of the artisans called "Padmavati Associates" so that the innovative colors reach right markets.
He developed a strategy of strengthening the local traditions of making vegetative dyes and develop new tools, techniques, and methods for increasing the shelf life of the dyes. Over a period of time, the supply of many herbal dyes started increasing, making things easier for the artisans. Etikoppaka toys are well-rounded and made using natural dye colours. This makes them safe, even for kids. Keeping this in mind, Shri C V Raju stuck to the conventional art form. Moreover, he engaged his fellow artisans and provided them with employment locally in the same village.
NIF has supported Shri Raju in his efforts with financial support through the Micro Venture Innovation Fund (MVIF) to satisfy working capital needs, support for value addition, and setting up of a community lab at the premises of the innovator, which could facilitate in-situ product improvements, research and development, validating the herbal nature of the toys, and facilitating commercialization through technology transfer to other enterprises and dissemination and diffusion activities across the country.
Shri Moa Subong from Dimapur, Nagaland, has developed a musical instrument called BamHum, which is a new wind musical instrument made out of bamboo. The name BamHum is derived from the two words bamboo and humming. Playing the BamHum is simple; one has to simply hum a tune into the hum hole that produces a melodic tune. The novelty is its simplicity in construction and ease of using. It can be used alone to hum songs, even by an untrained person, as part of a musical choir and as the lead instrument providing playback (of songs) as in instrumental songs. It blends well with other musical instruments and can be used for any genres of music.
NIF has supported Shri Moa Subong too in multiple ways, be it value addition and satisfying financing needs. An entity was incorporated with the support of NIF to grow business opportunities for the innovator, which was later recognized as a start-up.