Experts highlighted R&D activities relating to advanced materials, especially those associated with Quantum Computing and Machine Learning, during the 5th INAE-NAEK Workshop on "Advanced Materials for Sustainable Development was held on Aug 25-26, 2022 in Kolkata in hybrid mode.
The workshop, which provided a platform for future collaboration between researchers from India and Korea, served as an important venue for vigorous exchanges and collaborations and discussed establishment of science and technology policy guidelines by examining major issues and technological development in the ICT and materials industries.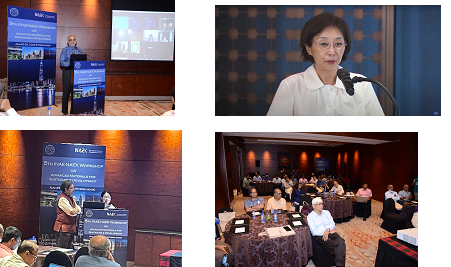 Indian National Academy of Engineering (INAE), the only engineering Academy of the country, represents India at the International Council of Academies of Engineering and Technological Sciences (CAETS). CAETS is an international non-governmental organization of engineering and technological sciences academies.
Prof Sanghamitra Bandyopadhyay, Director, Indian Statistical Institute, Kolkata, and Prof Debatosh Guha, FNAE & Professor, Institute of Radio Physics and Electronics, University of Calcutta, delivered the Introductory Remarks.
Prof Indranil Manna, President, INAE, highlighted that India is pursuing the path of development in which engineering and technology play a vital role.
Prof Jung-Hee Song, Vice-President, NAEK, stressed on the possibility of convergence between material science and ICT.
A total of 16 experts representing Korea and India in the field of Materials for Quantum Computing and Machine Learning for Development of Advanced Materials sessions delivered technical Presentations.
Two technical sessions were held on the theme "Materials for Quantum Computing" and two on "Machine Learning for development of Advanced Materials".
The sessions on the first theme were chaired by Prof Samit Kumar Ray, Professor, Department of Physics, IIT Kharagpur, India, and Dr. Seung-Cheol Lee, Director of Indo-Korea Science & Technology Center, KIST, South Korea, and the session on the second theme were chaired by Prof Sanghamitra Bandyopadhyay, Director, Indian Statistical Institute, Kolkata, India, and Prof Tae-yeon Seong, Professor, Korea University. 
The workshop was attended physically by 50 participants and online by various participants.