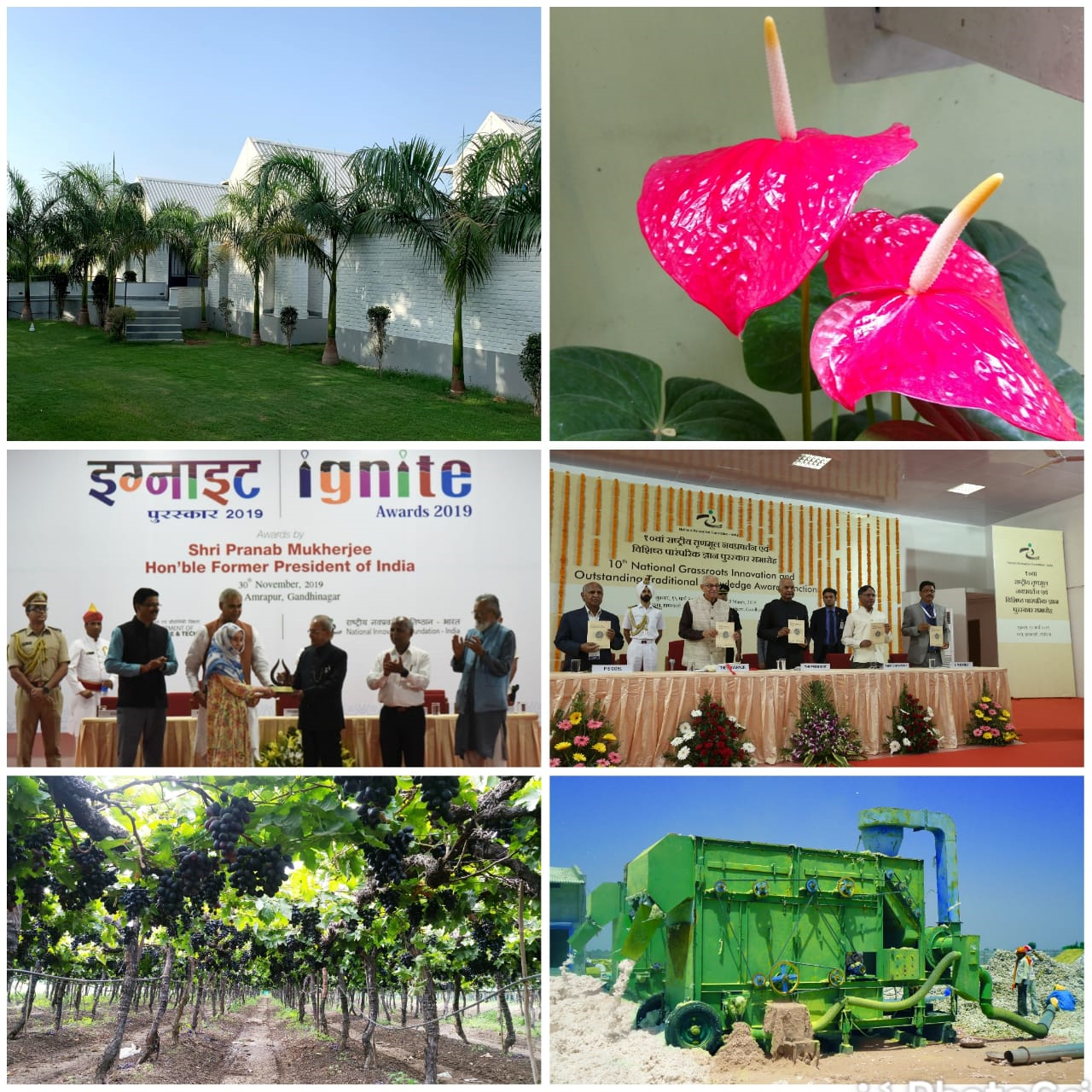 Set up as a national initiative to strengthen the grassroots technological innovations and outstanding traditional knowledge in the country, indigenous and demand-driven innovations in India have received opportunities, exposure, and incubation support under the stewardship of the National Innovation Foundation (NIF).
Congruent with its mission to help India become a creative and knowledge-based society by expanding policy and institutional space for local technological innovations, many incubates of NIF have surprised the world with their innovations satisfying unmet needs and demonstrating the potential of human wisdom with respect to innovations. NIF has developed hundreds of technologies in a wide range of areas, for example, technologies for the differently-abled, veterinary technologies, plant varieties, engineering technologies for agri mechanization, textiles, daily needs, food processing technologies, sanitization, utility product innovations, technologies in the human health domain, to name a few.
NIF has pooled a database of over 3,22,000 technological ideas, innovations, and traditional knowledge practices (not all unique, not all distinct) from over 625 districts of the country. NIF has till date recognised 1093 grassroots innovators and school students at the national level in its various Biennial National Grassroots Innovation and Outstanding Traditional Knowledge Award Functions and the annual Dr. A P J Abdul Kalam IGNITE Award function for children. NIF has filed 1191 patents, including 8 filed in the USA and 28 Patent Cooperation Treaty (PCT) applications, on behalf of the innovators and outstanding traditional knowledge holders. It has also filed 24 Design registrations and 10 trademark applications and applications for 76 plant varieties developed by farmers at the Protection of Plant Varieties & Farmers' Rights Authority. A special purpose vehicle NIFientreC (NIF Incubation and Entrepreneurship Council), the Technology Business Incubator, was set up to incubate the enterprises, and a total of 21 grassroots innovation-based enterprises had been granted with the status of start-up by DPIIT, Government of India.
The innovative children in India, who are blessed with the ability to think unconventional at an early age in life, have been recognized by NIF, thereby sending a positive message that "innovator" merits attention and whole-hearted and end-to-end support. As a result, instances like "Walker with Adjustable Legs" had its innovative technology transferred to the Industry and today available to common people through platforms like Amazon. Students like Shalini Kumari gave the idea on a piece of paper, could be motivated to think more innovatively. NIF is also implementing the INSPIRE Awards – MANAK, world's largest competition of ideas and innovations by school students, along with the Department of Science and Technology (DST), and during the most recent edition 2020-21, a whopping 6.53 lakh ideas were scouted from all States and UT's of the country, with 50.7% among them girls, the majority from rural areas. Students from 96% of the total districts in the country made their presence felt.
In terms of strengthening innovation and entrepreneurship ecosystem in the country, the Festival of Innovation and Entrepreneurship (FINE) is an annual celebration of creativity of common people of the country jointly organized by DST and NIF under the aegis of Rashtrapati Bhawan. It is a great platform which is provided to innovative people so that they can demonstrate their true potential.
The ASEAN India Innovation Platform (AIIP) – Social Innovations is currently being implemented by NIF and is instrumental in driving Science, Technology, and Innovation (STI) based relationships between India and other regions of the world. Similar efforts are being undertaken at NIF to drive STI-based relationships with other countries of the world.
Through many initiatives that NIF has been undertaking for the past two decades, grassroots innovation and children's creativity-driven innovations have contributed to India's rise as an innovation-driven economy.