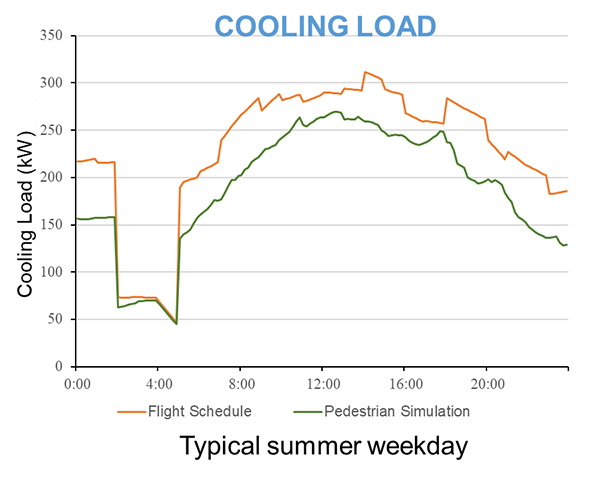 The thermal demands of India's airport terminals can now be accurately determined using a model developed by the Indian Institute of Technology – Roorkee and the capability is expected to drastically reduce the costs of maintaining optimum temperatures within airport buildings for passenger comfort.
The new model, developed by combining an energy simulation with an agent based model (ABM) —that determines heat generated by passengers in particular areas of a terminal —is based on a studies conducted at Visakhapatnam, Chennai, Kolkata and Bhubaneshwar airports by IIT- Roorkee.  
According to the study there is potential for reducing energy consumption by using occupancy-based controllers in the arrival, departure and other areas of terminal buildings. while the results obtained from ABM simulation can help set up heating, ventilation and air-conditioning (HVAC) as well as lighting in the different zones.
With India's civil aviation industry poised to become the third largest in the world by 2024 and plans being unrolled for a five-fold increase in capacity at 124 airports it has become important that terminal buildings meet the best energy efficient standards.
The energy consumption in major airport terminals range between 100 and 300 GWh/Year which is comparable to an average of 60,000 households with air conditioning the voluminous terminal buildings taking up the largest share of total energy consumption (TEE).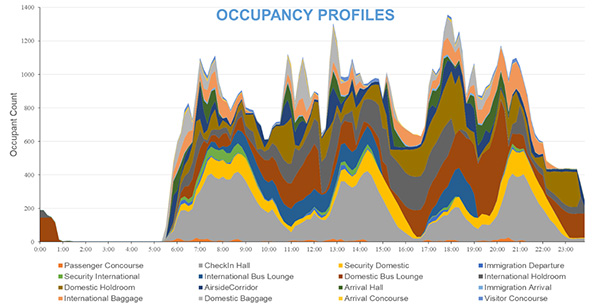 "Air-conditioning takes up about 66 per cent of TEE," says Dr. E Rajasekar at the Indian Institute of Technology –Roorkee which has been awarded a project to create a smart performance roadmap for India's airport terminal buildings.
In the study, the Visakhapatnam terminal building was categorised into 68 thermal zones and which are further categorised into 19 space types based on the internal loads and operational schedules.  Passenger occupancy at different zones of the terminal was predicted for a typical operational day. Zone wise passenger occupancy is used for modelling TEE at airports.
The HVAC loads for the terminal building is predicted for a typical summer day (May 21) at an interval of 1 minute. Also an annual simulation at a reporting interval of 10 minutes was performed to predict the annual cooling load.
The project under the Initiative to Promote Habitat Energy Efficiency (I-PHEE) is part of Clean Energy Research Initiative, which is sponsored by the Department of Science and Technology (DST) has CDAC, Bangaluru, as partner and the Airport Authority of India as main stakeholder.
I-PHEE will benchmark the energy consumption of airport terminal buildings, identify energy efficient strategies and associated cost-benefits for terminal buildings. "The project will deliver guidelines for design and operation of airport terminals for improved energy efficiency," says Rajasekar.
Airports are large scale infrastructure projects with long term impact and India's airports operate on a 24-hour basis throughout the year, with variable schedules and occupancy, presenting a challenge for TEE planners who need to keep passenger convenience and comfort in view. 
Typically, airport terminal buildings consist of large, open plan areas with high ceilings to accommodate ticketing counters, waiting areas, small office spaces, and various types of stores, concessions, and convenience facilities. This calls for central heating and cooling with all-air systems that are energy intensive and add stress to the country's overall energy crunch. 
Taking into consideration that internal heating loads are primarily dependent on people, with substantially variable occupancy and rate of movement, the I-PHEE research team has come up with innovative designs based on passenger flow, operation and control of terminal buildings.
A state-of-the-art, cloud-based, centralised building performance monitoring system which is in coordination with on-the-ground studies will help predict passenger flow and the variation in indoor environmental conditions.  This data is useful for operation as well as control of the air conditioning system in the terminal buildings. 
The research team is also developing a stratified energy performance benchmark for airport terminal buildings. This will help in the ranking of airports based on the energy consumption as well as service provided to its users.
Airports chiefly attain high energy efficiency levels through the installation of solar panels on their extensive roofing and more than 100 airports around the world have invested in this method along with green building designs and efficient lighting and air-conditioning backed by sensor-based smart control systems. 
Energy demand reduction is not a new concept in India. Cochin International Airport, the world's fully solar-powered terminal, bagged the United Nation's 2018 'Champions of the Earth Award for Entrepreneurial Vision'. Cochin's solar panels are rated at 30 megawatts providing 120,000 units of free power daily that is used in running the conveyor belts and powering digital systems.
Hyderabad's Rajiv Gandhi International Airport saves 25 per cent energy and 30 per cent on water through good practices. The airport fully reuses treated wastewater for landscaping, air conditioning and flushing.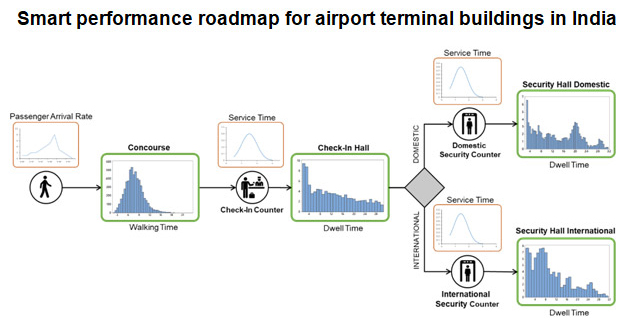 Energy efficiency at Hyderabad is achieved by such innovative measures as the use of high-performance glass with excellent thermal properties, high efficiency chillers, insulated walls and roof and variable frequency drives for the pumps. In addition, the application of skylight and window strategies that integrate high performance glass to maximise the use of natural daylight.
Hyderabad airport also monitors and maintains indoor air quality on a real-time basis with CO2 levels at any point of time never exceeding 530 ppm through fresh air purging.
New Delhi's Indira Gandhi International's Terminal 3, which was completed in time for 2010 Commonwealth Games, has bagged a 'Leadership in Energy and Environmental Design New Construction' (LEED NC) gold rating for its smart design.
Terminal 3 has such features as 215 electric charging stations, radar sensors that control lifts and escalators, LCD screens for displays on flight information and departure areas that are fully lit by natural light during the day.
One of the issues facing energy efficiency planners for existing airport terminals is integrating legacy management systems that are not compatible with the newer sensor-based systems and also defy attempts to diagnose inefficiencies.
The spatial configuration of legacy terminals makes the assessment of heating, ventilation and air-conditioning a difficult task. However, even these are surmountable by the use of intelligent building energy management solutions or i-BEMS that smartly and reliably manage all electrical and electronic systems deployed within the terminal.
Dublin Airport is known to have achieved 33 per cent energy savings by using iBEMS—  this despite a six per cent increase in the number of travelers using the terminal. 
Smart building systems for airport terminals currently represents a market that will exceed 20 billion US dollars by 2024 and much that is focused on integrating new and existing building systems to provide automation that boosts productivity, reduce failures and helps maintenance of valuable infrastructure and enhance building safety.
Write-up by Ranjit Devraj, Science Journalist

Uploaded on 30 September 2019