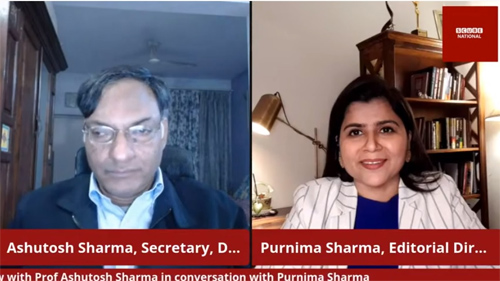 Calling for more space of science stories in the media, Secretary, Department of Science and Technology (DST) Professor Ashutosh Sharma highlighted plans to increase interaction between journalists and scientists so that the former can understand the work of scientists and the impact it could bring on society, at an interview in an audio-visual media.
 "People need know about the work scientists are doing and scientists need to present their work in a way that it reaches to the market and masses to reap the benefits of science, technology and innovation, Prof. Sharma said at the recent interview with an online platform.
"With this in mind, we are planning to start a programme that would act as a link for journalists and scientists and both sides would be able to know and understand their way of work and help propagate science research through their stories," Prof. Sharma announced.
He underlined the importance of propagating scientific temper and appealed to the citizens of country to adopt it in their life to navigate through difficulties of life.
Prof. Sharma explained that scientific temper is an approach to see things logically and objectively and anybody that believes in in rational thinking can have it. "It is necessary that we not only believe in scientific temper but also implement it in our lives. Our society needs to have scientific temper. COVID-19 pandemic was an encouraging example of how a crisis situation was tackled with science. We should learn from this example. The lack of scientific temper is a global issue due to the nature of human mind," Prof Shrma elaborated.  
He added that the media also needs to understand that science research is not done overnight and is different from crime and other similar stories". He pointed out that DST had started programmes like AWSAR for encouraging scientific writing and would continue making such efforts to encourage scientific temper.