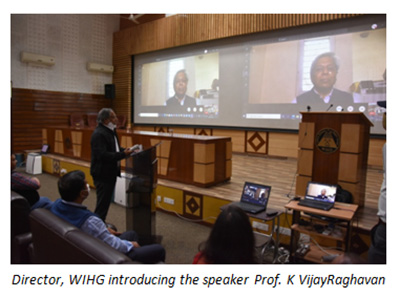 Principal Scientific Adviser to the Government of India K VijayRaghavan underscored that increased opportunity of knowledge generation and decreased the gap between knowledge and the society as well as increased usage of Artificial Intelligence in analysing the large data can make India a world leader in Science, Innovation and Technology, at the celebration of the National Science Day by the Wadia Institute of Himalayan Geology (WIHG).
"Human interventions into science and technology have deep-rooted impacts, and the current need is to become more learning-based self-sustained organizational society, as traditionally we use to be," Padma Shri Professor VijayRaghavan said while delivering the National Science Day talk online, as the chief guest of the function.
He emphasised the role of geosciences in a technology-driven world, how the rise of the Himalayas has shaped human civilization globally and the increasing the role of Wadia Institute of Himalayan Geology in that scenario.

National Science Day that marks the anniversary of the Raman Effect's discovery made on 28th February 1928 by Nobel Laureate Sir C.V Raman, was celebrated at Wadia Institute of Himalayan Geology, Dehradun, an autonomous institute of the Department of Science & Technology, Government of India, with great enthusiasm.
Prof. Kalachand Sain, Director of Wadia Institute, introduced the audience with the speaker's wide range of expertise and laurels that he brought to nation. A large number of scientists, students following the COVID-19 norms gathered physically and also via online platforms to commemorate the event.