The Second United Nations World Geospatial Information Congress (UNWGIC 2022) began in Hyderabad today. The five-day conference is being hosted by the Department of Science & Technology, Ministry of Science and Technology and convened by the United Nations Committee of Experts on Global Geospatial Information Management.
With the theme of 'Geo-Enabling the Global Village: No one should be left behind,' the Second UNWGIC 2022 will reflect on the importance of integrated geospatial information infrastructure and knowledge services to support the implementation and monitoring of sustainable development goals. It will also mirror the well-being of society, address environmental and climate challenges, embrace digital transformation and technological development, and catalyze a vibrant economy.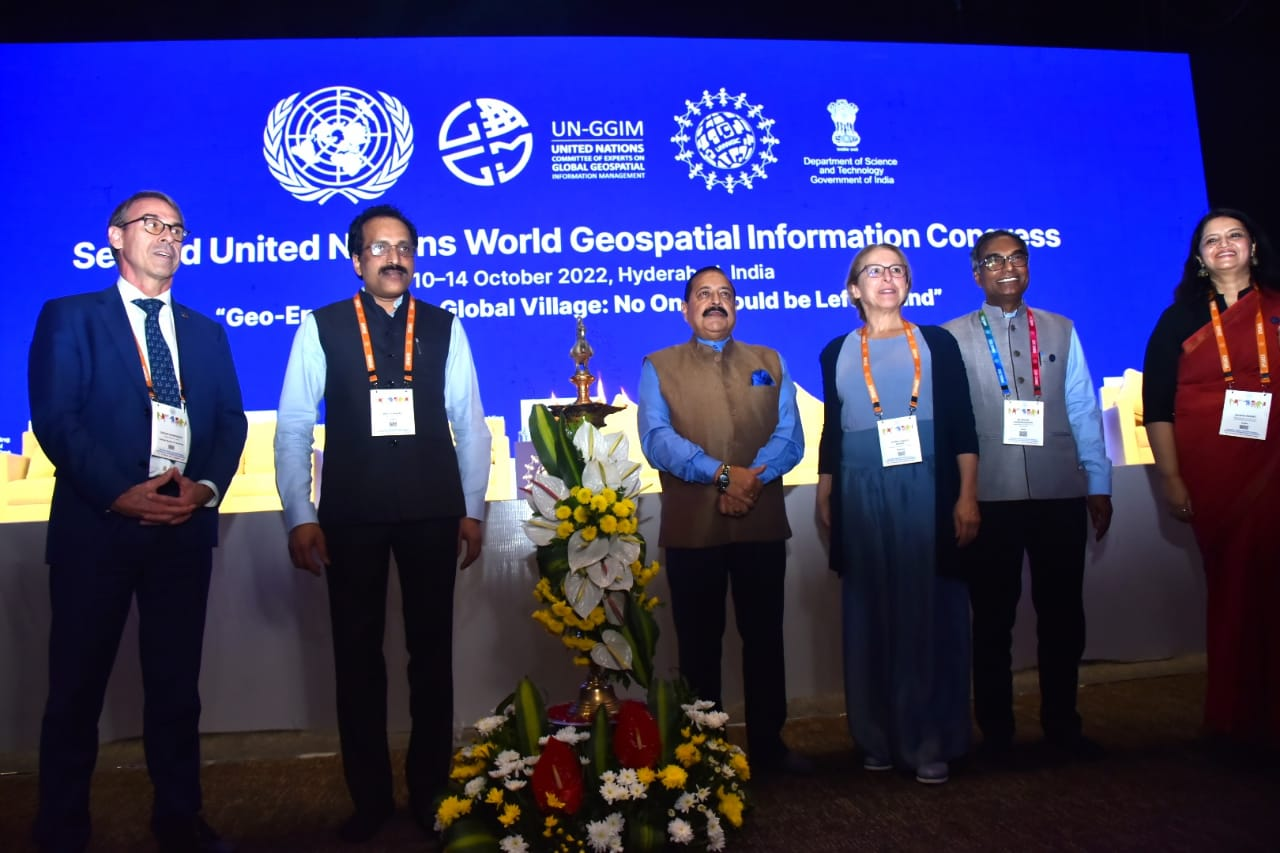 In his inaugural address through a video message, the Hon'ble Prime Minister of India, Shri Narendra Modi, said "There is a need for an institutional approach by the international community to help each other during a crisis". Saying that "India is ensuring no one is left behind", the Prime Minister cited that the geospatial technology has been driving inclusion and progress in national development projects like SVAMITVA, PM Gati Shakti master plan, JAM Trinity, etc. "Technology and talent are the two pillars that are key to India's development journey and technology is not an agent of exclusion but an agent of inclusion. India is a young nation with a great innovative spirit," the Prime Minister said, highlighting the role of talent as the second pillar in India's journey. India is one of the top startup hubs in the world, he added, with the number of unicorn startups having almost doubled since 2021- a testimony to India's young talent.
 The Prime Minister further said, "We have been working on a vision of Antyodaya which means empowering the last person at the last mile, in a mission mode" he said. 450 million unbanked people, a population greater than that of USA, were brought under the banking net and 135 million people, about twice the population of France, were given insurance, the Prime Minister elaborated. Sanitation facilities were taken to 110 million families and tap water connections to over 60 million families, he added, underlining that "India is ensuring no one is left behind."
The Prime Minister underscored the endless possibilities that geospatial technology offers. These include sustainable urban development, managing, and mitigating disasters, tracking the impact of climate change, forest management, water management, stopping desertification, and food security. He expressed his wish that this conference becomes a platform to discuss developments in such important areas.
In his keynote address, the Union Minister for Science and Technology and Ministry of Earth Sciences, Dr Jitendra Singh said that the geospatial economy is expected to cross Rs 63,000 crore by 2025 at a growth rate of 12.8% and to provide employment to more than 10 lakh people mainly through Geospatial start-ups. Unveiling a Geospatial incubator, Dr Jitendra Singh said that this would boost the current boom of technology-led start-ups. A Solar Calculator, the Bhunidhi portal and the National Toponymy database were also unveiled by the Minister. The dignitaries also released a report on the 'The India experience in aligning with the IGIF'
 The Minister Dr Jitendra Singh pointed out that national organizations like the Survey of India, Geological Survey of India, National Atlas and Thematic Mapping Organization (NATMO), Indian Space Research Organisation (ISRO) and National Informatics Centre have implemented several GIS-based pilot projects across a range of domains like waste resource management, forestry, urban planning, etc. to demonstrate the applications of Geospatial Technology. He said the democratization of the Indian geospatial ecosystem will spur domestic innovation and enable Indian companies to compete in the global mapping ecosystem by leveraging modern geospatial technologies and realiSing the dream of "Atmanirbhar Bharat" or "Self-sufficient India" fully.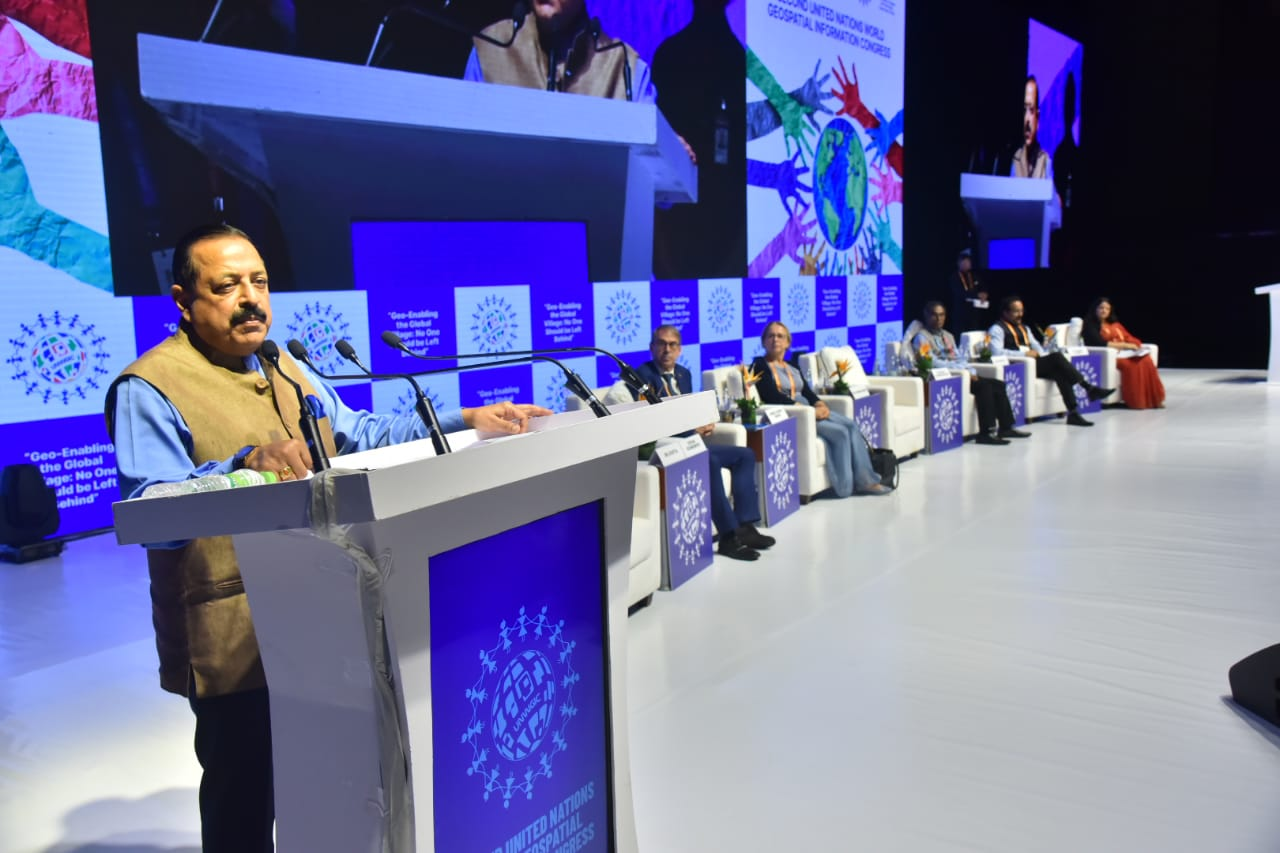 Dr Jitendra Singh pointed out that the Rural Development Ministry has mapped over 45 lakh km of rural roads by using 21 data layers of the map, which has digitized information regarding water bodies, green areas, plots, and other structures essential for administrative purposes. He also informed that nearly 2.6 lakh gram panchayat had been covered by the ministry under the scheme of mapping and digitization. The Minister said, evolving technologies in the geospatial sector have brought about transformational changes whereby even an inch of land in India can be mapped, thereby providing solid backups for Indian land reforms.
 Dr S Somnath, Secretary, of the Department of Space, said that the Indian geospatial information system is very rich and diverse, resonating with the needs and demands of the country. Dr Srivari Chandrasekhar, Secretary, of the Department of Science and Technology said that the pandemic years will go down in the history as transformative years for the geospatial industry as the Government of India has strategically and determinedly pushed boundaries in geospatial and allied policies and the implementation of the technology across varied economic sectors.
 Earlier, Mr. Stefan Schweinfest, Director, UN-GGIM Secretariat, United Nations Statistics Department said, "Geospatial is a community of solidarity and solutions" and also read out a statement from Mr. António Guterres Secretary-General of the United Nations. Ms. Ingrid Vanden Berghe, Co-chair of UN-GGIM, Kingdom of Belgium said "UNGGIM is focusing on key elements for many local to global challenges. Location undergirds everything we do. Stats and data are key to better knowledge, insights, sharing, understanding, and to achieve 2030 SDGs and to enable better livelihood for future generations". Dr. Debapriya Dutta, Advisor & Head, SEED, SSTP Division, Department of Science and Technology, Government of India, was the master of ceremony, and Dr. Shubha Pandey, Scientist E, Department of Science & Technology, Government of India, gave the vote of thanks.