S&T brings health for all
The government is focused on ensuring affordable healthcare for all Indians as per the sustainable development goal of the United Nations Development Programme (UNDP) and science and technology forms a major tool for ensuring this.
Ministry of Science & Technology brings interventions to make healthcare accessible and affordable like low cost vaccines for disease prevention, diagnostic kits for detection and medicines for treatment of diseases. In addition to health care interventions, the Ministry also focuses on the health care delivery system with the growing engagement of the private sector, specially startups and small industry. The availability of a proper technology translational mechanism ensures this.
India is a Leader in vaccine development & manufacture
DBT's Indo-US Vaccine Action Programme (VAP) & the Vaccine Grand Challenge Programme (VGCP) helped develop the world's lowest cost rotavirus vaccine. The vaccine developed from Indian strain 116E is efficacious in preventing severe rotavirus diarrhea in low-resource settings in India.
Introduced in 9 states, namely Odisha, Andhra Pradesh, Haryana, Himachal Pradesh, Assam, Tripura, Tamil Nadu, Madhya Pradesh and Rajasthan, the ROTAVAC® vaccine has received WHO prequalification in 2018 and has been included in India's Universal Immunization Program (UIP).
Furthermore, the program is taking major strides towards vaccine for diseases like dengue, enteric diseases, influenza, malaria & tuberculosis (TB). It is estimated that one out of every six children over the world receives vaccines manufactured in India.
Malaria Vaccine: International Centre for Genetic Engineering and Biotechnology (ICGEB), New Delhi along with its translational research partner "Multi Vaccines Development Program" has made significant progress in the development of vaccines for P. falciparum and P. vivax malaria. Funding support through Vaccine Grand Challenge Program of Department of Biotechnology, Biotechnology Industry Research Assistance Council (BIRAC) and multiple international agencies including Malaria Vaccine Initiative (MVI), PATH and European Vaccine Initiative (EVI) has made this possible. .
Dengue Vaccine: The International Centre for Genetic Engineering and Biotechnology (ICGEB) in collaboration with drug major Sun Pharma is using the recombinant EDIII-based sub-unit dengue vaccine candidate to develop an injectable vaccine that protects against all four dengue strains that are endemic to India.
Low cost diagnostic kits help timely detection of diseases
1- Day Dengue Diagnostic Kit
The highly sensitive rapid 1- day dengue diagnostic kit detects Dengue Virus (DENV) infection from the first day of fever, with a cost of Rs 145/test to the distributors. The kit's performance was tested by Drug Controller Govt. of India and is currently being exported.
Diagnostic kits for Celiac disease
The Celiac diagnostic kits (Celiac Microlisa & Celiac Card) were developed through collaborative, multi-institutional, inter-disciplinary efforts and are rapid, sensitive, specific, and are much cheaper in comparison to imported kits in use today. The participating institutions were ICGEB, New Delhi, Translational Health Science and Technology Institute (THSTI), Gurugram; All India Institute of Medical Sciences (AIIMS), New Delhi, and have been made commercially available by industrial partner J. Mitra and Co. Pvt. Ltd.
Plasma Gelsolin Diagnostic Kit for prematurity and sepsis
CSIR-IMTECH has developed two mass-production ready, plate-based kits to estimate plasma gelsolin levels in humans leading to early detection of pre-term birth. After successful clinical trials, the diagnostic kit has been transferred to an industry for commercialization.
eSkIN: An in-silico Platform for Skin Data Analysis
A sophisticated but user-friendly software tool named "eSkIN" has been developed for skin system which enables modeling, simulations, analysis, and visualization. It has the ability to convert large scale high-throughput 'omics' data into biomedical knowledge. The software is open for use and is available at the online platform of the industry partner, Persistent Systems.
Sohum for early detection of hearing impairment in children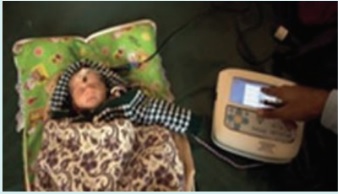 Sohum is a non- invasive and safe device for screening of neonates for hearing impairment with high sensitivity and specificity. This product is licensed to Sohum Innovations and has been launched in India. The company is using seed the market strategy by providing products to various hospitals across India for eliciting feedback and adoption.
NeoBreath: Foot-operated newborn resuscitation system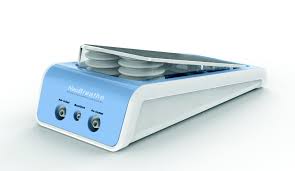 This product is a foot-operated resuscitation system that can free-up a hand of the device operator or healthcare professional faced with a baby that's not able to breathe. This facility, allows use of both hands for holding the mask, leading to effective sealing and better ventilation. NeoBreath is licensed to Windmill Health and has been commercialized in India, as well as top hospitals of South Africa, Nigeria, Kenya and Mali. A few sample units have also been shipped to Rwanda, Chile, Peru and Argentina and pilot sales in Africa and South America have started. More than 150 units have been sold by the company so far. The technology has been sub-licensed to Phoenix Medical systems, Chennai for market outreach and sales.
Brun: Feto-maternal Parameter Monitoring System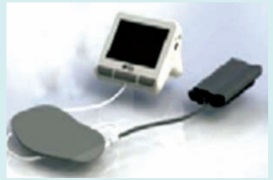 This device is a safe, easy and cost-effective way to continuously monitor feto-maternal vitals of pregnant women, which helps to reduce neonatal mortality. The product is licensed to Brun Health. The company has completed design for manufacturing of the product and is validating the technology at AIIMS, New Delhi and the product is yet to be commercialized.
Sishunetra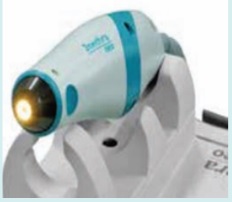 First-of-a-kind, low-cost wide field eye screening device for premature and term infant has been developed. The product has undergone extensive field trials and is ready to be launched in the Indian market by 2018.
Fetal Mom
This device functions as a fetal electrocardiogram and monitors uterine activity through signal extraction from maternal electrocardiogram, thereby eliminating the need for use of conventional transducers. The product has undergone clinical validation and is ready for launch.
Soft Tissue Biopsy device for tissue sample collection with minimum skill for diagnosis
The device provides a safer, easier and cost-effective way to perform percutaneous aspiration needle biopsy. It is easy to use and hence the task can be carried out by a person with limited expertise.
Mobile Lab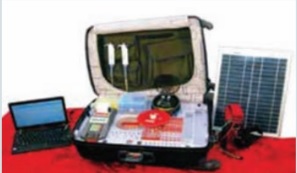 The Mobile Lab is a compact portable clinical laboratory, in the form of a suitcase with a power backup facility. It consists of all essential instruments like Biochemistry Analyzer, Centrifuge, Incubator, Data Recorder/Mini Laptop with Patient Data Management Software, Micropipettes and other accessories.
AnuPath: Multi-analyte PoC device
AnuPath is a point-of-care medical device for management and early prevention of complications for diabetes, chronic kidney disease, anemia and malnutrition. The handheld medical device utilizes dry test strips for detection of biomarkers related to the respective disease.
Oral cancer screening camera
The product is a hand-held imaging device that uses trimodal imaging technology combining tissue fluorescence, absorption, and diffuse reflectance for screening and detection of oral cancers.
Haemoglobin (Hb) Calculator App
An android-based smartphone app called Haemoglobin (Hb) Calculator was developed for accurate and sensitive measurement of Hb. The application's higher sensitivity, specificity, accuracy and reliability make it an attractive alternative for Hb estimation in resource-limited conditions.
DALI (Dyslexia Assessment in Languages of India): Kit for early detection of dyslexia
DALI is a package developed by National Brain Research Centre, Manesar that contains screening tools for school teachers and assessment tools for psychologists in Indian languages to identify dyslexia. It is the first indigenously developed screening and assessment tool to be standardized and validated across a large population of nearly 4840 children. The tools are available in Hindi, Marathi, Kannada and English and are currently being developed in other languages as well.
'Ksheer Tester' Handheld GPS enabled device to detect milk adulteration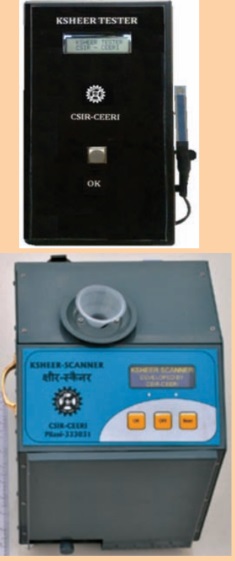 In order to address the issue of milk adulteration, a low-cost portable electronic system, named 'Ksheer-Scanner' and 'Ksheer Tester' have been developed which detects contaminants such as urea, salt, detergent, liquid soap, boric acid, caustic soda, and hydrogen peroxide in just 40-45 seconds. The device enables any person to track the location of the tested sample of milk and receive the test results through SMS on the device. The technology has been transferred to 2 companies for commercialization.
Medicines and technological solutions bring affordable treatment
Streptokinase
Streptokinase is a vital, life-saver injectable protein drug that saves up to 40% of human lives after heart attacks, if given within a few hours of the onset of chest pain. CSIR-IMTECH has developed a portfolio of streptokinase technology which includes natural streptokinase; recombinant streptokinase; clot-specific streptokinase (third generation thrombolytic molecules); and the new generation clot-buster(s) (fourth generation thrombolytic molecules).
The technology of natural streptokinase of 'British' Pharmacopoeiac grade developed by CSIR-IMTECH was transferred to Cadila Pharmaceuticals.
Novel processes for Eribulin, Nicotine and Bedaquiline
Serving as important drugs for health care, bench scale processes have been developed for all three molecules, for which synthesis at a large scale is necessary to serve the market demand. In all three cases, the developed routes are new and cost-effective. Eribulin (an anti-cancer drug) fragments are now made in lesser number of steps, Nicotine is made in one-step and Bedaquiline (anti-Drug Resistant TB drug) synthesis was achieved from commercially available starting materials at a low cost.
Anti-diabetes herbal drug
CSIR has developed an anti-diabetic herbal formulation from a combination of natural extracts derived from six plant species mentioned in ancient Ayurveda texts. The drug, BGR-34, was approved by the Ministry of Ayurveda, Yoga and Naturopathy, Unani, Siddha and Homoeopathy (AYUSH) after it was tested on patients over a period of 18 months across states of Delhi, Himachal Pradesh, Haryana, Punjab and Karnataka.
Hand-cranked defibrillator
Defibrillation is a treatment for life-threatening cardiac dysrhythmias, specifically ventricular fibrillation (VF) and non-perfusing ventricular tachycardia (VT). A defibrillator delivers a dose of electric current (often called a countershock) to the heart. The world's first electricity and hand-cranked dual powered defibrillator has been developed, serving in regions without reliable electricity such as in India, Africa, South America and Asia. Health units such as Primary Health Centres (PHCs) and Community Health Centres (CHCs) as well as emergency response units of security forces would benefit from this immensely. The price of this device would be 1/4th of the big brands, while providing similar or higher quality and reliability levels.