Addressing the International Ministerial meet of Joint 8th Mission Innovation Ministerial (MI-8) and 14th Clean Energy Ministerial (CEM-14) here today, attended by delegates from about 30 countries from across the world, Union Minister of State (Independent Charge) Science & Technology; MoS PMO, Personnel, Public Grievances, Pensions, Atomic Energy and Space, Dr Jitendra Singh urged the Indian diaspora abroad to engage with India.
The Minister said, the Vaishvik Bhartiya Vaigyanik (VAIBHAV) Fellowship programme, introduced recently by Prime Minister Narendra Modi is a step in this direction. The Fellowship would be awarded to outstanding scientists/technologists of Indian origin (NRI/OCI/PIO) who are engaged in research activities in their respective countries. The 75 selected fellows would be invited to work in 18 identified knowledge verticals including quantum technology, energy and material sciences amongst others.
Touching upon the global concerns, Dr Jitendra Singh said, this decade must see major innovation efforts for new technologies to be in the market to meet various climate goals.
The Minister underlined that the world today is more interconnected and interdependent than ever before and to create resilience, there should be more collaborations among countries to develop universal solutions that can be adapted to large sets of countries to make them affordable.
Addressing the Joint 8th Mission Innovation Ministerial (MI-8) and 14th Clean Energy Ministerial (CEM-14) meeting in Goa with delegates from about 30 countries in attendance, Dr Jitendra Singh said, the Mission Innovation (MI) and International Solar Alliance, spearhead by our Prime Minister Narendra Modi was announced at COP21 in 2015, as world leaders came together in Paris to commit the ambitious efforts to combat climate change.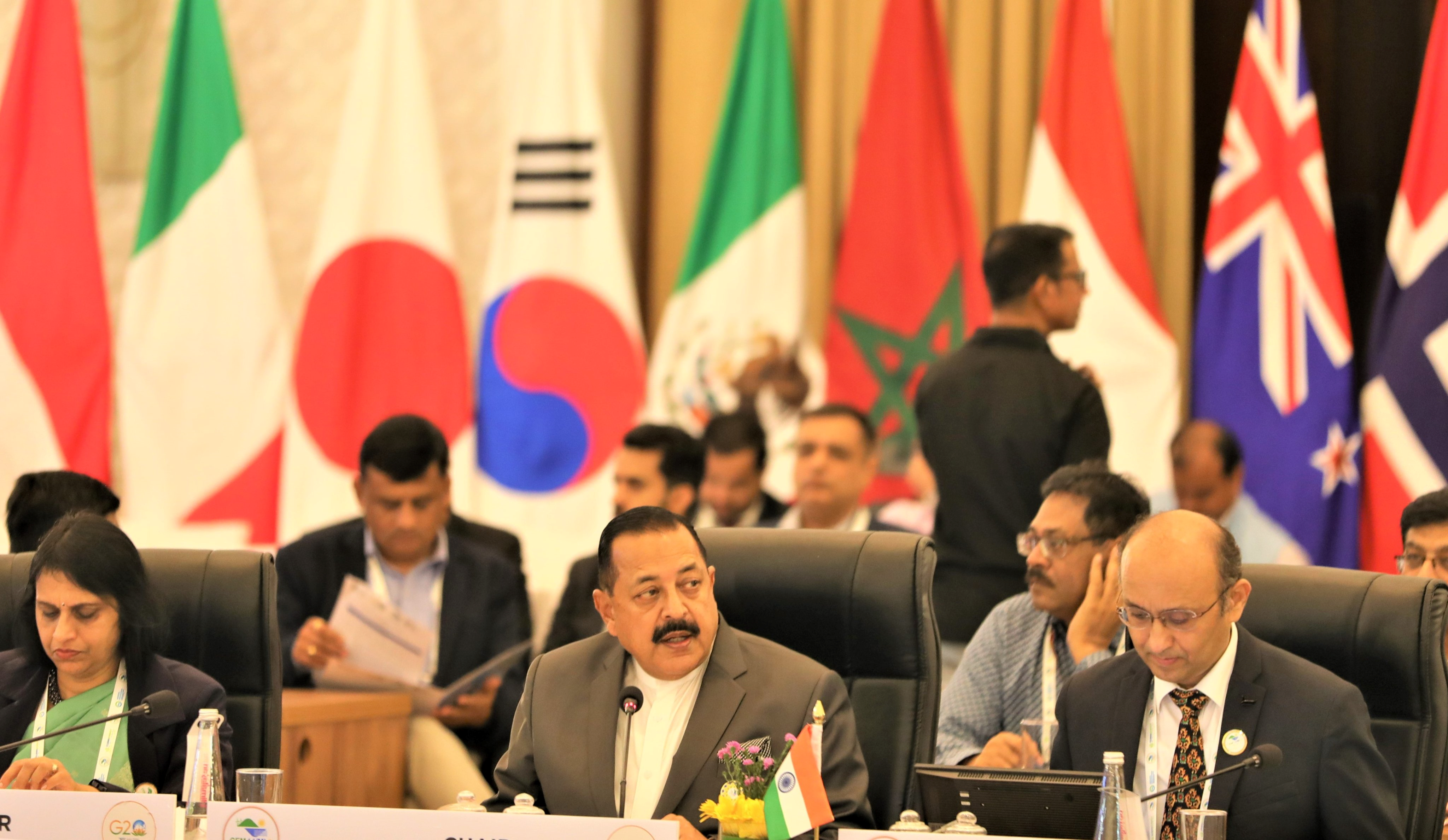 Dr Jitendra Singh informed the delegates that Mission Innovation is a term coined by India's Prime Minister and the United Nation has recognized him for his Policy Leadership and pioneering work in championing and promoting new levels of cooperation on environmental action and clean energy initiatives and conferred on him Champions of Earth Award 2018.
Dr Jitendra Singh told the delegates that Prime Minister Modi's attention to Clean energy is continuously reflected in his vision, outlined in form of Panchamrit during COP26 and India's targets toward climate action like- Reaching a non-fossil fuel energy capacity of 500 GW by 2030; Fulfilling 50 percent energy requirements via renewable energy by 2030; Reducing CO2 emissions by 1 billion tons by 2030; Reducing carbon intensity below 45 percent by 2030; To pave the way for achieving a net-zero emissions target by 2070.
Dr Jitendra Singh said, our current initiatives and efforts are the nation's testimony to drive Clean Energy at accelerated pace and enhance global and private sector participation. At Global level, let us all resolve to work together to foster innovations and drive necessary changes in the energy sector to ensure a sustainable, liveable future in a cleaner and greener planet, the Minister added.
Dr Jitendra Singh said, India is celebrating 75 Years of Independence and in this special moment (Amritkal), hosting of Annual Ministerial meeting of MI, CEM and G20 Energy Ministerial at same location will be pivotal and a step forward to reach our ambitious clean energy commitments into action while ensuring energy security and accessibility.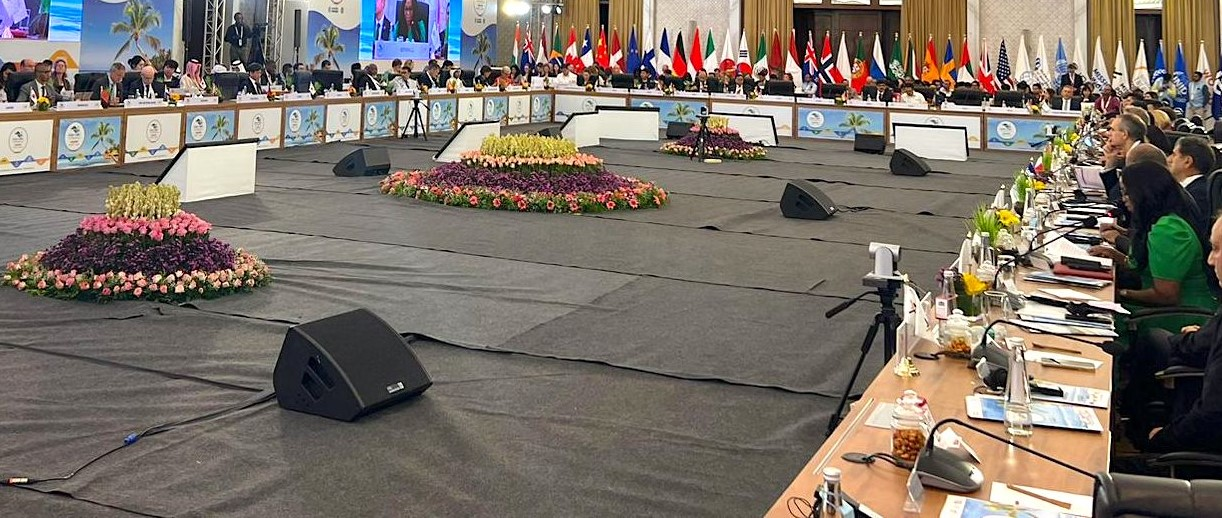 Dr Jitendra Singh said after the Goa Meeting, we have G20 energy transition ministerial meeting scheduled tomorrow and the objective of scheduling this is to get maximum participation of the global clean energy community and engagement at the highest level. He reiterated that delegates from more than 40 countries around the world assembled in Goa to join various clean energy events planned from 19 July to 22 July 2023.
Dr Jitendra Singh said, Indian Cabinet has recently approved the introduction of the National Research Foundation (NRF) Bill, 2023 in the Parliament to promote the culture of research and innovation throughout India's universities, colleges, research institutions, and R&D laboratories at a total estimated cost of Rs. 50,000 crores during five years and this will give further impetus to Clean energy research in India and Mission innovation.
Dr Jitendra Singh said, advancing the Research and Innovation value chain and fostering the culture of innovation and entrepreneurship in young minds has witnessed a phenomenal growth in India as evident from the Start-Up ecosystem gathering speed, scale and momentum. From 350 odd start-ups in 2014, the number swelled to over 88,000 Start-Ups. India is also home to 107 Unicorns and 23 of them emerged only last year is a sign of India's rapid upward ride on STI (Science, Technology & Innovation) ladder, he added.
The Minister concluded by saying that achieving a cleaner and healthier future requires the unwavering focus of all governments, business, investors, and citizens. He said, we all must not lose sight of the need to continue the R&D cycle and focus on the next set of solutions.