The Wadia Institute of Himalayan Geology which has been monitoring recession of glaciers for more than ten years in the Garhwal Himalayas by establishing a permanent monitoring station, has found that the formation of a new lake at Chaurabari glacier near Kedarnath poses no threat to the Himalayan shrine.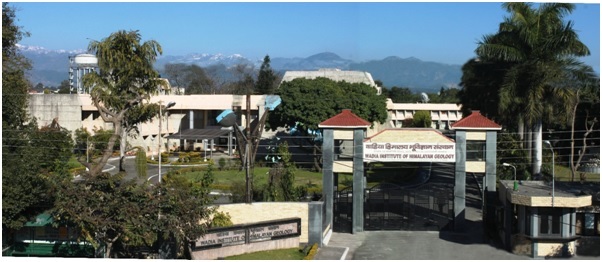 The data generated in the study glaciers in the Garhwal Himalayas was also used in global climate change programme, and the scientist profile was published in the 'Time magazine' for glaciological study. The Institute has been nurturing a monitoring system in an integrated manner by hosting 'Multi-Parametric Geophysical Observatory (MPGO)' at Ghuttu (Tehri), Uttarakhand, which may lead to earthquake precursory study in the Himalayan region.
The Institute has also launched a number of new research initiatives bearing on the society which includes establishment  of DST's 'Centre for Glaciology'at WIHG in the back drop of wide ranging claims on the likely impact of climate change on Himalayan glaciers and their far-reaching consequences on Indian economy,
The important contributions in the past include discovery of conodont fauna in Lesser Himalaya and correlation with the Vindhyan of Indian Shield, sedimentological history and fauna of Siwalik foreland basin, unravellingthe processes involved inclosing of NeoThethys in Indus suture of Ladakh and Karakoram, reconstructing Indian passive margin in the Tethys Himalayain Zanskar and Spiti, regional tectonics of NW Himalaya, and regional geologicalframework of Arunachal Pradesh.
Institute of Himalayan Geology was established in 1968in Delhi University under the Ministry of Education and Cultural Affairs through the constant efforts of Dr. D.N.Wadia, F.R.S, National Professor and Adviser to Government of India. Later, the Institute was shifted to its current location at Dehradun and subsequently renamed as Wadia Institute of Himalayan Geology to honour the memory of its founder.The Wadia institute is now developed into a national laboratory which has attained both national and international recognition.
The mandate of the Institute is to develop new concepts and model of Geodynamic evolution of Himalaya, coordinate and collaborate research with Universities and Institutions, initiate scholarships, organize seminars, disseminate knowledge and to serve as the reference centre for the Geology of Himalaya and provide high level consultancy services to Institutions, Agencies and Industries. 
It has been pursuing basic researches to unravel the orogeny of majestic Himalaya and provide improved understanding on geodynamic processes, seismogenesis,climate-tectonic interactions, evolution and extinction of life, ore formation, glaciology, river system, natural hazards (landslides, floods, and earthquakes), anthropogenic impact etc. towards the well-being of population and safe-guarding the properties and structures in the Himalaya and adjoining areas. The research activities to understand mountain building processes and shed light on above topics are based on observations using structural geology, petrology, paleontology, stratigraphy, sedimentology, geomorphology, geophysics, remote sensing etc.
The Institute has installed adequate number of Broad Band Seismographs and Acceleragraphs spread over H.P., Uttarakhand, Jammu, Kashmir, Ladak, Punjab, Haryana and Arunachal Pradesh for monitoring the seismsity. Also a good number of GPS instruments are installed in H.P., Uttarakhand, J&K and Ladakh to monitor the strain accumulation rate. The WIHG has also provided online active fault data base for Uttarakhand state for seismic hazard assessment.
The WIHG strives to become one of the best geoscientific Institute in the world. The institute has developed advanced analytical laboratories for Geosciences studies that include: LA-MC-ICP-MS, Stable Isotope Mass Spectrometer, EPMA, ICP-MS, XRF, SEM, XRD, Raman Spectrometer, TL/OSL, Magnetic Susceptibility meter etc. These facilities are being utilized by the scientists of Wadia as well as researchers from Universities, and other organizations.
In capability building the institute has been organising training courses, including "UNESCO and NSF sponsored trainingprogramme to the students.It also provides consultancy services for hydro engineering projects,drinking &groundwater surveys, natural hazards, road & rail alignments in the Himalaya and adjoining region.
During the glorious journey, a few scientists were honoured with the Padma Awards and many received the National Geosciences Awards. The Institute has published more than 2500 research articles in the peer reviewed Journals, and published several books and Monographs, and has produced more than 120 PhDs.
The Institute has well-kept earth science museum depicting panoramic view of mighty Himalaya, its evolution in time and space, life in geological past and geological hazards. The museum attracts 15000-20000of visitors every year. The institute also houses one of the richest earth science library of the country with 25,000 plus books and more than 90 foreign and 65 national periodicals.
The vision of WIHG is to attain the specified objectives by Questing for Himalayan Geodynamics, Seismogenesis, Natural Hazards, Climate Variability and Natural Resources through multi-disciplinary Geoscientific investigation.