Best Practices from the Solar Design Challenges in the US and India were shared at a virtual meeting to recognize the efforts of students and industry in innovating climate change solutions in the building sector with building designs which utilised net-zero-energy-water-waste that are innovative, affordable, and climate-resilient.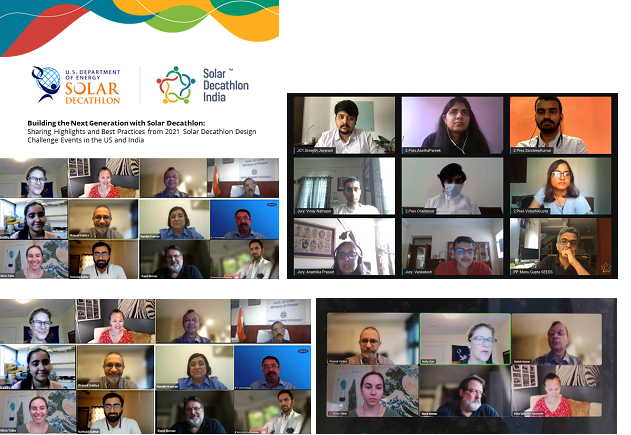 The first Solar Decathlon India challenge launched last year brought in around 1000 undergraduate and postgraduate students to compete in net-zero building designs. Winning entries of this 8 month long competition in India, along with those from its US version, were showcased at the meeting organised on August 25. Teams who participated in the earlier U.S. and India Solar Decathlons like Khushi Daxini and Nathulal Suthar from team IDEAS, Nagpur, presented their innovative design of a kinetic facade to achieve thermal comfort and help reduce energy use by 66%.
The meeting was organised by the U.S. Department of Energy, the Indo-U.S. Science and Technology Forum (IUSSTF), the Indian Institute for Human Settlements (IIHS), and the Alliance for an Energy-Efficient Economy (AEEE) celebrated the success of the first Solar Decathlon India challenge and its contribution to boost the India-US Climate and Clean Energy Agenda 2030 Partnership.
"Initiatives like Solar Decathlon India can help develop the next generation of professionals who can deliver net-zero-energy buildings by going beyond conventional approaches to surpass the country's 175 GW of renewable energy commitment," said Abhay Bakre, Director General, Bureau of Energy Efficiency, while speaking at the meeting.
Assistant Secretary Kelly Speakes-Backman said that Solar Decathlon India is a concrete example of the collaboration between India and the USA envisioned in the U.S.-India Strategic Clean Energy Partnership that was announced at the Climate Leaders summit as part of the US-India Climate and Clean Energy Agenda 2030 Partnership.
In the first year alone, Solar Decathlon India brought together about 1000 students, who, during the course of the Challenge, demonstrated net-zero designs that are innovative, affordable, and climate-resilient. Going beyond a traditional challenge, Solar Decathlon India bridged the gap between what students knew and what they needed to know with knowledge building and skilling platforms built especially for the initiative. The 2021-22 Challenge is underway with over 90 student teams and more than 1200 students across India. 
In the first year, students worked in teams with industry experts as well as faculty, attended courses, and received training to emerge with the final design after 8 to 9 months. This set the template for the competition for the following years.
"The phenomenal response in the first year of Solar Decathlon India has shown that addressing climate change with a focus on buildings is possible when the entire ecosystem including academia, the real estate industry, manufacturers, technology partners, and most importantly, students comes together. This year we will provide an opportunity for students in Solar Decathlons in both India and the U.S. to connect, share ideas and technologies, discuss challenges, and to get to know each other. Together they will form an even larger community in our 'Race to Zero'," said Prasad Vaidya, Director, Solar Decathlon India.
 A panel of experts discussed how industry is moving toward high performance, low carbon buildings, which is one of the goals of the Strategic Energy Partnership, and how Solar Decathlon is helping to develop the knowledge and skills that are critical to facilitating the clean energy transition. Speakers included Rank Ekman, Chief Sustainability Officer and Principal, HKS Architects (Solar Decathlon U.S. sponsor and juror), Manvendra Singh Shekhawat, Managing Director, MRS Group (Solar Decathlon India project partner), and Dhiraj Wadhwa, Director, Commercial & Overseas Business, Carrier Corporation (Solar Decathlon India juror). 
Nandini Kannan, Executive Director, Indo-U.S. Science and Technology Forum and Holly Carr, Director of the U.S. Solar Decathlon, also participated in the discussions.