Department of Science and Technology (DST) flagship scheme Sophisticated Analytical Instrument Facilities (SAIF) Scheme was started in 1974 as Regional Sophisticated Instrumentation Centres (RSIC) which was later renamed as SAIF in 2002-03. The SAIF scheme is being implemented regionally with the objective to provide facilities of sophisticated analytical instruments to the research workers in general and especially from the institutions which do not have such instruments to enable them to pursue R&D activities. This enables the institutions acquiring such facilities to keep pace with development taking place globally.
At present there are fifteen (15) Sophisticated Analytical Instrument Facilities (SAIFs) spread across the country, which provide sophisticated analytical instruments to users are functioning at IIT Madras, Chennai; IIT Bombay, Mumbai; CDRI Lucknow, Panjab University, Chandigarh; NEHU, Shillong; IISc Bangalore, AIIMS New Delhi, Guwahati University, Guwahati; C.V.M., Vallabh Vidyanagar, Gujarat, STIC, Kochi; Shivaji University, Kolhapur; Indian Institute of Engineering Science & Technology (IIEST), Shibpur; IIT Patna; MG University, Kottayam and Karnataka University, Dharwad.  SAIFs mostly house high-end equipment such as SEM, TEM, EPMA, HR-MS, NMR, EPR, X-Ray Facilities, Thermal Analyser etc. which are normally not available at many academic Institutions due to their high cost. These centres are also provided with new Analytical Instrument Facilities every year.
With the passage of time, the Centres have updated and are being upgraded with the latest developments that are taking place globally. The Program has also contributed to sustainable capacity building, knowledge transfer as well as improvement of scientific-technical potential
Objectives of the SAIFs
To carryout analysis of samples received from the institutions/ industries/ individuals etc.
To provide services of facilities of sophisticated analytical instruments to scientists and academicians from academic institutes, R&D laboratories and industries to enable them to carry out analysis/characterization/measurement for R&D work.
To acquire and develop capability for preventive maintenance, testing and repair of sophisticated instruments
To organize short term courses/ workshops/ seminars etc. on the use and applications of various instruments and techniques for research students, teachers and personnel from other laboratories, universities and industries
To train technicians for maintenance and operation of sophisticated instruments
To promote and practice in projects aimed at the development of prototypes of sophisticated instruments or to augment the capabilities of existing instruments.
SAIFs across the country
Presently there are 15 SAIF Centres functioning across the country and they are located as the map given below: -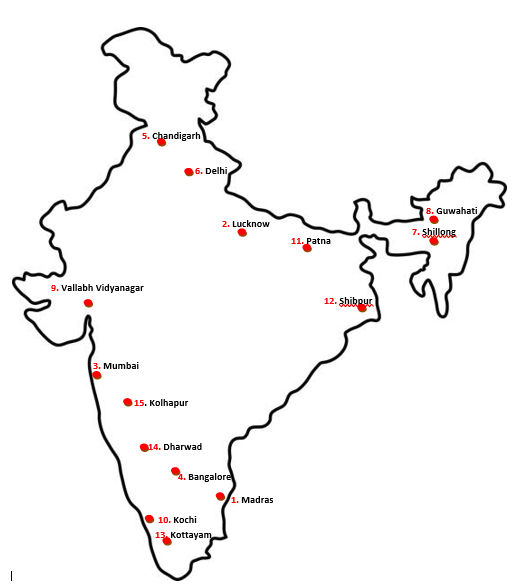 These SAIF centres are equipped with different sophisticated analytical equipment for meeting the needs of researchers in all areas of Science and Technology.  Any individual researcher or group of researchers from any academic institutions, Industrial R&D, MSMEs, Start-ups, Industry etc. can utilize the services of these analytical equipment facilities on nominal charges. Also these facilities can be accessed though I-STEM Web Portal (https://www.istem.gov.in).  
The list of SAIF centres across the country are provided below and users can access the details of the centres such as address, contact details, contact person etc from SAIF web portal. 
| Sr.no | Centre's name | Year of start |
| --- | --- | --- |
| 1 | SAIF, Indian Institute of Technology-Madras, Chennai | 1974 |
| 2 | SAIF, Central Drug Research Institute (CDRI), Lucknow | 1974-75 |
| 3 | SAIF, Indian Institute of Technology-Bombay, Mumbai | 1976 |
| 4 | SAIF, Indian Institute of Science, Bangalore | 1977 |
| 5 | SAIF, Punjab University, Chandigarh | 1978-79 |
| 6 | SAIF, All India Institute of Medical Sciences (AIIMS), New Delhi | 1983 |
| 7 | SAIF, North-Eastern Hill University (NEHU), Shillong | 1984 |
| 8 | SAIF, Gauhati University, Guwahati | 1986 |
| 9 | SAIF, SICART, Gujarat | 1998 |
| 10 | SAIF, STIC- Kochi | 2003 |
| 11 | SAIF, Indian Institute of Technology-Patna | 2013 |
| 12 | SAIF, Indian Institute of Engineering Science and Technology, Shibpur | 2013 |
| 13 | SAIF, Mahatma Gandhi University, Kottayam | 2013 |
| 14 | SAIF, Karnatak University, Dharwad | 2013 |
| 15 | SAIF, Shivaji University, Kolhapur | 2014 |
General Information
The facilities provided by the SAIFs may be utilized by any user/organization on payment of nominal charges. The details about the procedure for using the facilities and the charges for sample analysis, information about short term courses/training programmes/workshops etc. can be obtained from the respective Heads of the SAIFs or respective websites of the SAIF centres.
For more information contact:
Dr. Suchita Lokhande
Scientist C
R&D Infrastructure Division
Department of Science & Technology
Technology Bhawan
New Mehrauli Road
New Delhi-110 016
Tel: 011-26590243
Email: suchita[dot]lokhande[at]nic[dot]in
Dr. Pratishtha PandeyScientist F / Head
R&D Infrastructure Division
Department of Science & Technology
Ministry of Science and Technology
Technology Bhawan
New Mehrauli Road
New Delhi-110 016
Tel: 011-26590452
Email:
pratishtha[dot]tp[at]nic[dot]in